In my
first post of the year
, I had collated predictions from industry experts for the future of the airline industry in 2009. Here's
my own analysis
on the current situation, and I feel, among other things,
2009 presents an opportunity for airlines to tap on technology to build stronger brands.
Allen Adamson, MD of Landor Associates, made a statement in a recent article he wrote that resonated with me completely.
"Conventional wisdom says that in tough economic times you take out the scalpel. You cut jobs, budgets, and programs, especially in the areas of advertising and brand-building. Well, for the first time in marketing history, there's an option that will increase rather than decrease your horsepower."
Allen was referring to digital branding – or using technology to build the brand. And as you'd have realized from some of my previous articles, I'm a die-hard fan of this emerging field. Branding through technology allows not just airlines, but all companies to leverage on a tool that not just creates buzz, but is often free or cheap compared to traditional marketing means.
Before I dive into why and how airlines can build a digital brand, let me address why airlines are shying away from digital branding.
Uncharted waters may be risky, and what about ROI?
Airlines, of all industries, tend to be very risk averse, due to the high cost environment that they operate in. It's only natural to take calculated risks, especially in this environment. But the essence is to take calculated risks. If the risks are well defined and counter-actions thought of in advance, then they're certainly worth a shot. The best way to beat fear is to define it.
The other factor that often comes in while taking a marketing investment decision is that of Return on Investment (ROI). In some cases, Web 2.0 initiatives can be directly linked to revenues, but many of the times, soft ROI metrics need to be employed. For example, the purpose can be to engage a new target market, like students, by building an online community like GenFlyLounge by Lufthansa. Another aim can be to engage the employees better, just like Malaysia Airlines does with their blog. The key is to have a well-defined ROI metric before embarking on the project.
Now that I've settled some nerves about venturing online with your brand, the question is why do it? For that, let's revisit what branding actually is.
Brand Building 101
Here's my own very simple definition of what airline branding is all about (feel free to quote me on this!).
An airline first needs to define itself and know what it stands for. Next, it needs to communicate this message effectively to its target markets.
I believe all airlines will be able to build a brand through the above two-part process. But to really stand out, a brand needs to be unique (something others can't offer), it needs to be genuine (and often personal) and it needs to be buzzworthy (worth talking about). And this is exactly what I believe technology can help airline brands achieve with relative ease.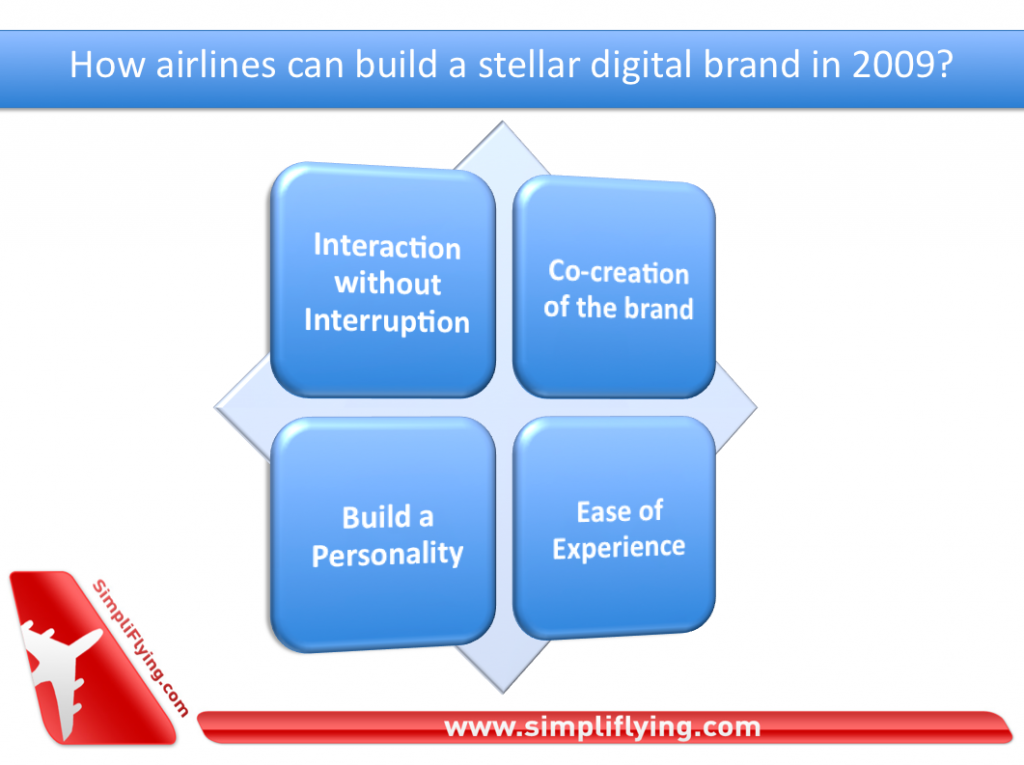 Advantages of building an airline brand online
There are four key factors I feel airlines can benefit from, which come with building a brand online.
Interaction without interruption – Airline brands are able to reach their target audience without disrupting the flow of their normal activities. Instead of having distracting (and expensive) billboards or advertisements, they can seamlessly integrate the message with a medium well suited for engagement. Virgin Atantic's Facebook page is a great example of this.
Co-creation: Consumers these days like to have a say in the product and marketing strategy. And online tools like Twitter to gather feedback and use of sites like Suggestionbox.com gives consumers a stake in the game.
Building a personality: It's much easier to build a personality online, rather than offline. For example, having employees blog about the airline, or having the CEO maintain his own blog suddently adds life to a faceless airline.
Ease of experience: Airlines can use online tools to allow passengers to experience the brand without even stepping on-board the plane. Cathay Pacific's online experience site is a great example of this.
So, doesn't it make sense to venture online with your airline's brand?
These are just very brief points on the advantages of building a strong airline brand online. If you're keen to learn more, I'd like to invite you to register for a free educational webinar being led by me tomorrow, Janurary 8, entitled "Airlines 2.0: Using technology for innovative branding through the recession."
Remember, you can still win a 2GB Apple iPod by commenting on any of the articles and subscribing to SimpliFlying by email
RSS for regular updates. The deadline for the contest is this Saturday, 10 Jan 2008. Hurry!
————————-
This is a guest post by Shashank Nigam, the author of SimpliFlying, a leading airline branding blog. He is a leading airline brand strategist and a well respected speaker and columnist on the topic.