Indian aviation has been on a growth path. With demand growing by leaps and bounds, the number of aircraft in the skies has soared. And the growth is likely to continue. These aircraft are faster, more efficient and more advanced than ever before and much of this efficiency is by virtue of the engines.
Each aircraft is powered by specific engine types with unique characteristics. Indeed airlines spend significant amount of time in engine selection. Selection includes several criteria ranging from pricing and support to more technical considerations such as the bypass ratio (the amount of air passing through the bypass duct to the air passing through the core engine. Engines with high bypass ratios are said to be more efficient and tend to generate more thrust for the same amount of fuel used). Overall decisions on engine types are a critical aspect of fleet planning.
Here we present an overview of the engines that power the current commercial airline fleet in India.
IAE V2500
| | |
| --- | --- |
| Manufacturer | International Aero Engines |
| Used by | Indigo, Air India, Vistara |
| Aircraft | A320 |
| Thrust | 27,000 lbf |
| By pass ratio | 4.8:1 |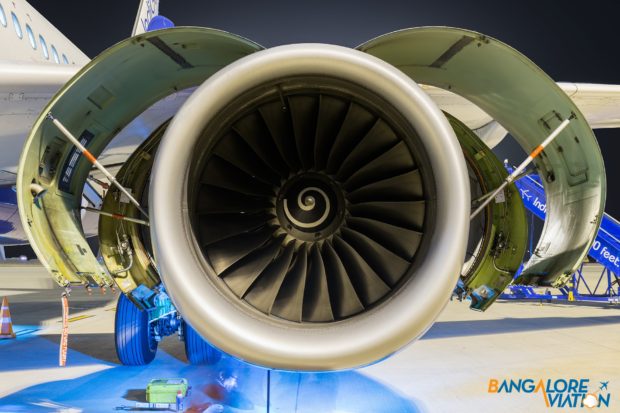 This engine is a high bypass turbofan engine. First introduced in India by Indian Airlines, this engine powered the famous double bogey series. It later saw more success when Indigo selected the engine to power its first hundred aircraft along with the Select One package. The engine has been incredibly successful due to its efficiency and reliability. It powers 45% of all the A320s worldwide. Over seven thousand six hundred V2500 engines have been built till date.
While the bypass ratio of the V2500 might pale in front of modern turbofan engines, it has performed very well considering that it was designed in the 1980s. The V2500 is also smaller than its modern day counterparts. That said, newer more efficient engines are now being preferred to the V2500. Specifically the PW1000G and the CFM Leap.
CFM 56 Series
| | |
| --- | --- |
| Manufacturer | CFM(GE-Safran) |
| Used by | Air India, IndiGo |
| Aircraft | B737-700/800/900, A319, A320CEO, A321 |
| Thrust | 23,500 lbf – 33,000 lbf |
| Bypass ratio | 5.4 : 1- 5.9 : 1 |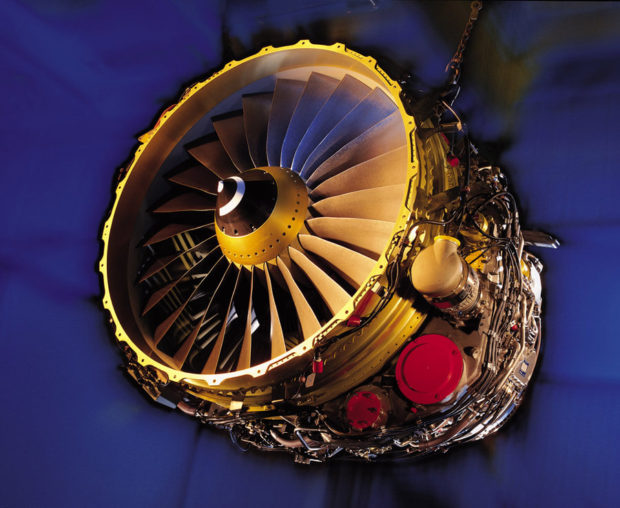 Another workhorse this engine has built a tremendous reputation over the years. The fact that there are more than two thousand of these engines flying at any point in time is testament to how successful it has been. This series has also passed the 1 billion engine flight hours mark, no doubt an incredibly prestigious accolade in itself.
The CFM56 is the most common turbofan engine in the world. Even though it experienced a few issues early on in its life, it went on to become very reliable with 1 incident taking place every 333,333 hours. If we take into account the era in which it was designed, it can be considered extremely efficient. It also had a fairly decent bypass ratio. Interesting to note that to this day, many airlines prefer this engine because of its great reliability, good spare availability and a proven track record.
Pratt & Whitney PW1000G
| | |
| --- | --- |
| Manufacturer | Pratt & Whitney |
| Used by | Indigo, Go Air |
| Aircraft | A320 |
| Thrust | 24,000 lbf – 35,000 lbf |
| By pass ratio | 12.5:1 |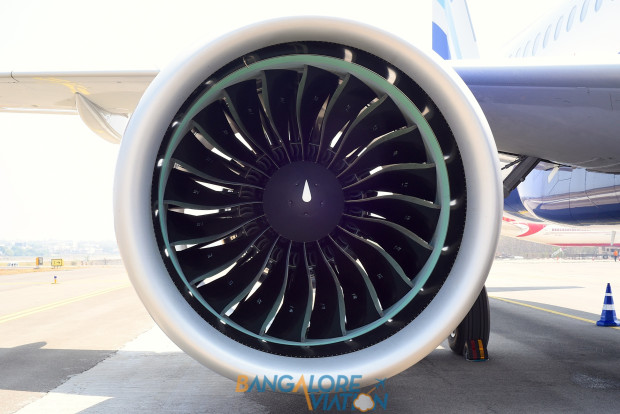 An engine that some say is the only modern clean-sheet design, Pratt and Whitney (PW) spent over a billion dollars on this engine program. Key to this engine is the PW 'Geared TurboFan' technology. This can be classified as an 'ultra high bypass' engine. A 12.5:1 bypass ratio for a commercial jet engine was completely unheard of, until the PW1000G came along. The result:  12% – 15% fuel efficiency. While the high bypass ratio means that the engine is bigger, the cost savings are still worthwhile, thus making a strong case for this engine.
While this could well be one of the greatest bits of 'engine engineering' in the history of aviation, this otherwise amazing engine has seen several setbacks. Very long starting times, engines vibrations and knife edge seal issues are a few of the problems that have plagued this engine.
Notwithstanding all these problems, this engine produces enough thrust to power 94 Mercedes S class cars!
CFM International LEAP
| | |
| --- | --- |
| Manufacturer | CFM (GE-Safran) |
| Used by | Air India, Vistara, SpiceJet |
| Aircraft | A320neo, B737 MAX |
| Thrust | 29,320 lbf -32,160 lbf |
| Bypass ratio9 | 9 : 1 – 11 : 1 |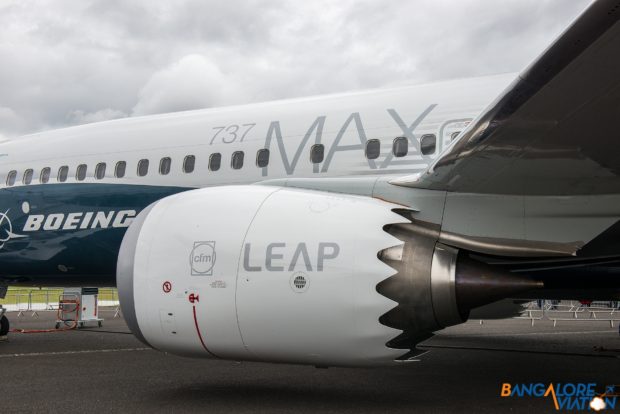 The CFM LEAP enigne builds on the success of the CFM 56 series – a favorite with airlines the world over. This engine competes with the PW1000G while also being the single supplier for the Boeing 737 MAX.  While not a clean sheet design the engine has incorporated items such as flexible engine blades, the use of ceramic matrix composites and a much higher operating pressure than before. All these improvements are supposed to give fuel savings in the range of 10% – 12% compared to the earlier engines.
The bypass ratio, although not as high as its PW counterpart is still incredibly impressive.
General Electric GE90-110B1L1/-115B
| | |
| --- | --- |
| Manufacturer | General Electric Aviation |
| Used by | Air India, Jet Airways |
| Aircraft | B777-200LR, B777-300ER |
| Thrust | 110,760 lbf – 115,540 lbf |
| Bypass ratio | 9:1 |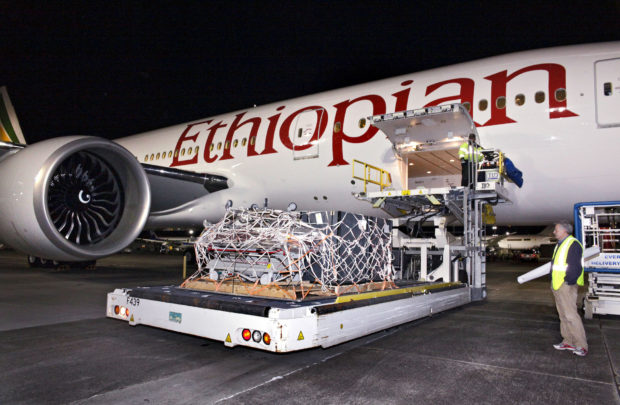 The GE90 engine series is the undisputed 'Big Daddy' of the engine world. Powering the longest range aircraft in the biz, the GE90 series has become a byword for reliability. This engine holds world records for highest thrust generated, longest ETOPS certification with one engine shut down and also for operating the world longest flight. In, fact the GE90-115B is so big that it's diameter is more than half of that of 777-300ER fuselage and more than the entire 737 fuselage.
The GE90 series is backed by some truly great numbers. With a bypass ratio of 9:1, and a pressure ratio of 42:1, it's no wonder that this engine produces such immense thrust. This is also the largest aircraft engine in commercial service. The GE90 has accumulated over 50 million flight hours in the past 20 years. All we can say is that the GE9x has BIG shoes to fill and the time has perhaps come for the old gent to retire.
General Electric GenX-1B67
| | |
| --- | --- |
| Manufacturer | General Electric Aviation |
| Used by | Air India |
| Aircraft | B787-8 Dreamliner |
| Thrust | 67,000 lbf |
| Bypass ratio | 8.8:1 |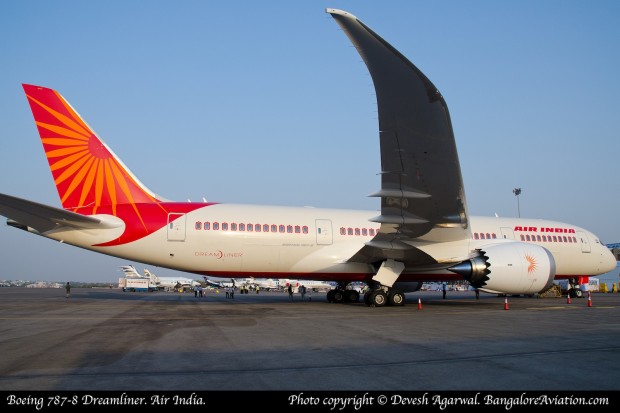 GE developed this engine for the Dreamliner (787) series of aircraft as well as their 747-8i. It was their aim to reduce fuel consumption and noise with this engine development. This engine even has 'Chevrons', a design feature on the engine cowling, to reduce noise. This engine has had a turbulent time and has been fraught with issues. Nonetheless, this engine has seen significantly more success than its bruised and battered counterpart from Rolls Royce.
With an above average bypass ratio of 8.8 and an impressive thrust figure of 67,000lbf, this engine has borrowed heavily from the GE90 series. This engine tends to be relatively low in maintenance compared to other engines as it 30% fewer parts. GE also promised upto 20% drop in fuel consumption. All in all, this engine continues to serve Air India and their 787s well.
Rolls-Royce Trent 700
| | |
| --- | --- |
| Manufacturer | Rolls Royce |
| Used by | Jet Airways |
| Aircraft | A330-200 |
| Thrust | 67,500 lb f- 71,100 lbf |
| Bypass ratio | 5:1 |
Rolls Royce's exclusively developed engine for the A330 family. It was late to the party, but caught up and competed with both PW and CFM. With its redeeming qualities such as a low life cycle fuel burn and quietness captured the imagination of A330 operators such as Cathay Pacific and Air Canada.
With an good enough bypass ratio of 5, the Trent 700 manages to generate impressive thrust, all while maintaining a good engine size. In fact, this engine is so reliable that a specimen that joined Aeroflot in 2008 recently completed 50,000 hours without an overhaul!
General Electric CF6-80E1
| | |
| --- | --- |
| Manufacturer | General Electric Aviation |
| Used by | Jet Airways |
| Aircraft | A330-300/200 |
| Thrust | 65,800 lbf – 69,800 lbf |
| Bypass ratio | 5.3:1 |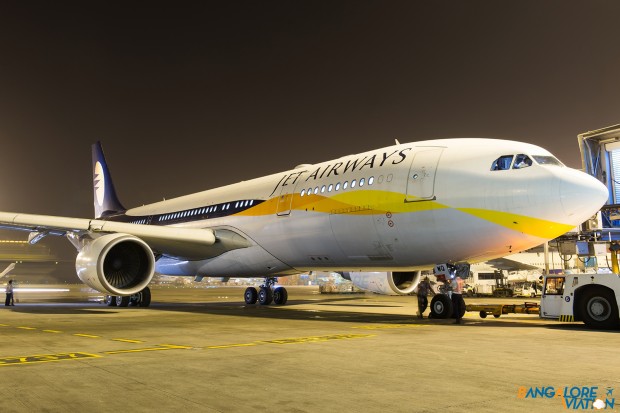 The CF6 is one of the more geriatric turbofan engines out in the market today. It had its first run way back in 1971. It has been on aircraft such as the DC-10 and MD-11. The CF6-80E1 is however the latest and most powerful iteration of the the CF6 series. The A330-200/300 is being retired by most airlines and with that, the CF6 will also meet its end from an aviation perspective. Nonetheless, CF6 series will still be used in ferry and high speed cargo ship applications.
The CF6 might seem to be inefficient compared to modern engines with its low bypass ratio, but once again we must take into account that this engine was introduced in the early 1970s. Due to the low bypass ratio it is smaller in size as its width is lesser compared to modern engines. Its age does not make the CF6 series engine a slouch, with it producing a healthy 69,800 lbf, enough to power large crusie ships!
Pratt & Whitney PW4056
| | |
| --- | --- |
| Manufacturer | Pratt & Whitney |
| Used by | Air India |
| Aircraft | B747-400 |
| Thrust | 56,750 lbf |
| Bypass ratio | 5:1 |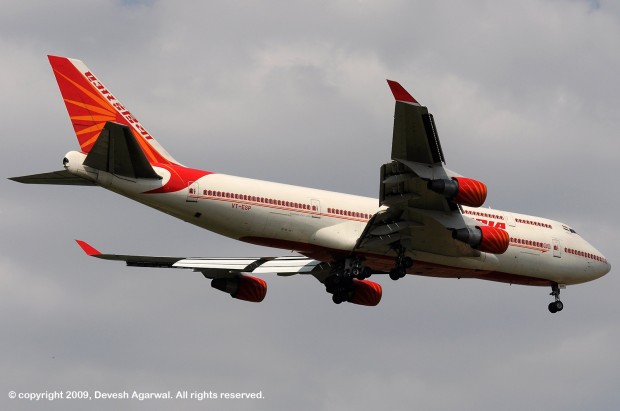 This PW4000 engine series  has had the distinction of powering several aircraft such as the A330, B777, B747, B767, MD 11, A300 and the A310. The above variant powered Air India's 747-400 which for a long time was their workhorse on the India-US routes.
In isolation, the bypass ratio and the thrust numbers might seem a rather lacklusture. It would be prudent to note that 4 of these engines power the 747-400, producing a staggering 227,000lbf of combined thrust.