Over the years, the Big 3 middle eastern carriers (ME3) have been known for the full-service offerings. While most airlines were skimping on baggage and in-flight service, they were offering passengers more baggage, better food, etc. All of which has led to the three airlines expanding and developing a loyal customer base.
The last couple of years have seen the ME3 under increased financial pressure which has led to them making cuts to improve their bottom line. Etihad has been the one to make the most cuts and introduce a number of fees.
Emirates and Qatar have also made some small cuts but by and large, still offer their entire full-service experience.
The Dubai based carrier has in particular been trying to differentiate between its various economy tiers. In 2016, it made seat selection chargeable for select economy tiers.
Emirates is reducing its economy baggage allowance
Emirates is now reducing baggage allowance for passengers booking its two lowest tiers of economy. The new allowances will apply to tickets booked on or after 4 February 2019.
Specifically for travel where the weight concept applies:
Allowance on Economy Special tickets will be reduced from 20KG to 15KG
Allowance on Economy Saver tickets will be reduced from 30KG to 25KG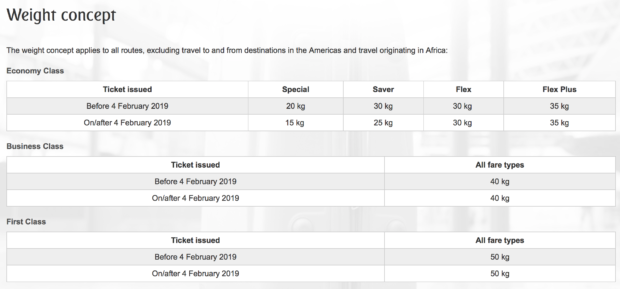 For itineraries where the piece concept applies (to/from the Americas and flights originating in Africa).
For Economy special tickets, the baggage allowance will be reduced from two pieces of up to 23KG to one piece of up to 23KG, except for travel between North America and Europe.
The allowance for routes between the US and Europe will be reduced from two pieces of up to 23KG to one piece of up to 23KG for Economy special and saver fares.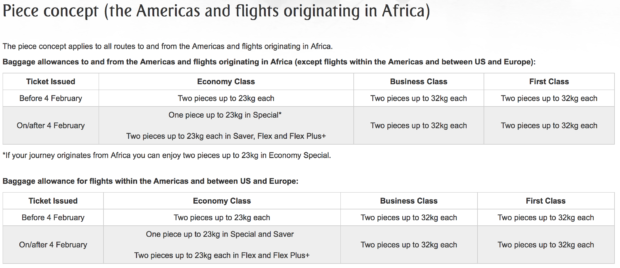 Bottomline
Considering Emirates has four fares of Economy, it isn't surprising that they are trying to differentiate between the fares to promote more upselling.
It is a negative development for passengers who buy the lowest fare and check their entire allowance, but by and large the airline still offers good value.