In the on-going saga of getting airlines to move to the re-opened Terminal 2 (T2) at the Indira Gandhi airport, the Delhi High Court has passed a judgement favouring the airport operator M/s Delhi International Airport Limited (DIAL).
In November, India's largest domestic airline, Indigo, had approached the court petitioning against DIAL's efforts forcing IndiGo to shift a part of its operations to the re-furbished T2, to enable construction of an enlarged Terminal 1 where IndiGo, GoAir, and SpiceJet operate from. While the Wadia promoted Go Airlines shifted all of its operations in October, Indigo and SpiceJet were reluctant to do so. You can read details of the plan including the new Terminal 1 planned in our August 2017 story.
DIAL's rationale for the move
DIAL ideally wanted two airlines to completely shift operations to T2. Passenger data indicates that Terminal 1 is over-saturated and exceeding passenger handling capacity at 118%. DIAL's assessment was that nine million passengers need to be shifted to T2 immediately before construction works begin at Terminal 1. The upgrade to Terminal 1 will also impact aircraft parking bays.
IGI airport terminal capacity and utilisation
| | | |
| --- | --- | --- |
| | Capacity (million passengers per annum) | Fiscal 2017 utilisation |
| Terminal 1 | 20 | 118% |
| Terminal 2 | 12 | 0 |
| Terminal 3 | 34 | 99% |
New Delhi IGI airport Terminal 1 passenger numbers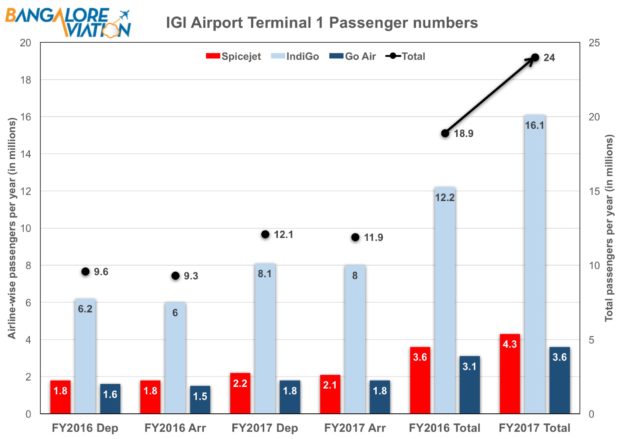 Why are carriers not keen to shift to Terminal 2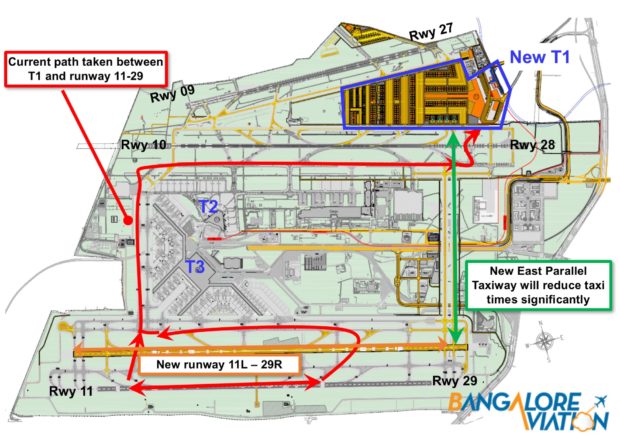 Terminal 2 is the old international terminal at Delhi airport and located adjacent to the new T3. For passengers T2 adds approximately 7.5 kilometres to their commute. For airlines it adds cost as operations have to be split between terminals 1 and 2 (duplication of equipment, crews, office space, etc.). The legacy of Terminal 1 had its own benefit. Aircraft did not need to push back. They would power in, disembark, re-load and power out. Push back adds time to each aircraft rotation, and cost of equipment and crew.
Is it any surprise that the airlines fought tooth and nail to defend their position at Terminal 1. Evidence of this can be seen by the counsels appointed for the case. While Indigo had Mr. Salve appearing for them, DIAL had Mr. Rohtagi.
Photo gallery of IGI airport Terminal 2
This slideshow requires JavaScript.
The impasse
In a brute force attempt to resolve the impasse, DIAL directed that each airline would have to move a third of its flights to Terminal 2. GoAir being the smallest of the three, took the initiative and moved all of its operations in October, and appears to be ahead of the curve. Indigo and SpiceJet remained committed to T1 and Indigo initiated litigation.
What's next?
By the court order favouring DIAL, it seems inevitable Indigo and SpiceJet will have to move a certain number of flights to Terminal 2. Ironically some of these flights are to Bengaluru where the door to door time is already high. However, it is highly probable, Indigo and SpiceJet will appeal the ruling.
Stay tuned for further updates.