Driven by a massive 27% increase in passengers at Terminal 1 (T1), the GMR Group led Delhi International Airport Limited (DIAL) consortium, has unveiled an ambitious expansion plan to India's largest airport, Indira Gandhi International Airport, New Delhi. The Master Plan will be implemented in three phases – 3A from 2018 to 2021, 3B from 2021 to 2025 and 4 from 2026 onwards.
T1 houses the three major low cost carriers IndiGo, Spicejet and Go Air. The spurt at T1 has been led by a 33% increase in passenger traffic at the nation's largest domestic carrier IndiGo. The airport which handled 57.7 million passengers in the fiscal year ended March 31, 2017 (FY2017), has a capacity of 70 million.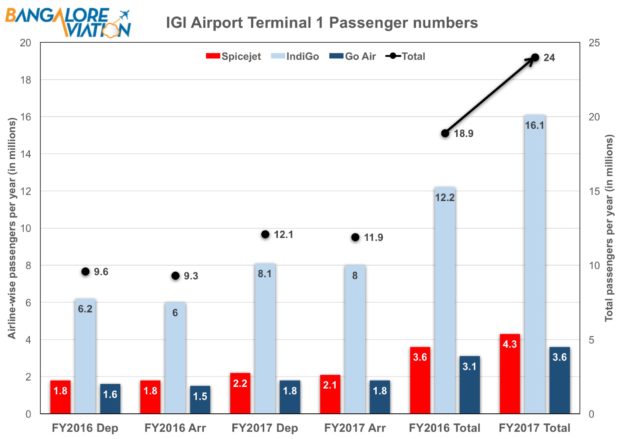 DIAL has detailed only phase 3A and 3B as of now. The expansion and upgrades will include :
Phase 3A

Merging T1D and T1C as T1 and expanding the single terminal
Partially shifting T1 operations to the renovated T2 for the interim
Building new East Parallel Cross Taxiways

Phase 3B

Fourth runway (11R-29L)
Upgrading T2 in to T4.
Terminal 1 – Consolidation and expansion
The passenger traffic for FY2017 has already crossed the capacity of the existing terminal of 20 million. The departure terminal, T1-D and arrivals terminal, T1-C will be merged in to one futuristic terminal and expanded to accommodate 40 million passengers.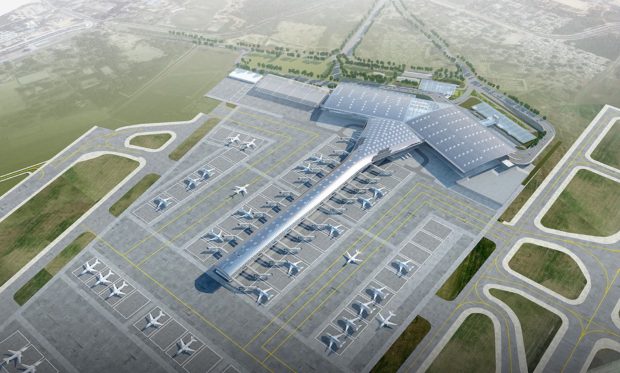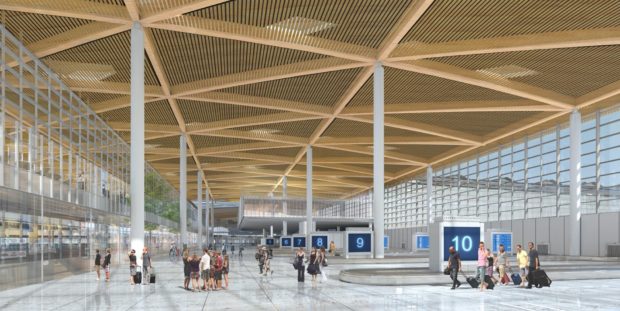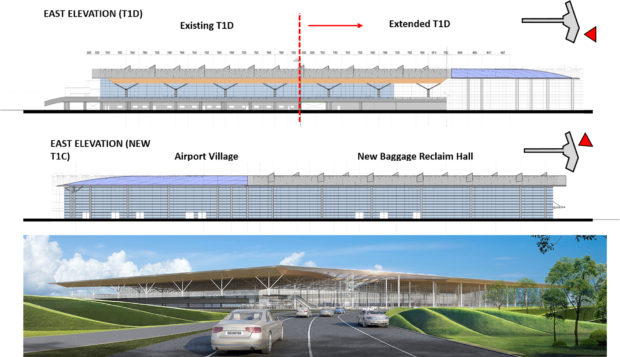 Operations will be streamlined for the passenger and the airline. From a 100% bussing and ladder boarding, the new terminal will have 22 Passenger Boarding Bridges (PBBs) better known as aerobridges. The aircraft stands will have modern facilities like Bridge Mounted Equipment (BME) eliminating ground power and air-conditioning equipment. Visual Docking Guidance System (VDGS) eliminating the marshal. At stand re-fuelling eliminating fuel tankers. Behind the scenes, the Baggage Makeup Area (BMA), will be modernised. Security screening will be sped up using an automatic tray retrieval system.
Full details are in this table.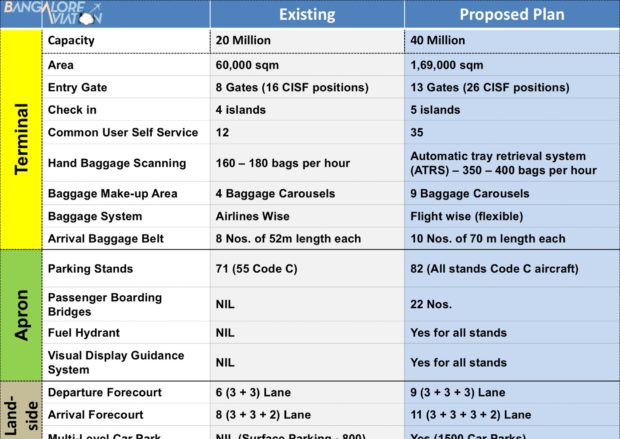 Mr I Prabhakara Rao, CEO, DIAL, said, "As per the Master Plan, capacity of T 1 will be increased from 20 million to 40 million and the capacity of T3 will be increased from 34 million to 45 million."
Shifting of operations to T2
The original international terminal T2, mothballed after T3 was commissioned, has been renovated and can handle up to 14 million passengers. DIAL has asked the airlines to partially shift operations from T1 to T2 on an interim basis, from October.
T1 will be upgraded in parallel with reduced on-going operations over three years.
Terminal 2 photo gallery
This slideshow requires JavaScript.
Airside improvements
One of the more significant upgrades will be away from the public eye. At present, flights to/from T1 need to use a circuitous route to use runway 11-29 on the southern side of the airport, thus forcing the air traffic control to put more load on the central runway 10-28.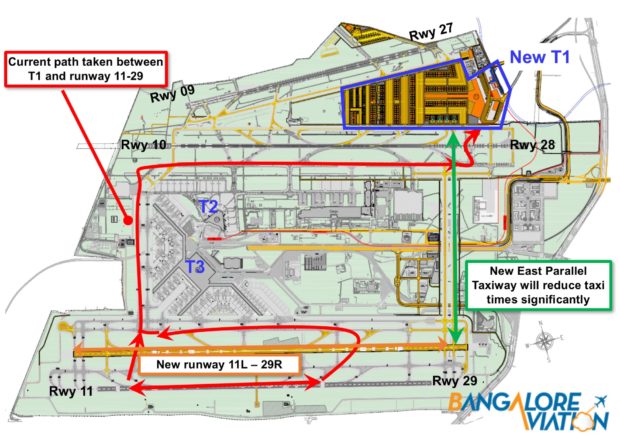 The new parallel east taxiway will enable ATC to balance usage. The new runway to be built in 2021, when commissioned will hopefully overcome the forced displaced threshold on the existing runway 11-29, which limits its usable length.
Beyond this, once airlines move back to the new T1, the existing T2 will be converted in to T4 and integrated with T3.
What are you views on the expansion? Share your thoughts via a comment.