As reported by Bangalore Aviation in mid September, the Kempegowda airport (KIAB) at Bangalore will effectively cease operations during the day for two and a half months, from mid February to end April.
As per a NOTAM (NOTice to AirMen) created on September 28, 2016 (received by us today), the sole runway at the airport, 09/27, will close from 10:30 to 17:00 (10:30am to 5pm) IST (0500-1130 UTC) every day from February 19 to April 30, 2017 for the purpose of constructing rapid exit taxiways (RETs).
Coupled with the runway closure for the Aero India show, the closure at KIAB will actually commence on or before February 14, 2017.

While the period and timing of the runway shut-down is a relatively lean period, it will still impose tremendous restrictions on airlines and passengers. For sure, schedules will be hit, and passengers travelling during this period as advised to contact their airline to explore their options. We expect fares to rise as capacities are curtailed in the face of demand that is growing at about 20% annually.
This is the second time in less than five years the sole runway at India's third busiest airport is being shut down. In March 2012 the runway was closed for emergency repairs after premature failure of the runway surface.
When contacted an airport spokesperson said the airport operating company Bengaluru International Airport Limited (BIAL) will be issuing a statement. We shall publish it when received.
The NOTAM does not specify whether just the A6 and A7 taxiways will be constructed or whether two new runway entry/exit points near the either end of the runway (annotated in red circles) will also be constructed.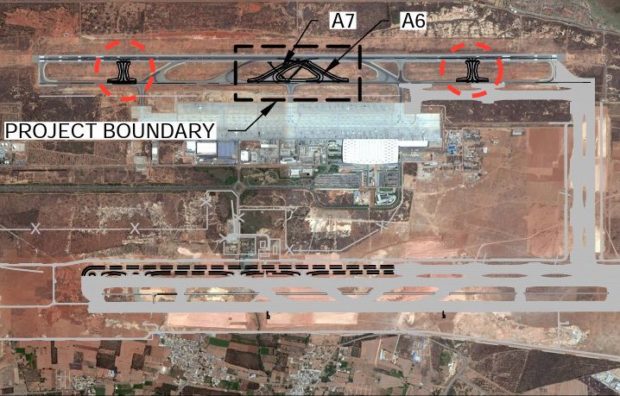 As we have indicated earlier, our analysis does not show a significant increase in runway operating capacity by adding just the two rapid exits. In our opinion, it does not behove the airport to close its sole runway at this time. BIAL has already commenced the construction of the second runway (09R/27L) and we opine BIAL should expedite its completion. Only then close the existing runway and completely upgrade it with all the needed exits and install the centre line lighting to make the runway CAT III compliant for winter fog operations.
The hybrid drawing above also shows in light grey where the new second runway and the cross taxiway connecting the two runways should be constructed.
Please stay tuned for more details.