Till October 15th, Dubai based Emirates airline held the record for the world's longest non-stop flight, flying 14,497 kilometres (km) between Dubai and Auckland. On October 16th, national carrier Air India's flight AI173 from New Delhi to San Francisco claimed that title flying a distance of 15,112km. To top it off, AI173 flew a longer distance of 1,811km in a shorter time of two hours and 15 minutes than earlier.
To understand this needs a little explanation and the fact that many of the upper level winds, called jet streams, flow eastwards in the northern hemisphere making east bound flight times shorter and west bound times longer.
Direct distance
The direct distance between New Delhi and San Francisco over the North Pole is 12,402km. Between Dubai and Auckland it is 14,200km.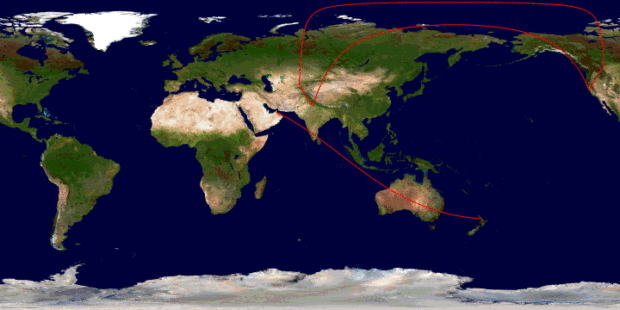 Unlike the route between Dubai and Auckland which is fairly straight, the polar route from New Delhi to San Francisco requires overflight of some of the most inhospitable terrain of Arctic Russia. There are few airports along the way (needed in case of emergency diversion) and polar winds are strong and unpredictable. Flights must also go around the main Himalayan range and are not allowed over them. This required AI173 to sometimes flying a rather convoluted route which typically took around 15½ to 16 hours.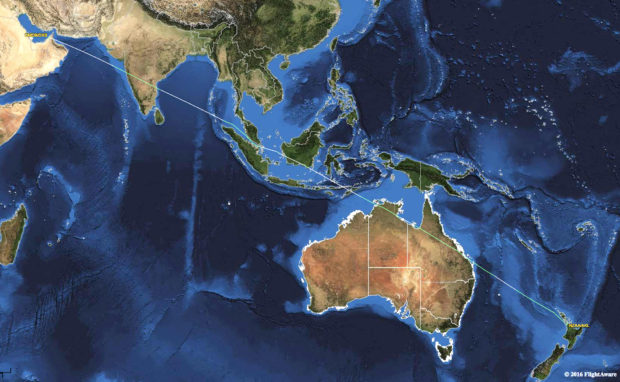 On October 14th, flying the polar route AI173 took 16 hours and 42 minutes to cover a distance of 13,301 km i.e. and average speed of about 795 km per hour.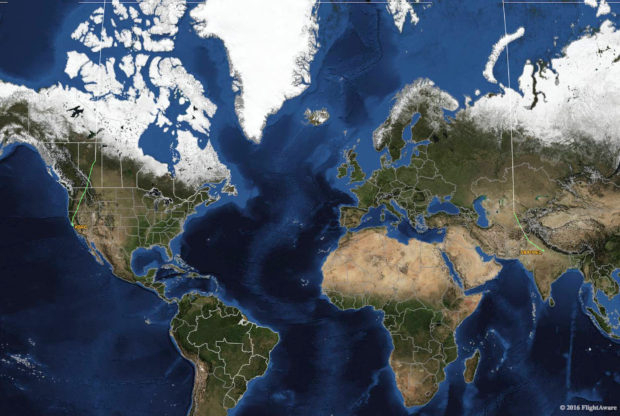 Taking advantage of the jet stream
Over eastern Asia, the jet stream flows faster than 400km per hour at times. The new trans-Pacific route which is eastbound over China and Japan is 1,811 km longer in length, but thanks to the east flowing jet stream, reduces flight times by about two hours. On October 16th flying the trans-Pacific route AI173 covered the 15,112km in 14 hours and 30 minutes, i.e. at an average speed of 1,042km per hour. An almost 31% increase over the October 14th polar route.
Passengers will benefit from the reduced flight duration, and for any airline, fuel consumption is measured by the duration the engines are powered up, not the distance. A 31% increase in performance will definitely have a substantive impact on the bottom line of Air India and make the San Francisco flight even more competitive.
With flight times in the 15 hour range, the national carrier can also consider up-gauging from the smaller Boeing 777-200LR to the 777-300ER mini-jumbo which will make the flight competitive against the Gulf Big 3 (Emirates, Etihad, and Qatar).
In case you are wondering why did Air India not opt for this eastern route earlier? They just got the approval for the route recently.
The return flight will continue to fly an east-bound shallower polar route which takes about 15 hours to cover the approximately 13,890km at an average speed of 926 km per hour.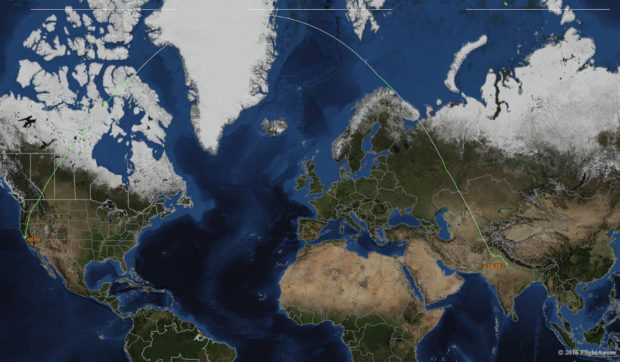 Please join me in wishing kudos and success to Air India on this route.