On day two of the 2016 Farnborough airshow, Boeing has announced orders for the 747-8, 787-9 and the 737 family.
TUI Group finalized an order for 10 737 MAX 8s, one 787-9 Dreamliner and an option on an additional 787-9. The order is valued at $1.4 billion at current list prices
Air Lease Corporation announced an order for six 737 MAX 8s. The order is valued at $660 million at current list prices. The order for six aircraft includes three aircraft that were previously attributed to an unidentified customer on the Boeing Orders & Deliveries website.
Kunming Airlines announced a Memorandum of Understanding for the purchase of 10 737 MAX 7 airplanes.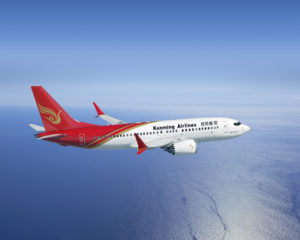 A commitment for 30 737 airplanes from an unidentified Chinese customer. The order is for a mix of Next Generation and MAX aircraft and is valued at $3 billion at current list prices.
Volga-Dnepr Group finalized terms for the acquisition of 20 747-8 Freighters, which includes four aircraft that have already been delivered.