Mumbai based low fare carrier GoAir, has added new routes and additional frequencies in its latest round of network expansion which takes effect in the Summer 2016 schedule which takes effect on March 27, 2016.
The new flights reflect GoAir's strategy of connecting Tier 1 metro cities with Tier II and sometimes even Tier III cities. These include two triangular flights Mumbai Leh Srinagar and Bengaluru Patna Ranchi, which connect Mumbai directly with Leh for the first time.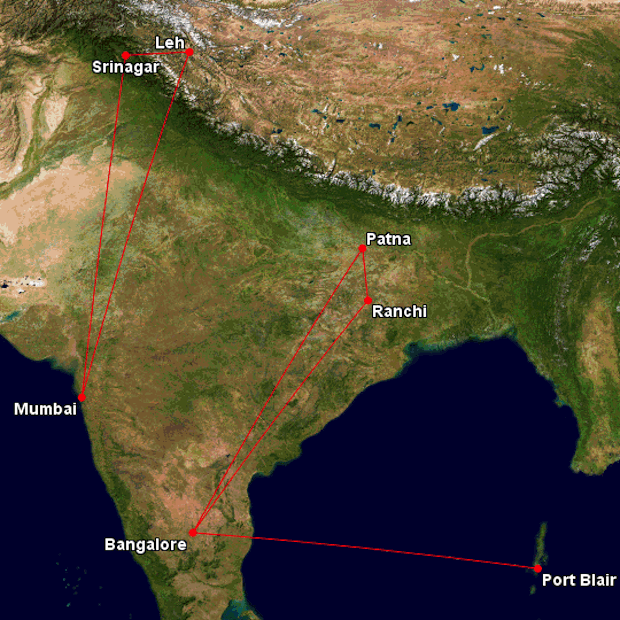 Similarly, for the first time, Bengaluru is connected directly to Port Blair and passengers can bypass the tedious transit through Chennai or Kolkata. This flight though, appears to cost GoAir operationally; the aircraft has to sit at Veer Savarkar airport, Port Blair for over 17 hours due to prevailing weather conditions before its departs late morning the next day. GoAir has received awards from Airbus for maintaining some of the highest A320 aircraft utilisation rates in the world. It is now clarified that the aircraft departs after 30 minute turn-around to Kolkata. We apologise for the mistake. The confusion was caused by the publicly available schedules of GoAir, as at the time of original publication.
New GoAir routes
All flights operate daily.
New Routes
Origin
Destination
Flt No.
Dep
Arr
Bengaluru
Port Blair
G8 291
14:40
17:15
Port Blair
Bengaluru
G8 292
11:25
14:05
Mumbai
Leh
G8 386
04:00
06:15
Leh
Mumbai (Via Srinagar)
G8 386
06:45
10:45
Bengaluru
Patna
G8 271
09:40
12:10
Patna
Bengaluru (Via Ranchi)
G8 271
12:40
16:30
Bengaluru
Ranchi (Via Patna)
G8 271
09:40
17:25
Ranchi
Bengaluru
G8 271
14:00
16:30
The airline has also added additional frequencies on its existing routes.
Additional GoAir frequencies
All flights operate daily.
Additional frequencies
Origin
Destination
Flt No.
Dep
Arr
Delhi
Ranchi
G8 145
09:20
11:05
Ranchi
Delhi
G8 146
11:35
13:20
Delhi
Lucknow
G8 181
22:15
23:15
Lucknow
Delhi
G8 182
23:45
00:45
Delhi
Patna
G8 139
13:35
15:10
Patna
Delhi
G8 140
15:40
17:25
Mumbai
Ahmedabad
G8 363
21:50
23:05
Ahmedabad
Mumbai
G8 364
23:35
00:50
Mumbai
Srinagar (Via Leh)
G8 386
04:00
07:30
Srinagar
Mumbai
G8 386
08:00
10:45
Patna
Ranchi
G8 271
12:40
13:30
Leh
Srinagar
G8 386
06:45
07:30