Call it a sheer coincidence, but despite my frequent travels, I had never flown the Airbus A380 till October 14, 2014. Given my years of loyal patronage of Singapore Airlines, divine providence ensured my first A380 flight would be with the island nation's carrier who was the launch customer of the A380, and coincidentally on the first A380 delivered in to commercial service, 9V-SKA.
SQ423. Airbus A380-800. 9V-SKA
Mumbai Chhatrapati Shivaji international airport, Terminal 2
Singapore Changi Airport, Terminal 3
Check-in and security
Check-in was a slightly confusing affair. There is a lack of clear signage at the airport and I landed up in the regular check-in line where I was informed by the Air India SATS ground handling staff that my camera tripod bag would have to undergo special x-ray screening at a counter located at the very opposite end of the large check-in hall. Walking over the special x-ray screeners informed me no additional screening was required. Luckily the premium class check-in line was located on this side of the hall, and I quickly handed over my baggage and completed my check-in formalities.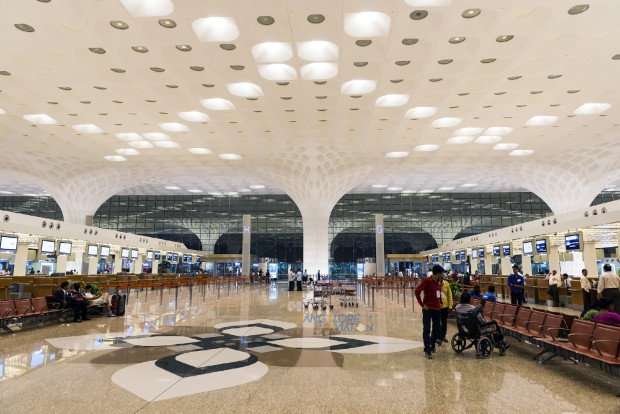 At the dedicated security line for premium passengers, I was informed that my extensive camera gear would have to be hand checked, and that special permission would have to be taken from the seniors to conduct this check. Sigh. Long story short, a half an hour later the supervisor was located, permission taken, and screening performed. But this delay cost me a chance to visit the informal lounge since the actual lounge had not yet been opened. Yes, it is very common in India to have buildings including airport terminals, declared opened, without all the facilities being in place.
Wandered through the duty free and saw some decent deals on spirits and a relatively good price on a bottle of Krug Champagne ($179). By and large, duty free is not a good place to find either a good selection or a good price on wines. Just two months earlier, I saw a bottle of Dom Perignon Vintage 2004 at $139 at Costco in Chicago, and $189 at Chicago duty free.
Crew uniforms of Singapore Airlines
Without a doubt, the cabin crew of Singapore Airlines are its crown jewels. Through the years they have lived up to the promise of "offering a level of service even other airlines admire". So I felt it is important to understand the crew ranks. Flight Steward/ess (FS/FSS) in blue tie or blue Sarong Kebaya, Leading Steward/ess (LS/LSS) in green, Chief Steward/ess (CS/CSS) in red, In Flight Supervisor male/female (IFS/IFSS) in purple. In the photo below it is right to left in ascending seniority.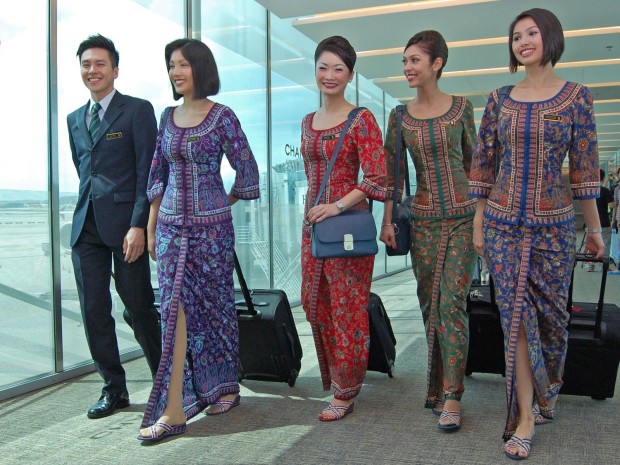 Tour of the Singapore Airlines A380
A special thanks to the staff of Singapore Airlines Mumbai, who took me on a small tour of the aircraft so I could take photographs. Much to my horror, upon my return to India, I discovered my memory card got corrupted leaving me with only a few images I could salvage.
SQ Suites
Singapore Airlines introduced its Suites product, a class above First Class, on the A380.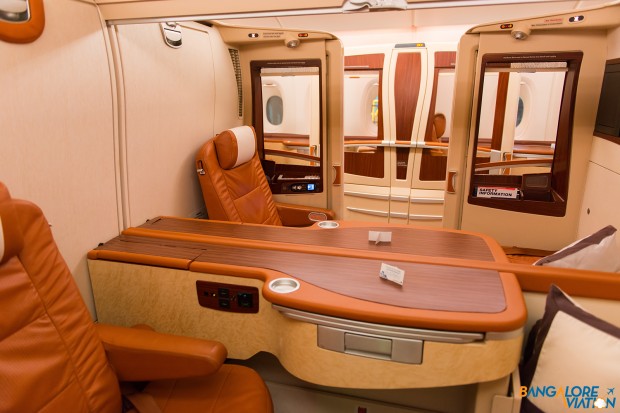 As a practice the First and Suites cabin is staffed only by Leading Steward/ess and headed by an In Flight Supervisor.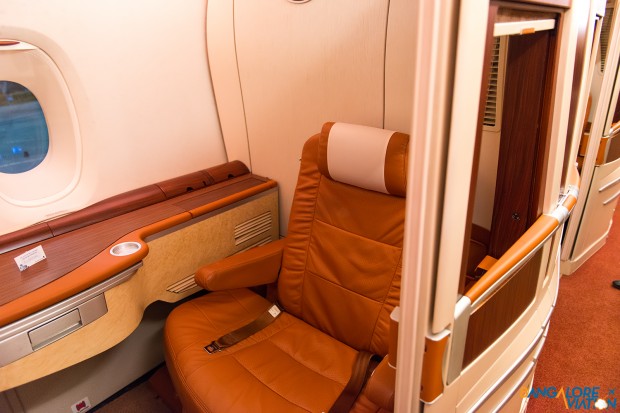 "Over the top" business class
Even Singapore Airlines staff admit, the new business class of the airline is OTT – over the top. Four abreast, 30 inches wide, front facing, is wider than the first class in most airlines, including the middle eastern competitors. Little wonder the airline is able to command such a high premium in business class fares. The business class cabin is headed by a Chief Steward/ess.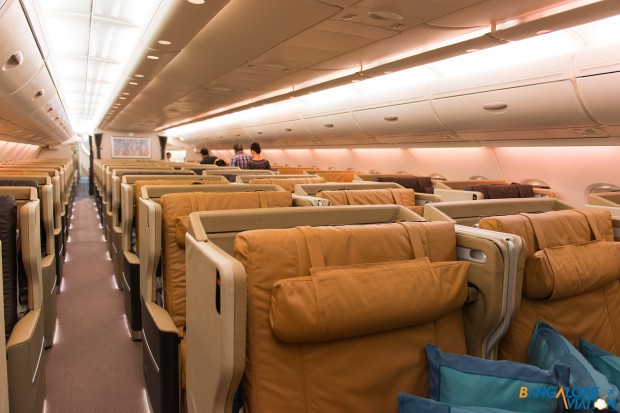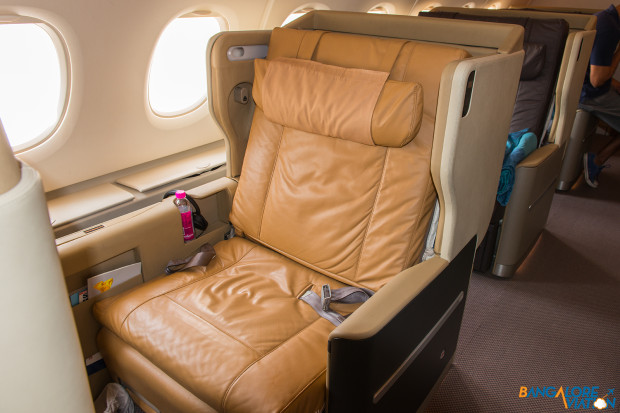 The seats require the back to be folded down to create the flat bed. This means you cannot slouch in your seat beyond a certain level of "flatness", which prevents one from laying almost flat and watching a movie. A minor but noticeable hindrance.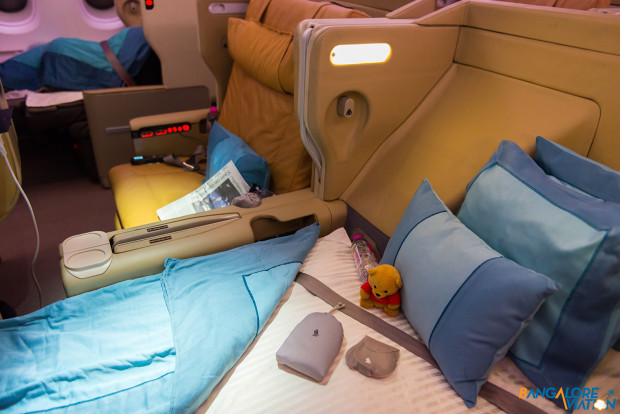 The rear projection in to the seat requires one to sleep in an angular position. You get the full 30 inches width when seated, and about 70% when sleeping.
The seat is well equipped with entertainment options, Noise cancelling headphones are standard. There is a nice vanity mirror as well as shelves and cubby holes all around the seat for storing knick knacks.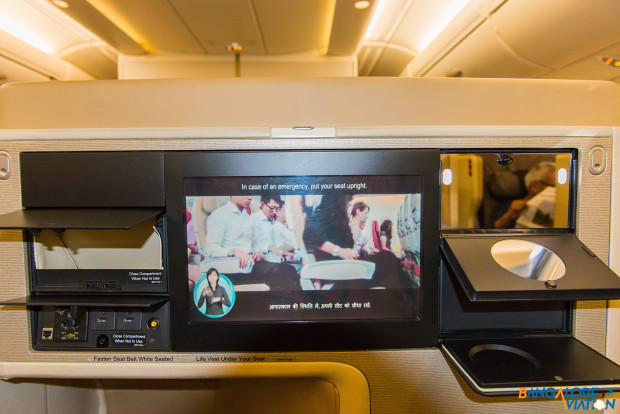 Plenty of connections to personal electronic devices like iPods, iPhones, iPads for personal content. In-seat universal socket power plugs and USB chargers, etc.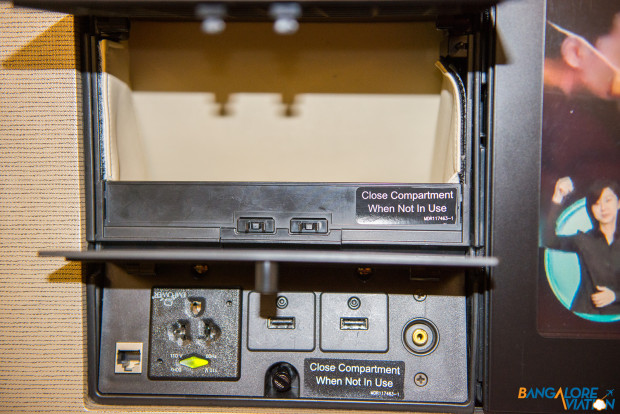 Economy class
Singapore Airlines is rated as having one of the best economy classes in world with a 19 inch seat width, and in the A380, the cabins go on and on and one.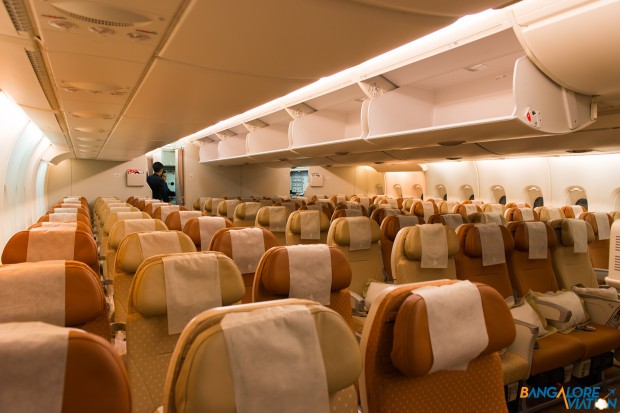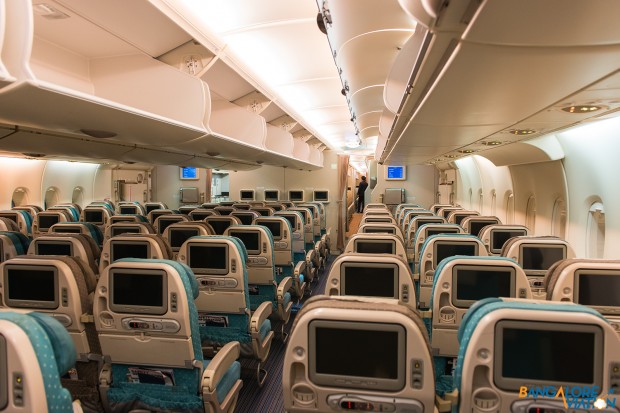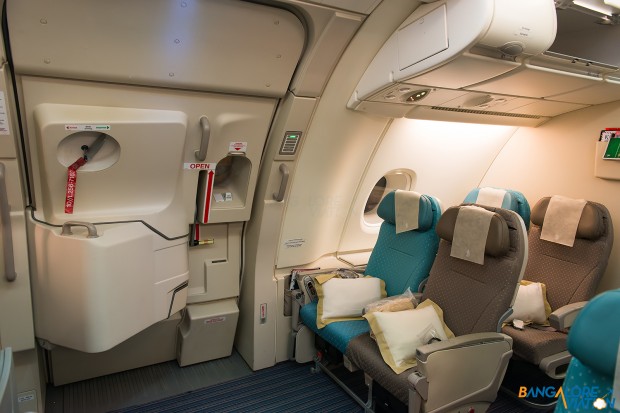 Boarding and departure
The flight was to take us about five hours. Equivalent to a trans-continental US overnight red-eye flight.
Boarding was orderly. I was welcomed, by name, at the door by the IFS (In-Flight Supervisor), and guided to the upper deck. First class passengers are escorted from the door to their seats. At the upper deck I was welcomed by the section head, a CSS, and escorted to my seat by an FSS (Flight Stewardess). My seat was in row 14 which is located on the upper deck at the front, right above the Suites cabin. All business class seats offer direct aisle access.
I saw the crew helping passengers individually even in the economy class cabin. I have always been amazed at the strength of these slim petite ladies lugging some pretty heavy looking bags in to the overhead lockers.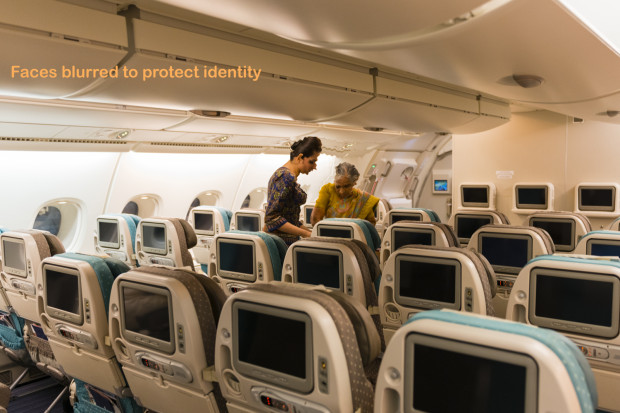 After getting settled in, we were offered newspapers, magazines, along with juices and water. Indian laws prohibit the service of alcohol while on the ground. We took on runway 27 and I was pleasantly shocked at the quietness of the cabin of the A380. On the upper deck, I strained to hear the engines.
The night saw inclement weather, and instead of the normal south-eastern track from Mumbai which takes us just south of Hyderabad, we headed south along the coast before turning inland and taking a more southern route over Chennai to Singapore.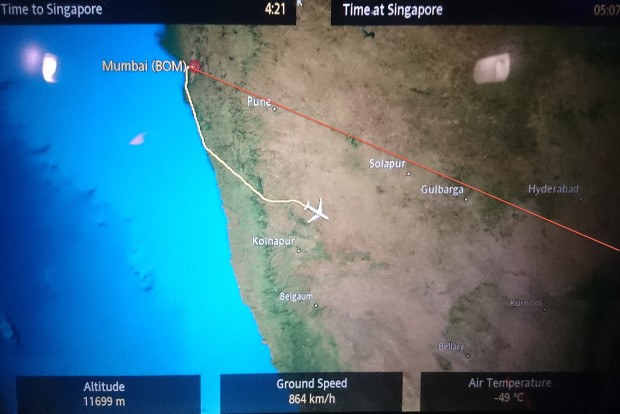 Drinks and meal service
Once the turbulence had reduced cabin service commenced. The Chief Stewardess came around, greeted each passenger, and her colleague offered the new Taittinger Prelude Champagne recently introduced by the airline for the business class.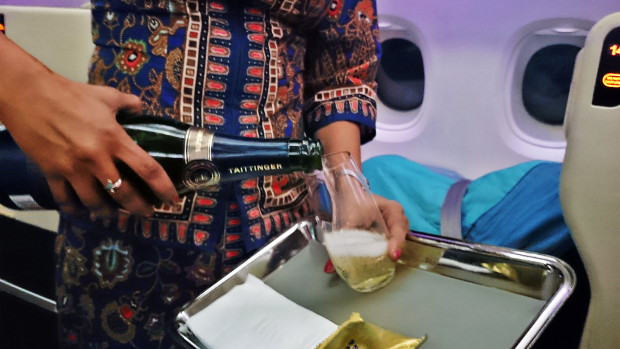 Dinner is served on the Singapore Mumbai leg. The return Mumbai Singapore leg sees a Supper service which is one course smaller. The service is elaborate and white linen. The 15 page menu can be viewed here. (5MB PDF)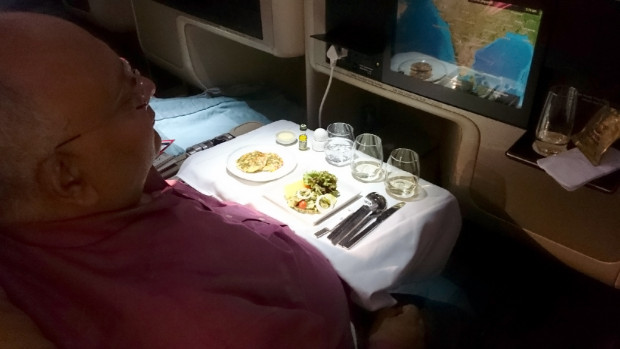 I had opted for a gluten free special meal and was offered a chicken pesto salad with fruits, along with rice Uthapams on the side as a starter.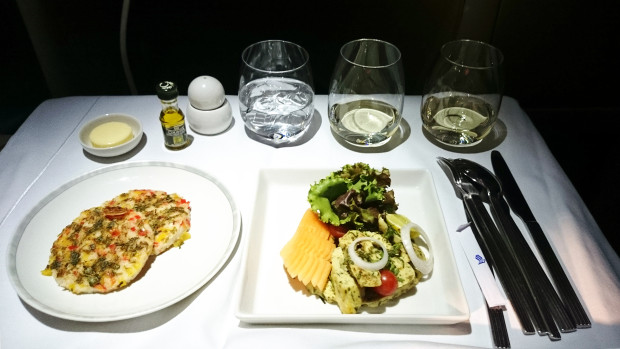 The main course was a chicken roulade. An insider tip I was given by the gurus in the flight kitchens; when flying, always choose a dish with a decent amount of sauce. Coq-au-vin, butter chicken, lamb or beef in a red wine sauce, etc. It will ensure a good moist meal, even if the cabin crew over-cook it, which is all to common.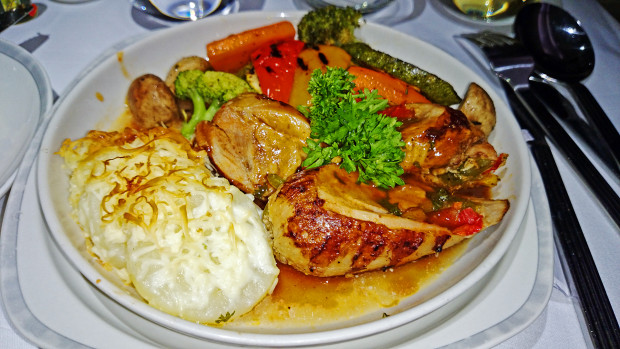 I skipped the fruit dessert. Unlike other airlines which offer a bowl of cut fruits, Singapore Airlines brings you a basket with a variety of fresh exotic fruits. There was dragon fruit, longgan, rambutan, mangostein, mango, banana, Japanese apples, Australian pears, grapes, etc. You choose and also whether you would like to cut the fruits yourself or have it served cut.
Another aspect I love about Singapore Airlines is the Illy single original espresso coffees available on board. In business class you are offered Guatemalan, Brazilian and Ethiopian coffees. In first class Jamaican Blue Mountain is also offered. Additionally a variety of aperitifs and digestifs are available – XO cognac, single malt scotch, liqueurs, teas, and other coffees.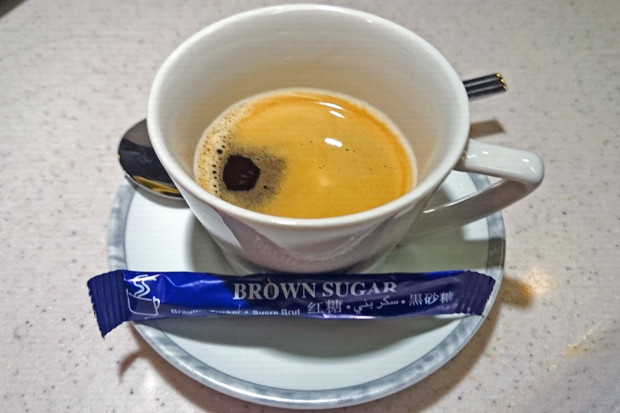 There is also a snack bar laid out in the galley should you feel like nibbling.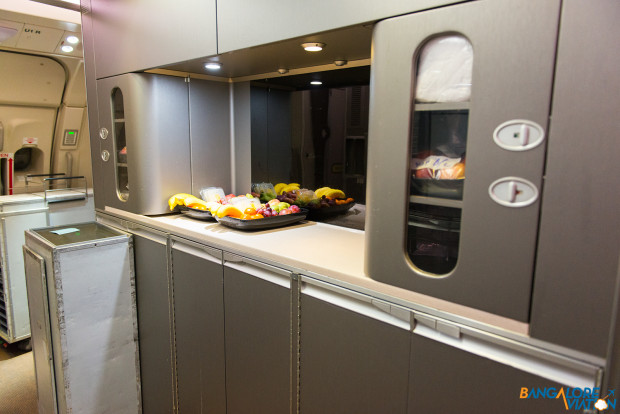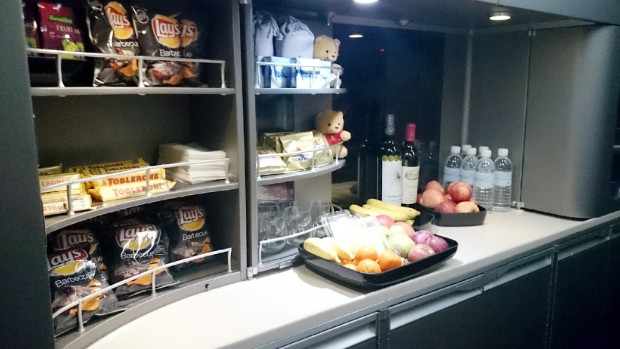 Arrival
It was an uneventful arrival and the Changi airport weight sensor did not forget me. We were allocated one of the farthest gates, which ensured a nice, long, morning walk.
Cabin service – Intuitive and attentive, yet unobtrusive
Very few airlines in the world have mastered the careful balance needed in offering top notch service. It needs to be intuitive and attentive, without being intrusive or overt, and Singapore Airlines is a leader in this. The flight was no exception. The service was exemplary, and even though I had not flown the airline in over 18 months, all my preferences which are captured in their database, ensured a very personalised service experience.
The A380 is a fantastic aircraft. Incredibly quiet, and comfortable. I just wished the flight did not end at five hours.
The Singapore Airlines business class seat is very good, but may be Singapore Airlines can consider the herringbone seat on the Boeing 777-300ERs of American Airlines and Cathay Pacific, but here I am niggling.
Thanks to Singapore Airlines for inviting and hosting me on this flight.