Some more details about AirAsia Indonesia missing flight QZ8501 from Surabaya to Singapore.
The flight took-off from Juanda International Airport in Surabaya at 05:35 (WIB Western Indonesia time which is UTC +7 hours). The flight lost contact with Jakarta air traffic control at 06:24 (WIB, 04:54 IST 23:24-1 UTC) about 42 minutes in to the flight.
Severe weather in the area
As per AirAsia, "the aircraft was on the submitted flight plan route and was requesting deviation due to enroute weather before communication with the aircraft was lost while it was still under the control of the Indonesian Air Traffic Control (ATC)." As per norm flight QZ8501 would have been under the control of the high level control centre in Indonesia's capital, Jakarta.
The plane was reported at an altitude of 32,000ft (FL320) and requested a climb to 38,000ft (FL380). CNN and BBC report severe weather with very cold clouds and heavy thunderstorms in the area. This is area is part the inter-tropical convergence zone (ITCZ) which is around the equator around the earth. Severe weather in the ITCZ was found to be a contributor to the crash of Air France AF447 in the Atlantic ocean. The aircraft was an Airbus A330-200 a wide-body.
Indonesia search and rescue are indicating the aircraft lost contact near the island of Pulau Belitung.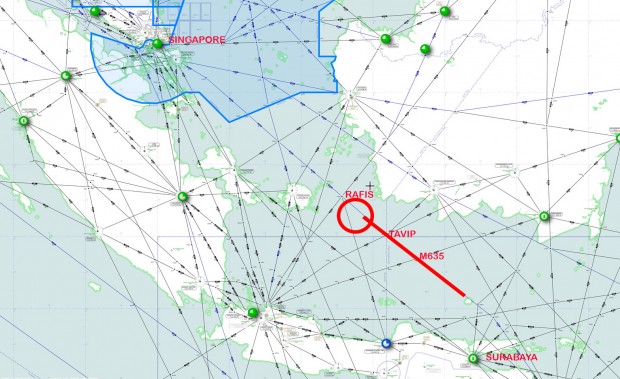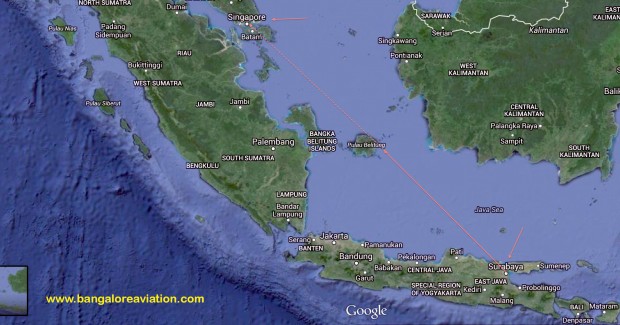 The aircraft commander had a total of 6,100 flying hours and the first officer a total of 2,275 flying hours. There were 155 passengers on-board, 138 adults, 16 children and 1 infant. There were seven two pilots and five cabin crew. A total of 162 souls on board.
Nationalities of passengers and crew
Updated by AirAsia at 18:00 IST (12:30 UTC)
One Singaporean
One Malaysian
One French (crew – first officer)

One United Kingdom

Three South Korean
156

155

Indonesian (six crew – commander, engineer, four cabin)
Aircraft PK-AXC had normal flight history
The aircraft is an Airbus A320-200 registration PK-AKC. It has a manufacturer's serial number (MSN) of 3648. It was leased from leasing company Doric and was delivered in October 2008. Like other AirAsia aircraft, it is powered by two CFM56-5B6/3 engines. The aircraft is configured in an all economy class layout with seating for 180 passengers. The aircraft had undergone its last scheduled maintenance a little over a month ago on November 16, 2014.
The aircraft performed six routine flights on December 27th. QZ8501 was the first flight of the day for PK-AXC.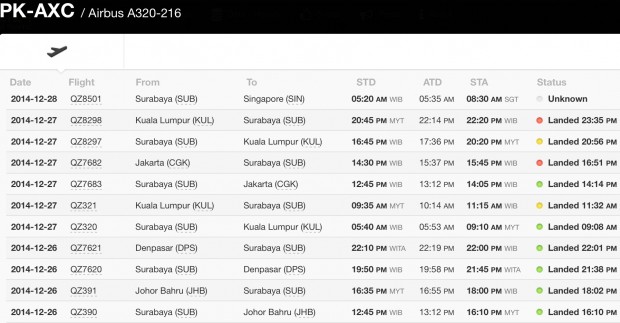 AirAsia changes logo colour
AirAsia has changed its logo from its traditional red colour to a grey colour. Red is considered a festive colour in most parts of Asia including India.
Third tragedy for Malaysia in 2014
2014 is turning out to be a horrific year for airlines head-quartered in Malaysia.
On March 8, Malaysia Airlines lost a Boeing 777-200ER performing flight MH370 with 239 souls on board. That aircraft is still not located in what has turned out to be a major mystery.
One July 1, another Boeing 777-200ER of Malaysia Airlines performing flight MH17 with 298 souls on board was shot down by Russian backed terrorists when flying over eastern Ukraine.
And now this.