In quick succession Dallas-Fort Worth Airport has joined the major leagues of Los Angeles, New York JFK, Washington Dulles, Miami, San Francisco, Houston Intercontinental, and Atlanta as an airport that receives Airbus A380 super-jumbo services. And not just just from one but at least two international carriers, as both Australia's Qantas and Dubai's Emirates airline commenced ultra-long haul services connecting the Texan city to Sydney and Dubai respectively.
World's largest plane on world's longest flight
Qantas used to operate a Boeing 747-400ER on QF7 and QF8, at 8,578 miles (13,804 km), the world's longest non-stop flight between Sydney and Dallas-Fort Worth. Due to range limitations of the Boeing 747-400ER, on the return flight, QF8 used to make a stop for re-fuelling. Effective September 29, Qantas has upgraded this flight to the A380 super-jumbo which will fly non-stop in both directions six days a week, except Tuesdays.
The A380 to DFW VH-OQL Phyllis Arnott painted in a special livery with the Qantas Kangaroo wearing a good old 10 gallon cowboy hat and a logo near the door proclaiming "G'day Texas" arrived on runway 18 left and received the traditional water cannon salute from the ARFF team.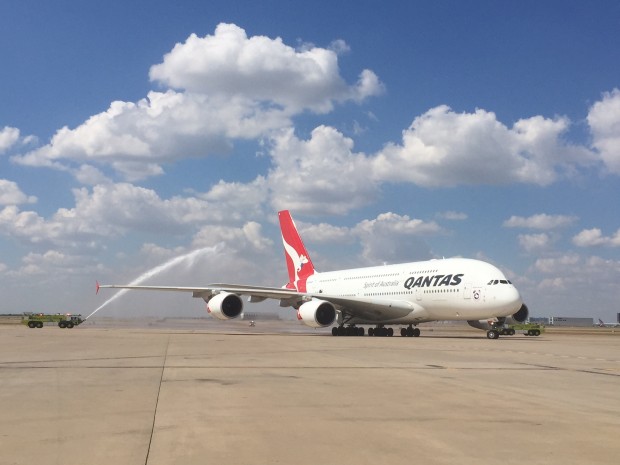 The airline has introduced "Texan" food and as a special gesture, Dr. Pepper soft drinks which hail from the metroplex. The Qantas A380 is configured in a four class cabin. F14C64W35Y371 14 newly designed first class suites by Marc Newson. 64 flat-bed business class, 35 premium economy, and 371 economy class.
The schedule is very similar to the existing service.
QF7 departs Sydney at 13:10 and arrives Dallas-Fort Worth 13:45. Flight time from Sydney to DFW is around 14 hours, 50 minutes.
QF8 departs Dallas-Fort Worth at 22:15 and arrives Sydney at 06:05 two days later. Flying time from DFW to Sydney is around 15 hours 30 minutes.
Expect Qantas to leverage its DFW service with oneworld partner American Airlines for whom DFW is their biggest hub.
Qantas image and video gallery
Emirates A380
On October 1, Dubai based Emirates airline also commenced an A380 service to Dallas-Fort Worth. A6-EET completed a 15 hour 39 minute flight as EK221 to be received by the water cannon salute of the DFW ARFF.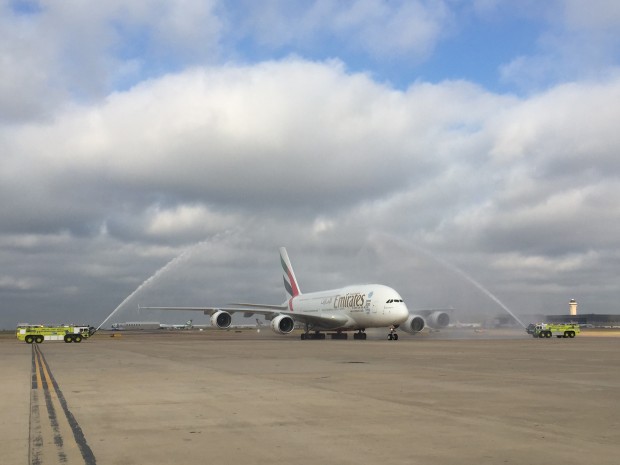 The Emirates schedule is very similar to the previous Boeing 777-200LR service, though flight times on the A380 are reduced a little.
EK221 departs Dubai at 02:45 and arrives Dallas-Fort Worth at 09:45. Flight time from Dubai to DFW is approximate 15 hours and 45 minutes.
EK222 departs Dallas-Fort Worth at 12:35 and arrives Dubai at 12:20 the next afternoon. Flight time from DFW to Dubai is about 14 hours.
Though officially the distance between Dubai and DFW is 8,040 statute miles, most times the onward flight flies about 8,450 sm following an extremely northern routing due to winds as this flight track from FlightAware shows. On this day the flight took 15 hours and 51 minutes to complete.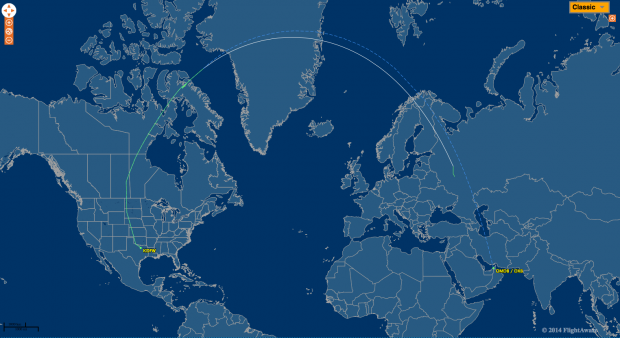 Many passengers, especially from India, will rejoice as they will no longer be cooped up for this ultra-long-haul flight in the narrow 17 inch economy class seats that the airline offers on its Boeing 777s that previously operated this route. The A380 features 18 inch wide seats.
Emirates offers a three class configuration. 14 first class suites, 76 flat bed business class and 399 economy class. All the premium classes are on the upper deck and all the economy is on the lower.