Abu Dhabi based Etihad Airways, the national airline of the United Arab Emirates (UAE), has unveiled its new 'Facets of Abu Dhabi' livery created by brand consultants Landor Associates for the airline.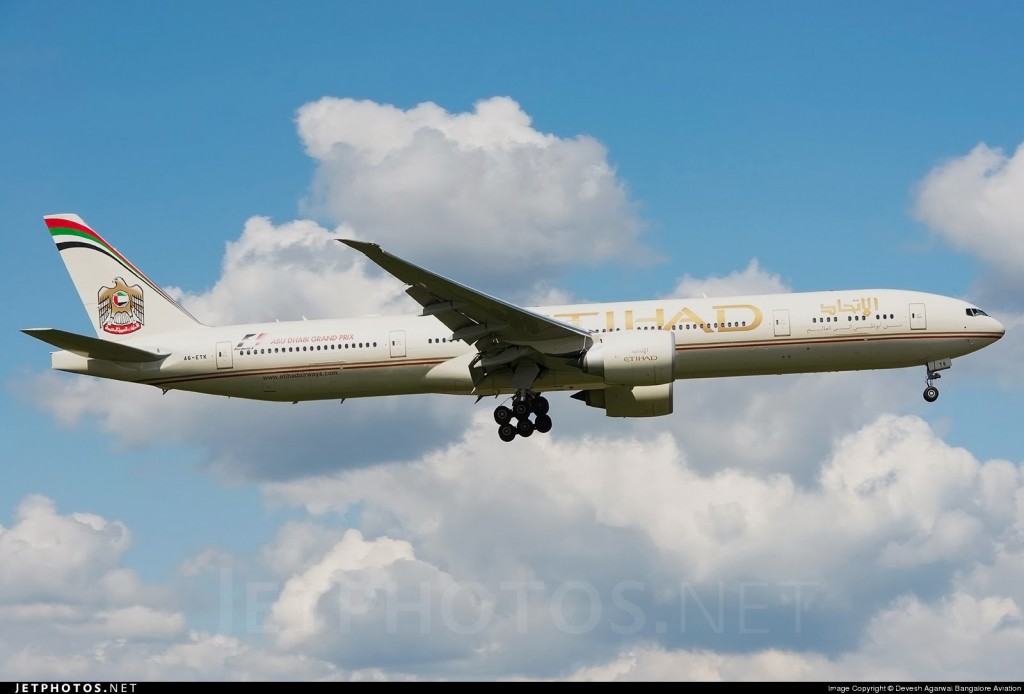 The new livery inspired by traditional Emirati design patterns, and the geometric style of the modern architecture of Abu Dhabi, features the colours and hues of the Arab desert. It will be inaugurated on the first of its ten ordered Airbus A380 the airline will receive as well as the airline's new Boeing 787 Dreamliners (see a picture here). The new livery will be progressively introduced on to the existing fleet of over 100 aircraft over the new three years.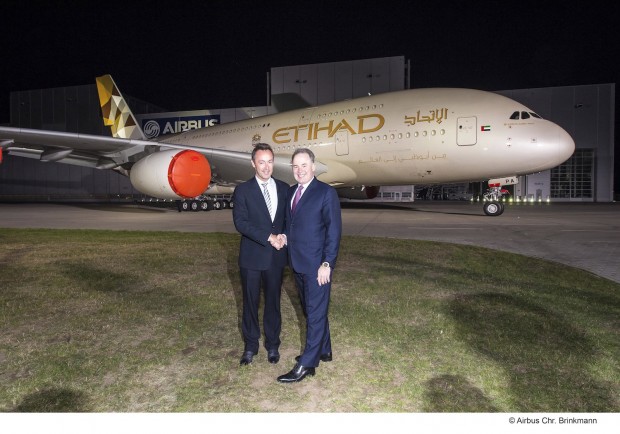 The colour palette of the livery varies from the darker sands of Liwa to the lighter colours seen in the northern Emirates. The national emblem of the UAE has been moved from the tail to the mid-fuselage near the Etihad name, and the national flag which was featured as a swirl on the tail is now in a more traditional location near the cockpit. The design pattern will be the foundation of the new corporate branding the airline is rolling out.
The airline will take delivery of of its first A380 this year. It will be registered A6-APA. It will also receive seven new wide-body and seven narrow-body aircraft in 2015. Four Airbus A380 super-jumbos, three Boeing 787-9, one A320, and six A321s.
The A380 which features the uber-luxurious and unique three bedroom 'Residence' as well as the over-the-top First Apartments, will commence service on the Abu Dhabi London Heathrow route on December 27. The next two A380s, expected in early 2015, will also be deployed on the London route for triple daily A380 services between the two cities. The next two A380 destinations for Etihad will be Sydney and New York JFK.
READ ONLINE: Video of James Hogan unveiling new cabin products on Etihad's new A380 and 787
Video of the unveil event
Enjoy this 42 minute video of the unveiling event.
[bsu_youtube_advanced url="http://www.youtube.com/watch?v=2crGQ19avrI" width="640″ height="360″ controls="alt" autohide="yes" showinfo="no" rel="no" modestbranding="yes" theme="light" wmode="transparent" class="javascript:void(0);"]