Singapore Airlines has confirmed it will be the first airline to commence scheduled services of the world's largest passenger aircraft, the Airbus A380, to India. The surprise announcement beats out Dubai-based Emirates airline, the largest foreign carrier in India, and coincidentally, the world's largest A380 operator, which was widely expected to be the first to commence the super-jumbo's flights to India. Singapore Airlines has also edged out fellow Star Alliance member, Germany's Lufthansa which has announced it will operate an A380 to India from this winter schedule.
The A380 services of the ASEAN city-state carrier which will commence on May 30 from Singapore to New Delhi and to Mumbai on a daily basis, will replace the existing two evening daily flights between the respective cities currently operated by Boeing 777 aircraft, thus reducing the number of flights from each city from 21 to 14, but with an increase in the size of the aircraft.
While not confirmed, it is almost certain, Singapore Airlines will operate its 471 seat three class configured A380s to India, with 12 first class suites, 60 business, and 399 economy class seats. This is still one of the most comfortable cabin configurations in the sky.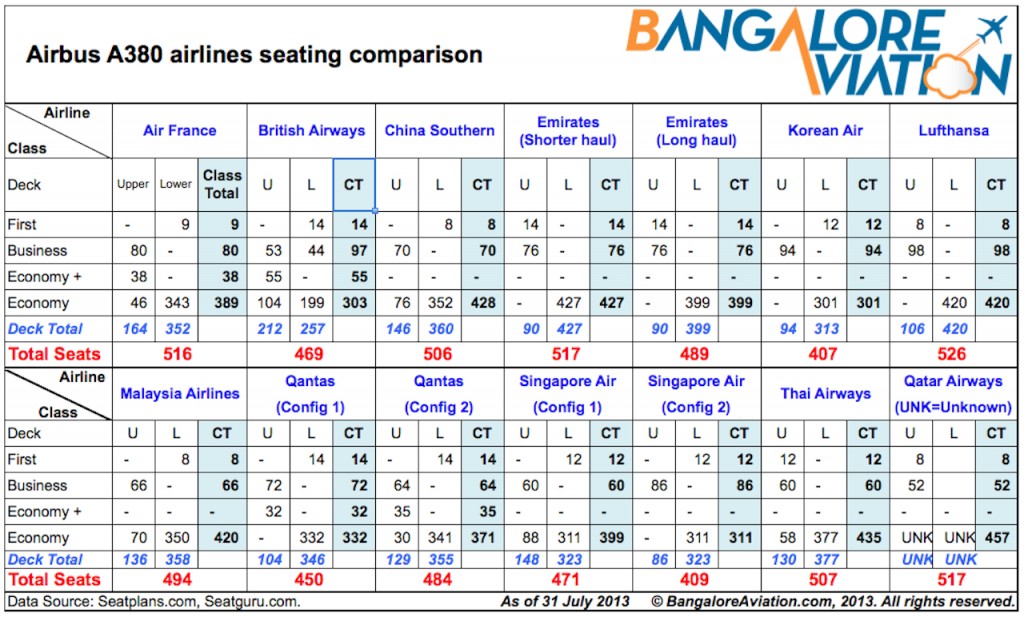 In our February analysis on which airlines were likely to commence A380 services to India, we had stated
"The dilemma the airline [Singapore Airlines] faces is that its current A380 fleet is fully deployed. The additional five orders are relatively recent and delivery is not expected any time soon. The airline will have to sacrifice one flight from another destination to service India in the short term, or may choose to deploy A380s at a later date."
It will be interesting to see, which services has the carrier changed to accommodate the India flights.
The revised schedules between Singapore and Mumbai and New Delhi are:
Singapore <> Mumbai v.v.
Flight No

Sector

Aircraft

Dep / Arr

SQ 422

SIN-BOM

B777-200

0235/0525 (till 10Jun14)

0730/1020 (from 11Jun14)

*SQ 424

SIN-BOM

A380

1915/2155

SQ 421

BOM-SIN

B777-200

0845/1645 (till 10Jun14)

1145/1945 (from 11Jun14)

*SQ 423

BOM-SIN

A380

0025/0820
Singapore <> New Delhi v.v.
| | | | |
| --- | --- | --- | --- |
| Flight No | Sector | Aircraft | Dep / Arr |
| SQ 402 | SIN-DEL | B777-200 | 0235/0535 |
| *SQ 406 | SIN-DEL | A380 | 1725/2005 |
| SQ 401 | DEL-SIN | B777-200 | 0925/1740 |
| *SQ 403 | DEL-SIN | A380 | 2205/0610+1 |
* The A380 services are subject to regulatory approval
Singapore Airlines Senior Vice President Marketing Planning, Ms. Lee Wen Fen said
"We have been keen to operate the Airbus A380 to India and are glad that the Air Services Agreement between Singapore and India now allows us to do so," "India is a particularly important market for Singapore Airlines and we are very pleased that more of our customers will soon be able to experience the spaciousness and comfort of the world's largest aircraft."
Mr. David Lau, General Manager – India, said
"Singapore Airlines was the first airline in the world to operate the A380. The Singapore Airlines A380 not only has immense public appeal but also showcases our commitment to offer the best in-flight experience to our Indian travellers.