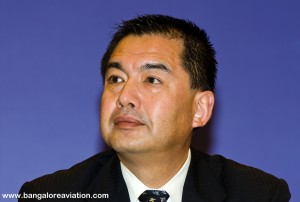 Japan Airlines (JAL) wants to start a Bangalore Tokyo service, but does not have any plans to do so in the near future, Masaru Onishi, Chairman of the airline, told
Bangalore Aviation
on the sidelines of the Oneworld event to mark the entry of Malaysia Airlines in to the alliance.
Onishi went on to say, with the growing investment of Japanese companies in India, particularly in the Delhi and Bangalore geographies, India is definitely on the radar screen of the airline, but the lack of high enough demand for India Japan O and D (origin and destination) traffic is making it difficult for airline to firm-up its plans for expanding services to India.
The airline operates a daily flight between New Delhi and Tokyo. The other major Japanese carrier, All Nippon Airways, also operates a daily services between Tokyo and New Delhi and Mumbai.
Onishi went on to detail JAL's strategy. The airline is facing shrinking domestic markets. Short haul international flights to Korea and China are stable but are moving to the Low Cost Carrier segment like AirAsia Japan, and to Chinese airlines. Medium and long haul routes are where JAL wants to focus and India factors in to these plans.
We asked about JAL tapping in to the large India to US West Coast market, Onishi explained that JAL already had very high passenger load factors on its trans-Pacific flights, that too from high yield markets like Japan, which makes the airline uncompetitive in low yield markets like India.
Despite this the Chairman is positive on the growth of Japan Airlines' services to India.