HDFC Bank is offering zero cancellation charges on tickets booked using its credit cards in February 2018.
The bank is offering the following through HDFC Ergo:
On refundable tickets, you will be refunded the portion of the ticket cost not refunded by the airline, excluding convenience fees.
For Non-Refundable tickets, 50% of the ticket cost will be refunded excluding convenience fees.
Some terms and conditions
The offer is applicable on bookings done for Domestic flights only
The offer is valid for flight ticket bookings done from 1st February, 2019 to 28th February, 2019.
Maximum ticket claim value for each transaction will be restricted to Rs. 25,000
Maximum 2 cancellation requests will be fulfilled per customer on bookings done during promo period across all travel portals put together
Coverage is applicable on connecting flights as well.
Cancellations will be allowed until 24 hours from scheduled departure time or September 30th'2019 whichever is latest
Reimbursement of ticket cost only, no convenience fees to be paid
The promotion is valid on HDFC retail and Business credit cards, but not on JetPrivilege co-branded cards. Tickets can be booked directly via the airline or an Online Travel Agent as long as it is paid using an eligible HDFC credit card.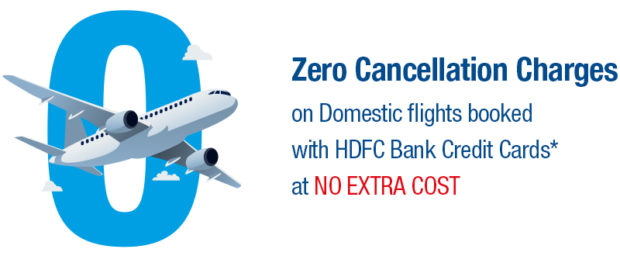 How to make a claim
To make a claim, you need to first cancel the ticket with the airline / OTA. After you receive your refund send an email to TravelClaims@hdfcergo.com with the following documents:
Dully filled claim form.
Copy of Flight Tickets.
Proof of Flight Ticket booking confirmation through HDFC Bank Credit Card.
Proof of Flight Ticket Cancellation by Card Holder and carrier.
Confirmation mail from respective Air Service for cancellation of booking from the claimant.
Confirmation mail from Insured person for receipt of refund by respective Air Service.
If everything is in order, you should receive your claim in seven working days.
It's great to see HDFC working on new promotions to differentiate their product from the rest of the pack.
For more information and detailed terms visit the bank's website.