As of this writing, there are 15 miners trapped inside an illegal mine in Meghalaya and rescue efforts have not quite seen the push that they require from government and citizens alike. This note is a call to the aviation community to come together and push for the rescue.
On January 12th, before the break of dawn, 5 members of the Remotely Operated Vehicle (ROV) team departed on an Indian Air Force AN-32 aircraft from Chennai's Tambaram Air Force station with an ROV and support equipment with payload of 500 kgs. A quick stop in Hyderabad to pick up the National Geophysical Research Institute team (NGRI) of 6 men and a payload of about 400kg  and then landed for refuelling at Kalaikunda Air force Station at 11 AM. They landed at Guwahati Air force Station at 2 PM. The hydrologist from National Institute of Hydrology, Roorkee also landed from Delhi at 3 pm.
The team have reached at 10 pm at Shillong by road (due to lack of helipads and helicopter services in the region). They will head out to the operation site tomorrow morning.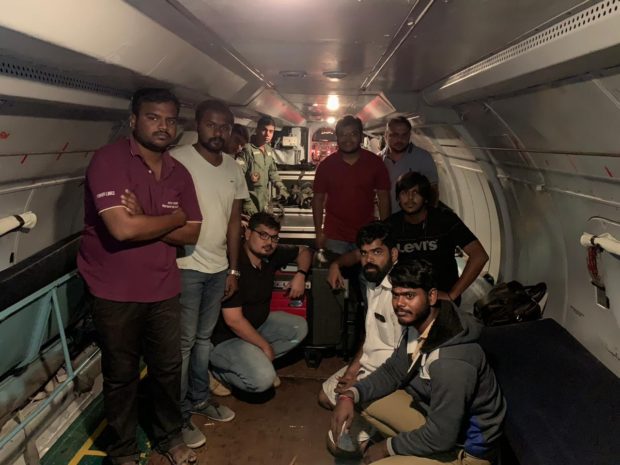 The rescue operations highlights why the nation needs to continue to focus on ALL aviation infrastructure and not only commercial airline operations. In this case, the site is in difficult terrain where infrastructure and material required essentially has to be airlifted thus helicopters will continue to play a vital role.
The current plan is that the team from NGRI with ground-penetrating radar will find the horizontal shafts, and map the mine.  The hydrologist using topo maps will figure out the flow and sources of water. Both teams will also, try to find the breach where the water is filling in the mines and it is likely that aerial maps may provide a clue. Sources indicate that since the mines are illegal there are no maps or blueprints as to the mines themselves making for a challenging situation. The small ROV will essentially follow the inputs of the  Ground penetration radar and go underwater in the horizontal shafts to look for air pockets and life.
It is equally disappointing that there has been very little mention of this story in the news media. Arguably the rescue operation in Thailand got more coverage and support than this rescue that within the country.
It is at times like these that the aviation community needs to come up and lend their support to causes that are greater than the industry itself.