SpiceJet, reported its first quarter results of the fiscal year 2018-2019 (Q1FY19) last week. Much like its rival Indigo, it was a result that reflected the ongoing weakness in the market and was below expectations.
Key numbers
SpiceJet Q1FY19 results snapshot (in INR) comparisons to Q1FY18
Revenues ₹2,236 crores (up 20%)
Costs ₹2,245 crores (up 31%)
EBITDAR ₹398 crores (down 17%)
Profit/Loss before tax (PBT) (₹38 crores) (down 122%)
Revenue per available seat kilometre (RASK) ₹4.36 (up 6%)
Cost per available seat kilometre (CASK) ₹4.31 (up 15%)
Capacity (measured in available seat kilometres) 5.2 billion (up 14%)
Passenger load factor 94% (up 0.5 percentage points)
Yield (fares realised) ₹4098 per (average of domestic and international)
Spice continues to deliver on revenue
SpiceJet had a revenue increase of 20% against a capacity increase of 14%. The RASK and load factor numbers indicate that not only are they selling aggressively, their revenue management is strong (revenue management refers to how supply and demand are managed and as flights fill up the fares are pushed higher).
It is likely that the Q400 fleet is also delivering strong revenues. Fares on some sectors such as Gorakhpur-Delhi during the quarter touched INR 8000 and against a short sector length these result in a high RASK. International performance was also strong with continuous fare sales ensuring top of mind recall.
Finally, SpiceJet continues to focus on the ancillary revenues and these were up 28%. Their onboard offerings coupled with partnerships with other providers continue to deliver.
The increase in costs is a big challenge
While revenue performance was strong, costs rose in the quarter. SpiceJets CASK was INR 4.3. Compare this to Indigo's CASK of INR 3.8 and it shows quite a difference. This difference was driven my major maintenance where expenses rose by 14%.
Costs against each line item rose with fuel being the highest. SpiceJet paid an extra INR 203 crores in fuel due to the fuel price rise. While some of these costs such as fuel, airport charges etc are unavoidable the spike in maintenance costs, benefit costs and other operating costs will have to be controlled.
Forex losses driven by the rupee dollar exchange rate further added to woes. Indeed, Spice made a provision of INR 25.2 crores to cater for this.
Q400s now 37% of the fleet but competition from Indigo likely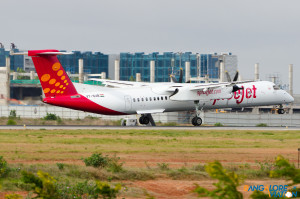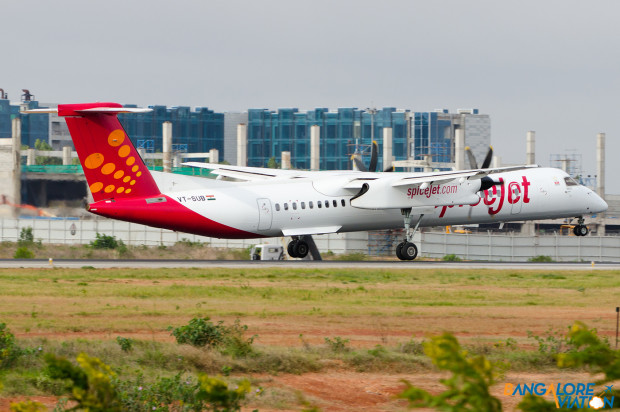 SpiceJet ended the quarter with 22 Q400s and 36 Boeing 737s. Ironically, the very same regional aircraft that at one point posed a challenge for SpiceJet are now delivering solid results.
The Q400 routes in several cases are monopoly routes and with aggressive sales coupled with growing demand industry analysts indicate that SpiceJet is doing quite well with this fleet. Additionally, the fleet is majority owned by Spice giving benefits of ownership.
That said, with Indigo's ATR launch and Jet Airways relooking at its decision to sell off its ATR fleet, SpiceJet will face some tough competition going forward.
Arbitration decision may be appealed
The quarter also saw the arbitration decision where SpiceJet was directed towards a payment settlement. The financial disclosures indicate that SpiceJet is looking at options including either a payment of INR 308 crores or allotment of preferential shares of INR 250 crores.
Market sources indicate that the legal option and going back to court may also be an option. In either case the delay in payment is also accruing interest costs and this is another item SpiceJet will have to cater for.
The market environment continues to be tough
The market environment continues to be tough with all airlines chasing load factors. SpiceJet has done remarkably well sustaining 90% + load factors however, this also indicates that there is not much room for additional sales. Yields of INR 4098 are almost flat compared to the same quarter last year where they were INR 3943. Against this input costs have risen by 31% highlighting the limited ability of airlines to pass on cost increases via higher fares.
Ancillary revenue continues to be a driver of revenue and indeed one saw the announcement of inflight Wi-fi by SpiceJet coupled with their intention to start a cargo service. This diversification of revenue streams is a well thought out strategy and will help Spice perform better.
In summary
The first quarter fiscal 2019 performance highlighted challenges with the industry. In some ways, Indigo's earnings announcement set the tone for other results (see our analysis on Indigo's Q1 results).
Against this tough market environment, competition is heating up and all competitors are adding capacity including in the hallowed grounds of competing with SpiceJet's regional fleet. The capacity addition will further lead to pressures as airlines rush to fill airplanes with cheap fares.
With Q2 trending almost the same way, Q3 and Q4 will indicate how this competition plays out – and all indications are that it will not be pretty.
Stay tuned.