American airframer Boeing kicked off the first day of the 2018 Farnborough airshow with orders for the 777 frighter from DHL and Qatar Airways.
DHL has placed an order for 14 Boeing 777 Freighters and purchase rights for 7 additional freighters. The list price of the order is $4.7 billion. A portion of the order was previously unidentified on Boeing's Orders & Deliveries website.
Charlie Dobbie, Executive President of Global Network Operations & Aviation, DHL
"We are delighted to announce the acquisition of 14 new 777 Freighters as we renew part of our long-haul fleet with this best-in-class fuel efficient freighter type that will make a significant step towards DHL's zero emissions target by 2050,"
Qatar Airways has finalized an order for five 777 Freighters. The list price for the order is $1.7 billion. This order was announced as a commitment in April.
The announcement was attended by the State of Qatar's Minister of Finance and Qatar Airways Chairman, His Excellency Ali Shareef Al Emadi.
Akbar Al Baker, CEO, Qatar Airways Group
"I am delighted to be further enhancing our cargo fleet and adding five Boeing 777 Freighter aircraft, In the past 15 years, Qatar Airways Cargo has grown steadily and globally, becoming the third largest in the world. We could not have achieved this success without our resilient relationship with Boeing."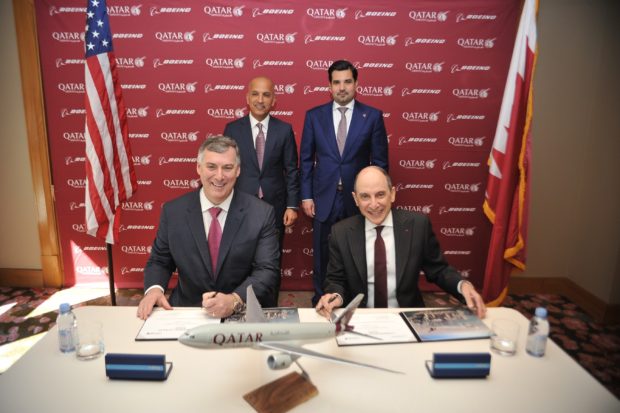 Qatar Airways currently operates a fleet of 13 777 Freighters and two 747-8 Freighters. With this order, the airline is set to grow its Boeing Freighter fleet to more than 20 jets.
Boeing has sold 65 widebody freighters in 2018, and more than 180 widebody freighters since the start of 2014, which equates to a 98-percent share of the market. In that same time, Boeing has delivered more than 140 wide-body freighters, which translates to a 92 percent share of deliveries.