Jet Airways has introduced a bidding system to allow passengers to bid for upgrades on it's flights. Passengers will be able to place a bid to upgrade to the next available class of service – Economy to Premiere (business) or Premiere to First.
To bid for an upgrade, passengers can place a bid under the manage my booking section. Passengers can then select an amount they are willing to pay and place a bid. There is a reserve price below which a bid cannot be placed. Bidding closes 24 hours before the flight. The upgrade page can also directly be reached here.
After placing a bid but before bidding closes, passengers can modify, or even cancel their bids. However a bid cannot be withdrawn after it is accepted. While placing a bid – passengers must input their credit card details which will only be charged if their bid is accepted.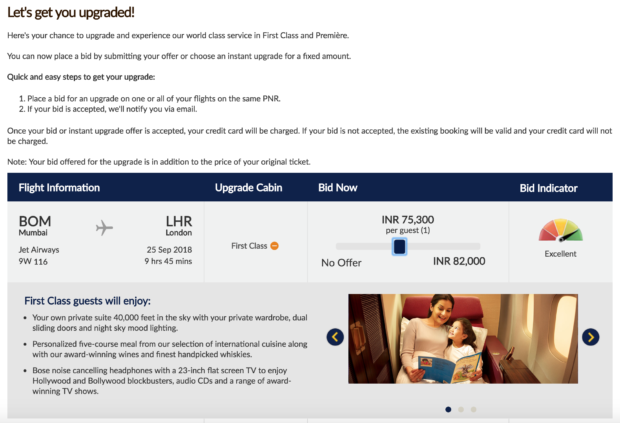 Raj Sivakumar, Sr. Vice President, Network Planning and Revenue Management, Jet Airways
"JetUpgrade illustrates yet another first in the airline's history of undertaking continuous innovations for over two decades, in order to offer guests an exceptional flying experience. Being dynamic in nature, JetUpgrade raises the industry benchmark of customer experience, offering more value to those guests who appreciate our superior in-flight services."