Three of India's low-cost carriers, IndiGo, AirAsia India, and Spicejet feature in the OAG's Punctuality League 2018 as India's most punctual airlines. Chennai, Hyderabad, and New Delhi airports also feature in the annual report of airlines and airports with the best on-time performance (OTP) in the world.
The best of the best
As per the Punctuality League 2018, the most punctual airlines in the world are: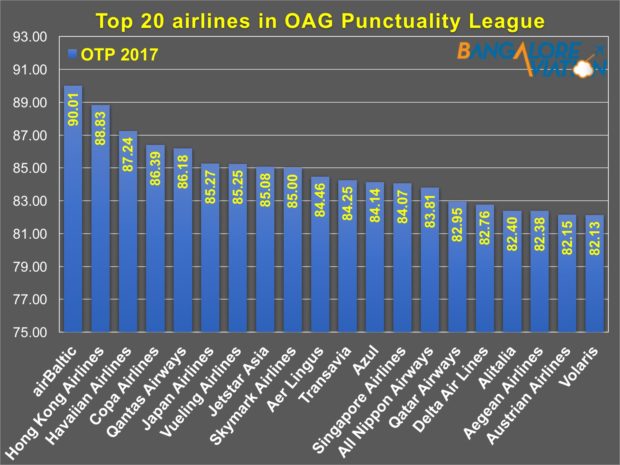 Curiously, low-cost carriers who depend on a quick turnaround and efficient operations don't make it in to the 'Top 5'. Spanish LCC Vueling the most punctual LCC is ranked seventh with a OTP of 85.25% and a coverage of 82.2% of its flights. It is closely followed by another LCC, JetStar Asia with on OTP of 85.08% and a coverage of 86.5%.
India's most punctual airlines
Only three Indian carriers, all of them LCCs, feature in the top performers list. IndiGo is ranked fourth in the 'Mega' airlines category, and ninth among all airlines in the Asia-Pacific geography. Mega airlines are the Top 20 airlines of the world measured by number of flights despatched. AirAsia India and Spicejet join IndiGo in the global 'Top 20 LCC' category.
| | | | |
| --- | --- | --- | --- |
| Rank | Airline | OTP | Flights covered |
| 9 | IndiGo | 81.22% | 97.1% |
| 17 | AirAsia India | 74.85% | 92.0% |
| 20 | Spicejet | 73.72% | 90.2% |
While not published, if measured on an overall basis, IndiGo will be ranked 26th globally.
Airline quotes
Bangalore Aviation reached out to the three airlines for their reactions on achieving this feat.
Aditya Ghosh, President, IndiGo said, "On-Time performance is one of our core promises to our customers and it is also one of the three things that IndiGo stands for. We are delighted that we have secured a spot amongst the Top 5 mega airlines globally in terms of On Time Performance in the OAG Punctuality League 2018."
Amar Abrol, MD & CEO, AirAsia India said "We are extremely glad to be ranked in the top 20 most punctual LCC list by OAG and we believe it is a result of continued efforts of our teams and guests. We have undertaken some robust initiatives to ensure we are on top in terms of OTP, viz. smart bay planning for efficient and hassle-free clearance during departure, engaging with our guests and providing them with timely updates and announcements, making use of technology driven check in facility, wherever available. Most importantly, we always aim for base departures at D-10, which provides us with healthy buffer to be on time, each day"
Spicejet did not respond.
India's most punctual airports
Like the airlines, only three airports in India feature in the Punctuality League 2018.
The Indian airport with the best on-time performance in 2017 is, Chennai. It is ranked a joint 11th along with Washington Dulles airport in the large airports category (10 – 20 million departing passengers per annum). Chennai had 81.79% of all its flights, departures and arrivals operate on-time. It is an amazing performance given that the Airports Authority of India, a government department, operates the airport.
The other two airports are operated by private consortiums led by GMR. Hyderabad airport was ranked 17th, five ranks below Chennai with an overall OTP of 80.46%. New Delhi airport with an OTP of 70.05% was ranked 18th in the Mega airports category (over 30 million departing passengers per annum).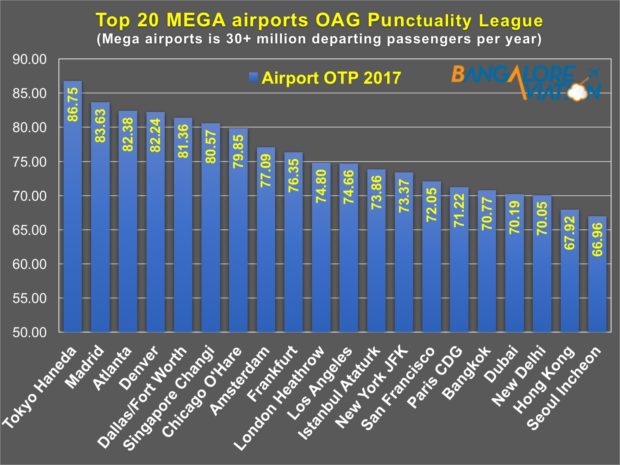 Need to strengthen on-time performance tracking
The on-time performance reports published by India's DGCA, rely on data from only four private airports in India. The DGCA reports fail to cover flights to or from Chennai and Kolkata, the fourth and sixth largest airports in India.
The fact that Chennai is India's most punctual airport would be undiscovered if one were to rely on the DGCA reports. Larger airports like Ahmedabad, Jaipur, Lucknow, Kochi, and Pune are also left uncovered.
As analysed by network planner Ameya Joshi, less than one-third of all domestic flights are tracked for on-time performance by the DGCA reports. In comparison, the OAG computes OTP when it has data covering a minimum 80% of flights operated by an airline or at an airport. A broader coverage will naturally reflect more reliable and accurate on-time performance report.
As an example, the DGCA reports track only about two-thirds of IndiGo's flights. OAG has tracked almost all (97.1%) of IndiGo's flights. Which report do you feel will give you a more reliable number?
Share your kudos and thoughts via a comment.
OAG Punctuality League
The league is based on 57 million flight records using full-year data from 2017 to create a
ranking of the best on-time performance (OTP) for the world's airlines and airports. "On-time" is defined as a flight that arrives or departs within 14 minutes and 59 seconds (i.e. less than 15 minutes) of their scheduled arrival or departure times. For airports both arrival and departure times are used for OTP calculations, while for airlines it is just the arrivals.
Read Ameya Joshi's article here
Read our earlier article on OAG vs DGCA OTP reports here
Read more about the OAG Punctuality League here