Data from the world's leading provider of digital flight information OAG Aviation Worldwide Ltd, appears to contradict the On-Time Performance (OTP) as reported by the country's regulator the Directorate General of Civil Aviation (DGCA). OAG which used to be the Official Airline Guide and handles more than 35 million dynamic flight status updates per day shows national leader IndiGo ranked at a mere 62 out of 135 airlines globally. National carrier Air India is the laggard, ranked 129, just six spots from the bottom. AirAsia India is ranked 85th, Spicejet 88th, Jet Airways 102nd, and Go Air is at 116.
OAG compiles a list of what it calls its OTP All Star Performers twice a year, and we have analysed and compared the OAG data against the data provided by various Indian airlines to the public via the DGCA.
Significant variations
For a rolling 12 month period from October 2016 to September 2017, we found a gap of 14.1% in the on-time performance of national carrier Air India. DGCA data showed 70.5% of flights on time while OAG showed a mere 56.4%.
Similarly Ajay Singh led Spicejet which has been advertising its punctuality was short by almost seven per cent; DGCA reported 80.2% vs. OAG 73.5%. The Wadia group promoted Go Airlines too is off by over nine per cent; DGCA 72.9% vs. OAG 63.7%
The closest figures were of Jet Airways, a difference of a mere 1.8% (DGCA OTP of 71.3% vs. OAG OTP of 69.5%). IndiGo was the national leader in punctuality with DGCA OTP of 81% vs OAG of 77.7% a difference of 2.3%.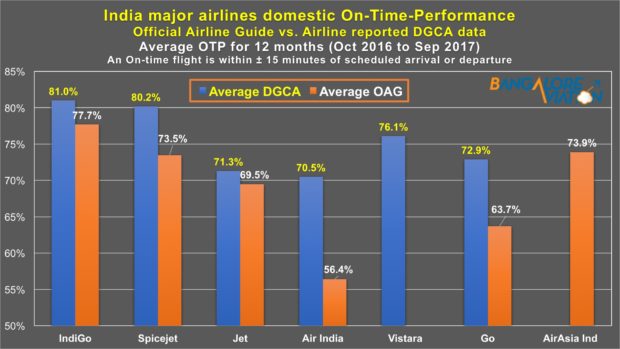 Indian data based on only 31.2% of flights
Why is this discrepancy between the data? The simplest explanation is the broad-base of the OAG data which collects arrival data for at least 80% of all flights operated by an airline, across ALL airports. In comparison, the DGCA tracks only 31.2% of flights for on-time arrival data.
It speaks volumes that the DGCA reports data for only four airports (Delhi, Mumbai, Bangalore, Hyderabad), out of 80 airports which have commercial operations. The four reporting airports are privately operated, while almost all the balance 76 airports are operated by the government, and this includes the fourth and sixth largest airports in the country, Chennai and Kolkata.
Airports data also difers
The OTP data differs for airports too. While the operators of Bangalore's Kempegowda airport claim an on-time rate of 81.3%, the OAG data shows 5.1% lower at 77.2%.
We asked the airport operator Bengaluru International Airport Limited (BIAL) on the discrepancy. A spokesperson said
"The annual OTP recorded at the BLR Airport was 86% and this data is shared with all key stakeholders including the DGCA. The annual OAG report has taken into consideration only 80% of the flights operating to and from our airport, hence a dip in the global ranking. Efficiency is the cornerstone of our airport operations and we have consistently achieved and maintained high OTPs month-on-month through the year; A close analysis of the OAG report for September 2017, will highlight that BLR Airport with an OTP of 88.4% ranks 92 in terms of number of flights operated per month….."
An OAG spokesperson said
"The data used to award the OTP stars is based on those airlines for which OAG has data for at least 80% of their scheduled services, and therefore, on a few occasions there are slight differences between the data that airports report and the data gathered by OAG. We continuously seek to improve the coverage of flight data that we have through our relationships with the airline community. We have data for more than 95% of BLR's scheduled services and we do acknowledge that BLR had a very high level of OTP in September. That said, the data used to award the OTP stars is based on a rolling twelve-month period, not one selected month. If the overall performance seen in September is replicated in other months, then we look forward to seeing BLR awarded a higher-level star rating in the future."
On-time performance dips in the winter
India's largest airport, New Delhi is notorious for its winter fog, and with IndiGo, SpiceJet, Air India, and Vistara having New Delhi as their hubs, it is natural their systemic on-time performance just nose-dives in winter.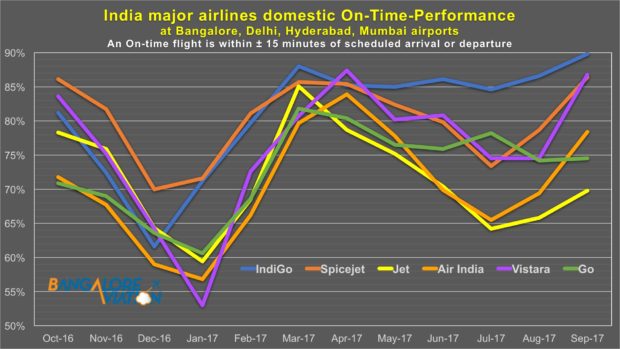 India's third largest airport, Bengaluru, is also a victim of fog and the lack of a Category III instrument landing system. This further compounds delays and adds to passenger woes. Unfortunately the delays and cancellation rules are woefully weak in providing any comfort or compensation to passengers.
Broad-based OTP data needed
Punctuality is an important decision driver for passengers to select a particular airline. We see regular ads from various airlines advertising their performance.
It is time for a significantly broad-based and accurate punctuality reporting system. The government has to force on the industry a robust system that not just reports average performance for an airline, but also one that makes the airline to provide the flight-wise on-time data the airlines already collect. It allows passengers to make a more informed choice like they do in the United States.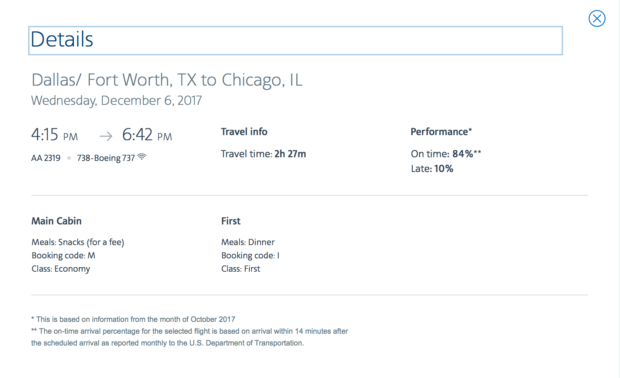 For a detailed understanding on why India's OTP reporting system needs a desperate overhaul, we recommend you read Ameya Joshi's article
Share your thoughts via a comment.