In a shocking development, just come to light, it appears that Indian Air Traffic Control (ATC) ignored the repeated MAYDAY calls by an Air Canada flight and endangered the lives of 191 passenger and crew on the night of September 19th.
Readers of Bangalore Aviation know how I despise the histrionic headlines found in mainstream media, but this case merits immediate and serious attention.
You will recall, on the evening of September 19th, a Spicejet Boeing 737 overran the runway at Mumbai airport and blocked the main runway. Flights were cancelled or re-routed as a result, and this resulted in most major airports around the country turning in to airplane parking lots and quickly getting choked. The sorry state of Indian airport infrastructure is a topic for another time.
One of flights that was affected was Air Canada flight AC46 which was on the final approach to complete a 14.5+ hour flight from Toronto to Mumbai. Due to the runway closure, AC46 had to cancel approach from the low altitude of 3,800 feet. They were put in to a holding pattern near Mumbai.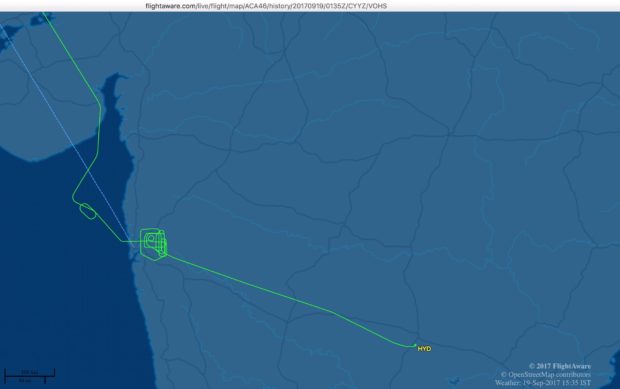 After an hour of holding, the Air Canada crew decided to divert. We assume its first alternate airport was New Delhi, the other Indian destination of the airline. However, the first alternate was at full capacity due to the runway closure at Mumbai. So the Air Canada crew, now beginning to run low on fuel, decided to divert to Hyderabad.
While en-route to Hyderabad, they were informed by ATC (not known whether Mumbai or Hyderabad), that Hyderabad too was at capacity.
With fuel now dangerously low, the crew had run out of options, and declared MAYDAY MAYDAY MAYDAY. Despite declaring a Mayday, the ATC (we assume Mumbai Control), repeatedly tried to get AC46 to again enter a holding pattern, and tried to divert them to some other airport. The Air Canada crew had to declare MAYDAY four times before the ATC gave them a route to Hyderabad which allowed the Air Canada flight to land in Hyderabad almost two hours after they aborted their landing in Mumbai.
Mayday
Internationally, MAYDAY is the emergency distress signal indicating a life-threatening emergency aboard a ship air or sea. As per the Australian ATC site,
"A 'mayday' call indicates an aircraft is in grave and imminent danger and requires immediate assistance. Controllers immediately alert ARFF services if available, as well as local emergency services, with details on the incident to enable them to respond appropriately and provide information and assistance to pilots throughout the emergency."
Criminal behaviour?
A Mayday call is the highest level of distress / emergency signal in aviation. It merits immediate and continuous attention an air traffic controller. As per the FAA training manual "An aircraft in distress has the right of way over all other air traffic." It also requires the controller to :
10-1-4. RESPONSIBILITY

a. If you are in communication with an aircraft in distress, handle the emergency and coordinate and direct the activities of assisting facilities. Transfer this responsibility to another facility only when you feel better handling of the emergency will result.
You can read the emergencies manual here.
For any air traffic control to ignore a MAYDAY call or contradict a pilot declaring a Mayday is unthinkable. For a controller to do it four times, calls for criminal investigation in to the incident.
India, already low on the global aviation safety scale, is today, thanks to this incident, the laughing stock of the aviation industry. I urge the Ministers of Civil Aviation, Union and State, and the Directorate General of Civil Aviation, to investigate this incident on highest priority and terminate the controllers involved along with their supervisors.
Source report – AvHerald.com
With a hat tip to Simon, I urge you to read the full incident report here.
Share your thoughts.