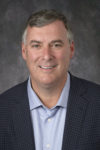 US airframer Boeing, has named GE Aviation's Kevin G. McAllister as president and CEO of Boeing Commercial Airplanes (BCA), to succeed current CEO and company Vice Chairman Ray Conner. The company also formalised a new business unit, Boeing Global Services (BGS) which will be formed from the existing customer services groups within the company's commercial airplanes and defence, space and security business units. It named veteran Boeing executive Stanley A. Deal to head the new business unit.
McAllister, 53, a materials engineer from the University of Pittsburgh, was president and CEO of GE Aviation Services since 2014 having joined them in 1989. Before that, he was vice president and general manager of global sales and marketing since 2008, where he was credited with delivering record backlog growth for the nearly $25 billion in business.
Ray Conner will continue to serve as Boeing vice chairman through 2017. In the coming year, he will work closely with McAllister to hand-off customer, supplier, government and community relations, to ensure leadership continuity. Conner also will provide strategic oversight and guidance for the company's transition to a single integrated services business and remain involved in ongoing product development strategy at Commercial Airplanes.
Stanley Deal, 52, will lead Boeing Global Services to bring together core capabilities currently within Commercial Aviation Services and Boeing Defense, Space & Security's Global Services & Support group. While some defense and commercial customer fleet support will remain within the two existing business units, the new unit will provide a broad portfolio of advanced services and incorporate the capabilities of various Boeing subsidiaries, including Aviall and Jeppesen.
Deal has served as senior vice president of Boeing's Commercial Aviation Services business since 2014. This business has more than 12,000 employees worldwide, offering Boeing aircraft operators (airlines and leasing companies) support and services, including 24×7 customer support, flight and maintenance training, after-market parts, maintenance and engineering solutions, airplane conversions and upgrades, flight planning, digital crew scheduling, advanced data analytics etc. Previously, he was vice president and general manager of Supply Chain Management and Operations for Boeing Commercial Airplanes, responsible for Supplier Management, Fabrication, Propulsion Systems and Quality groups. Deal joined Boeing as an engineer on the C-17 Globemaster III military transport and also held senior roles in sales and marketing.
Boeing Global Services & Support, focusses on military and government customers. It has more than 13,000 employees in 295 locations, and delivers a full-spectrum services, including training, supply chain management, platform modernisation and sustainment.
Deal is charged to integrate and commence operating BGS as the third major business unit of Boeing by the third quarter of 2017 with a headquarters group based in Dallas, where Aviall currently has a sizeable presence.
Both McAllister and Deal join Boeing Defense, Space & Security President and CEO Leanne Caret, as business unit leaders reporting directly to Chairman, President and CEO Dennis Muilenburg. They also become members of the company's Executive Council. The appointments are effective today.