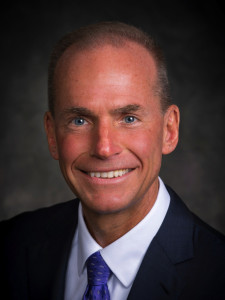 In a widely expected move, US aerospace giant Boeing announced that Dennis A. Muilenburg will succeed W. James (Jim) McNerney, Jr. when the latter steps down on July 1, as Boeing's chief executive officer, after serving ten years. McNerney will continue to remain Chairman till February 2016.
Muilenburg, 51, an aeronautical engineer, was elevated to Boeing's president and chief operating officer in 2013. He earlier headed the $31 billion Boeing Defense Space & Security business since 2009. A 30 year veteran of Boeing, he is expected to bring a more understanding and friendly approach internally compared to his predecessor, an MBA, who often had confrontations with Boeing employees.
Muilenburg's co-vice chairman, Boeing Commercial Airplanes President and CEO Raymond L. Conner, 60 will now become the sole vice chairman and will continue to head the $60 billion business.
While McNerney's tenure saw Boeing face challenges including huge delays on the 787 Dreamliner, its newest generation commercial aircraft, Boeing grew revenues by over 73% from $52.5 billion in 2004, the year before he became CEO, to $90.8 billion last year.
The New York Times has an excellent interview with Dennis Muilenburg which we recommend reading. Click here.