Khajuraho, Madhya Pradesh, airport is shut down after the landing gear of a Jet Airways Boeing 737-800 registration VT-JGA collapsed soon after landing, blocking the sole runway at the airport. All 59 passengers and eight crew on board evacuated safely. Flight 9W-2423 originated from New Delhi via Varanasi before arriving at Khajuraho around 13:15 this afternoon. The landing gear is reported to have collapsed about five to ten seconds after touchdown.
As per the airline the plane had "a technical problem with the landing gear". Emergency slides were deployed, and all 67 persons on board were safely evacuated on the runway. The airline added Safety chutes were deployed and all 59 passengers and 8 crew on board the aircraft disembarked safely and were transferred to the terminal. Jet Airways is making arrangements to transfer outbound guests to Varanasi and Delhi. An additional flight is also being operated on the Delhi-Varanasi sector to assist in accommodating the outbound guests.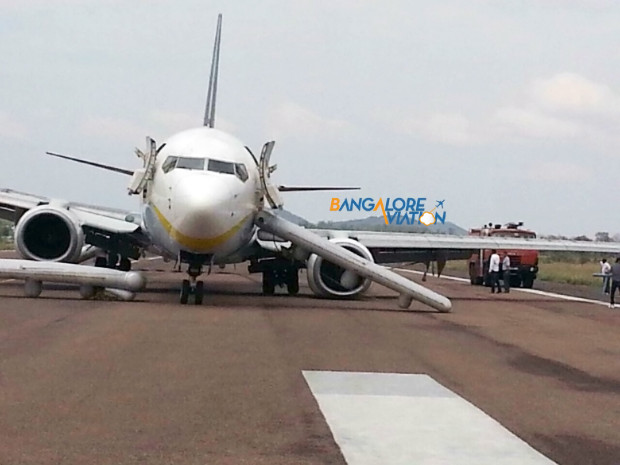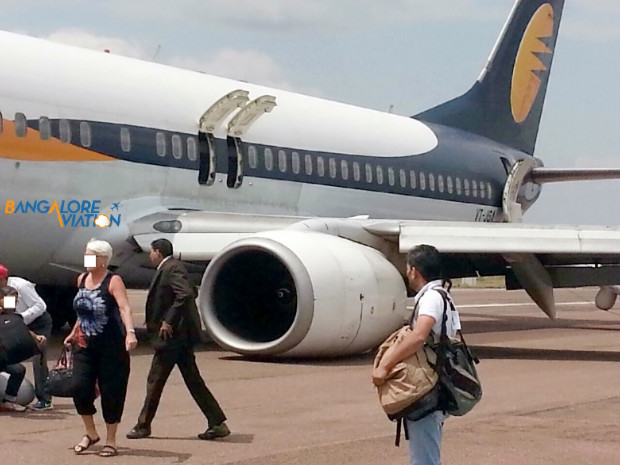 Air India Khajuraho flight stranded
As a result of the runway blockage, an Air India A320 registration VT-ESE getting ready to depart soon after the Jet 737 arrival is also stuck at Khajuraho airport, leaving its passengers stranded as well.
VT-JGA
VT-JGA is a Boeing 737-800 Next Generation. Construction number 30410 and line number 1228, the aircraft was delivered to Jet Airways, new, in November 2002, thus making it 12.5 years old. Fairly young by aircraft standards. The aircraft performed its first flight on October 10, 2002.