On January 19th, Bloomberg reported that national carrier Air India will commence large scale fuel hedging for the first time. The story was promptly picked up and reported by many leading Indian newspapers the next morning, including The Business Standard and The Mint.
As per the story, "Air India is hedging 2 million barrels of aviation turbine fuel annually at $75 per barrel" and the story goes on to state "Jet fuel in Singapore traded at $63.05 a barrel on Jan. 16, data compiled by Bloomberg showed." Based on current aviation turbine fuel (ATF) prices $75 appears to be a price exclusive of all taxes and levies.
I am no expert in fuel hedging, in fact I admit I don't know too much on the subject. In case my conclusions below are incorrect, I request someone with better subject knowledge to please correct me.
I researched the futures price of Jet Fuel (ATF) with Platts, the pricing authority which even industry body IATA uses. Graphing the futures contracts quoted for Gulf coast Jet Fuel, the price of fuel does not reach $75, the price at which Air India is hedging even by December 2016, two years away.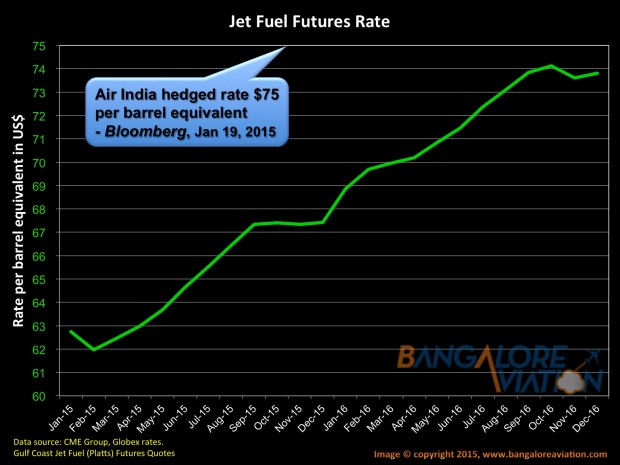 In fact by end of 2015 price quotes indicate a rise of just 7.4% to $67.43 compared to January's price quotes of $62.47.
So a simple question is, why is Air India paying such a premium? I am sure there is a reason for it, but I am not able to understand it.
Please share your thoughts via a comment.