Based on the recent statement of the Indian Minister of State for civil aviation to the Indian parliament we have produced these two graphics showing the country-wise break-up of Air India's passengers and revenue for the fiscal year ended March 31, 2014.
Air India transported 15,831,554 passengers earning revenues of Rs 15,551.78 thus earning an average revenue of Rs 9,823.28 per passenger.
Infographic: Air India passenger distribution
Air India has recorded sales from 66 counties. The largest source of passengers is India, the smallest is Fiji with just 25 passengers. India provides over 9.75 million or 62% of Air India's traffic, followed by Saudi Arabia with 790,664 (5%), the United States with 622,720 (4%), United Arab Emirates 613,836 (4%) . The United Kingdom tops off the 'Top 5' list with 553,432 passengers or 3.5%. Air India's website is the second largest earner of passengers with about 18.28 lakh passengers buying tickets. These sources collectively contribute over 89% of Air India's overall traffic.
The next 20 countries which contribute just one-tenth of the passengers include France, Oman, Germany, Australia, Japan, China, Hong Kong, Canada, Korea, Kuwait, Nepal, Singapore, Italy, Bangladesh, Thailand, Afghanistan, Sri Lanka, Bahrain, Myanmar (Burma), and Austria. The remaining of the 66 countries contribute just 1% of the total number of passengers.
Infographic: Air India revenue distribution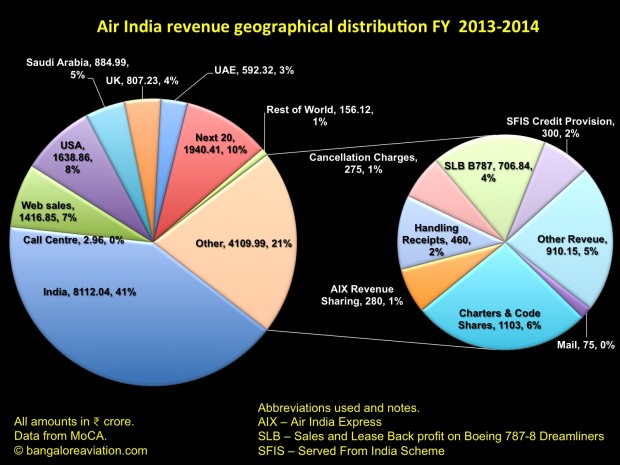 Air India earned at total revenue of Rs 19,661.77 crore (approximately $3.17 billion at current exchange rates of Rs 62 to $1); of this, 79% or Rs 15,551.78 crore ($2.51 billion) came from passenger sales and 21% or Rs 4,109.99 crore ($662.9 million) came from non-passenger sources.
India contributes Rs 8,112.04 crores or 41% of total revenues. Online sales brought in another 1,416.85 crore or 7%. The United States the furthest destination from India gave Air India Rs 1,638.86 crore or 8% of revenue.
Air India has revenues of Rs 1,006.84 crore which merits close attention. Rs 706.84 crore or 4% of total revenue came from sale and lease of the Boeing 787-8 Dreamliners. This is an extra-ordinary income that Air India has to ultimately repay in the form of higher lease rentals. Another Rs 300 crore is an expected, not realised revenue, under the SFIS (served from India scheme) of the government.
The minister's statement does not show a separate income for cargo, but there is Rs 910.15 crore of "other revenue". Would any Air India insider be able to say what this is?
Share your thoughts on these numbers via a comment.