India registered a growth of 5.31% in domestic air passenger traffic for the eight months of 2014 ending August compared to the same period last year. Indian airlines carried 43.325 million passengers from January to August 2014 compared to 41.140 in the eight months of 2013. Month to month traffic grew 8.31% to 5.697 million in August 2014 from 5.26 million in August 2013.
Market share
India's largest private carrier Jet Airways and its subsidiary JetLite combined, regained the second rank both in terms of passengers carried and market share from SpiceJet. National carrier Air India fell to a low 16.2% market share while low fare carrier SpiceJet gave back most of the gains it made in the month of July. Market leader IndiGo and minnow GoAir also registered impressive gains.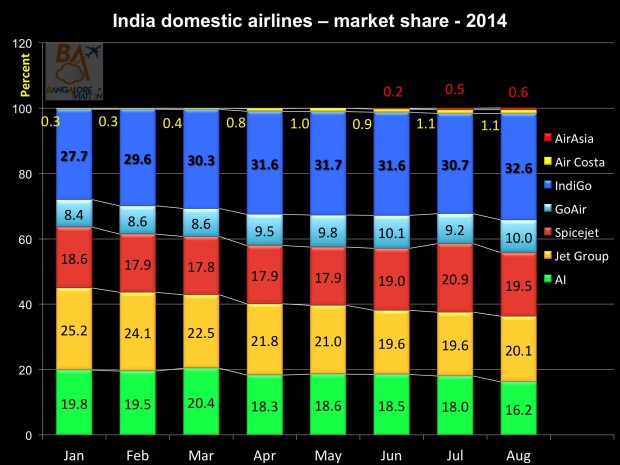 Passengers carried
With the exception of Air India, all other airlines saw a growth in their passenger numbers from July, as the summer holidays ended and business activities recommenced in earnest ahead of the October Diwali holiday season. August domestic air passenger traffic jumped a significant 9.22% over the 5.216 million of July.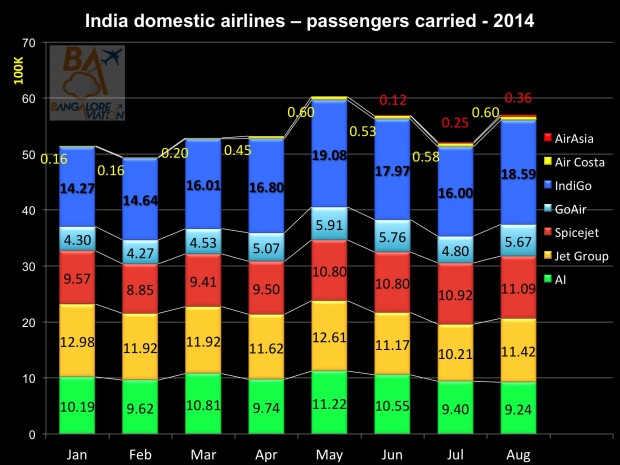 Passenger load factor
All major carriers improved their capacity utilisation also called passenger load factors (revenue passenger kilometres divided by available seat kilometres) to above 70%. SpiceJet retained the passenger load factor crown at 82.5% closely followed by GoAir. Air Costa was the laggard.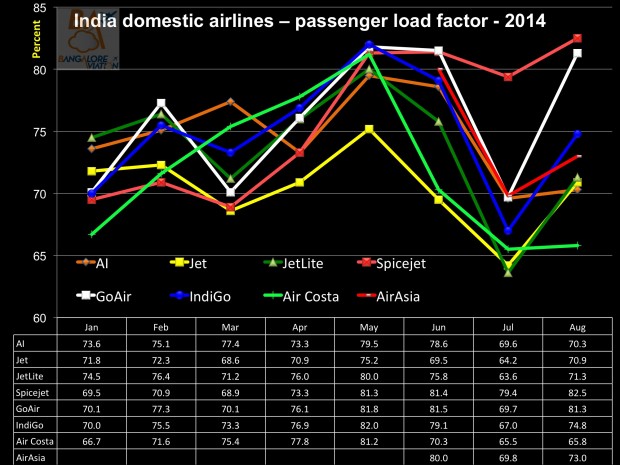 Share your thoughts on these results via a comment.