National carrier Air India will introduce an all Boeing 787-8 Dreamliner, all non-stop flights strategy to Singapore from October. The airline already operates the new aircraft on the New Delhi Singapore route, and currently operates an Airbus A330-200* a Boeing 787-8 on the Mumbai Chennai Singapore return route.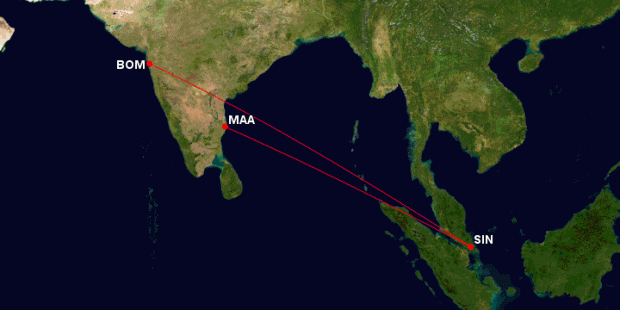 The new flight schedule is :
AI342 will depart Mumbai at 00:05 arrive Singapore 07:55
AI343 will depart Singapore at 19:15 arrive Mumbai 22:05
In between the aircraft will also perform one round-trip to Chennai
AI347 will depart Singapore at 09:15 arrive Chennai 10:25
AI346 will depart Chennai at 11:30 arrive Singapore 17:55
Killing the golden Chennai goose
Indian passengers prefer the 'red-eye' over-night service to Singapore with a late evening departure on the return.
Air India's current service which departs Mumbai at 21:25 and reaches Singapore the next morning at 07:20 has the desired schedule on the outbound, but involves a stop in Chennai and could be a reason why the airline has not been very successful ex Mumbai. However the same flight departs Chennai at 00:45 and maintains the overnight timing of the venerable and profitable IC555 service Indian Airlines used to successfully operate between Chennai and Singapore.
Chennai has significantly stronger links with Singapore compared to Mumbai, but Air India seems to have ignored this fact in its effort to make its schedule competitive at Mumbai. By removing the overnight flight ex Chennai, Air India risks sacrificing the golden Chennai goose.
At the same time it will not be easy going at Mumbai. While the new schedule is desirable, it will also pit Air India in direct competition with Singapore Airlines and its A380 service ex Mumbai. Air India is bound to lose the premium passenger to one of the best business classes in the world. Under competition, Singapore Airlines has shown its ability to discount economy class fares which will squeeze Air India's margins in to the negative, and still make a profit thanks to filling the premium cabins and the belly hold cargo capacity, along with the connecting passenger beyond Singapore.
Chennai used to also have a day-time Indian Airlines flight between Chennai and Singapore and it would behove Air India to re-examine if that flight was successful, but for sure it must maintain the overnight Chennai Singapore flight.

*Air India's time-table still shows the flights AI342 and AI343 as being operated by an Airbus A330-200, but has upgraded the flight to a Boeing 787-8 Dreamliner effective 24 August 2014. We apologise for the error and thank our reader and support Pat Kini for highlighting our error to us.