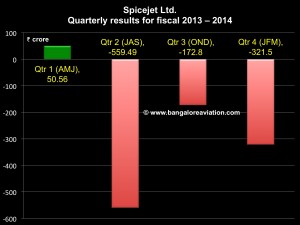 Gurgaon-based budget carrier SpiceJet Ltd., announced an annual loss of Rs. 1,003 crore for fiscal year ending on March 31, 2014. This is the biggest loss in the carrier's history and represents a five fold increase compared to Rs. 191 crore loss reported last year. Loss for the fourth quarter was Rs. 321 crore up from a loss of Rs. 186 crore for the fourth quarter of the last fiscal year.
The airline attributed a sharp increase in the Rupee US Dollar exchange rate, a slowing economy, and an excessive capacity addition by the airline industry in India which contributed to soft demand.
A six percent growth in passenger numbers was outstripped by capacity growth of 16 percent measure in available seat-kilometres, and increased departures of 11%. While the airline grew average yield per passenger five percent to Rs. 4,253 and revenues by 12 percent from Rs. 5,699 crore to Rs. 6,350 crore, expenses grew twice at 24 percent from Rs. 5,893 crore to to 7,303 crore.
The airline called the fiscal year "perhaps the most challenging period in Indian aviation history". For the last quarter which is the highest demand quarter in the airline year, unit revenue (RASK or revenue per available seat kilometre) increased five percent, but unit costs (CASK or costs per available seat kilometre) increased 12 percent when compared to a year ago.
The airline is reportedly shopping around for a $100 million funds infusion as its cash flow is reportedly running on fumes. Sources say one of the reasons the airline is running promotions with regularity is to bring in cash now to meet its aircraft lease rental payments which are behind schedule. An airline bringing in cash for current expenses by selling seats on future flights is akin to animals devouring their young to survive. No matter how rosy a picture the airline paints, with the impending entry of AirAsia and Tata-SIA airline the future for SpiceJet is very bleak.