SpiceJet, now India's second-largest domestic airline, reported its second-quarter results of the fiscal year 2019-2020 (Q2FY20) this Wednesday. It was a result that was met with mixed expectations and also one that seems to be underplayed. We attempt to present an analysis that may help deconstruct the figures.
The focus has been on a net loss of INR 462 crores – with some reports simplifying this into a per day loss figure. Yet this fails to account for the non-cash depreciation amount of 436 crores and the non-cash loss of 176 crores. Further, the loss figure may actually help the airline with its full-year tax liability because once the 737 MAX deliveries start, SpiceJet will start to realize significant sale and leaseback income which will boost full-year profitability.
SpiceJet Q2FY20 results snapshot (in INR) comparisons to Q2FY19
Revenues from operations ₹2,845 crores (up 52%)
Costs ₹3,536 crores (up 54%)
EBITDAR ₹154 crores (up 541%)
Profit (loss) before tax  (₹462 crores) (down 19%)
Revenue per available seat kilometre (RASK) ₹3.97 (up 7%)
Cost per available seat kilometre (CASK) ₹4.56 (up 2%)
Capacity (measured in available seat kilometres) 7.7 billion (up 51%)
Passenger load factor 92.6%
Yield (fares realised) ₹3995 per (up by 15%)
Revenue performance
SpiceJet had a revenue increase of 52% against a capacity increase of 51%. The RASK and load factor numbers indicate that not only are they selling aggressively, but their revenue management is also strong (revenue management refers to how supply and demand are managed and as flights fill up the fares are pushed higher). The strong marketing push by SpiceJet and the volume strategy had the airline flying load factors that were a full nine percentage points ahead of Indigo.
Broken into segments, the airline did well on operational revenue as well as ancillary revenue – both of which were up by 48%. Further, the other operating revenue and other income showed a stellar increase albeit a lower base – delivering an additional income of ~34 crores.
The regional fleet continues to deliver strong revenues. Fares on some sectors such as Gorakhpur-Delhi during the quarter remained strong against a short sector length. International performance was also in line with expectations with a strong push ensuring top of mind recall.
Costs require more attention
While revenue performance was strong, costs rose in the quarter. SpiceJet's CASK was INR 4.56. Compare this to Indigo's CASK of INR 3.85 for the same period and it shows quite a difference. The capacity induction and the grounding of the 737 MAX's inevitably contributed to thus but there is more work required to bring the cost base in line with its competitor.
Costs against each line item rose with the exception of lease rentals. While some of these costs such as fuel, airport charges etc are unavoidable the spike in maintenance costs, benefit costs and other operating costs will have to be controlled. On the fuel CASK SpiceJet was at INR 1.50 which indicates that they are flying their fleet in a very efficient manner. This is reinforced by reference to their EBITDAR margins which were at 5%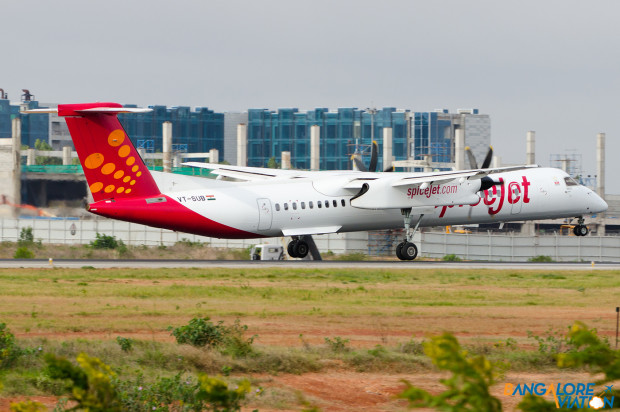 Fleet strength of 113  with 28% of the fleet being Q400s
SpiceJet ended the quarter with 33 Q400s and 77 Boeing 737s (including the MAX8s). Ironically, the very same regional aircraft that at one point posed a challenge for SpiceJet is now delivering solid results.
The Q400 routes in several cases are monopoly routes and with aggressive sales coupled with growing demand. Industry analysts indicate that SpiceJet is doing quite well with this fleet. Additionally, the majority of the Q400 fleet is owned by SpiceJet giving benefits of ownership.
The MAX situation continues to be a challenge. While SpiceJet will no doubt get compensation for the grounding – with an amount of INR 176 crores being recognized in the quarter – the impact on overall cash-flows remains.
Network expansion: cause of much envy
SpiceJet continued to be extremely nimble and aggressive towards expansion. The domestic network now has fifty destinations while the international network has ten. During the quarter flights to Hong Kong, Riyadh, Dhaka and Jeddah were announced.
SpiceJet has also leveraged the UDAN scheme well and currently operates forty-nine daily UDAN flights.
Their cargo operation continues to grow and SpiceXpress fleet grew to four B737s freighters. This is helping them diversity and create a new revenue stream – an opportunity that other LCCs will not be able to capitalise on given the limited cargo capacity in passenger airplanes which ranges from 1 – 2 tonnes.
Understanding the net loss figures
There have been divergent views on the net loss figures especially given the non-cash loss of 189 crores due to accounting treatment and the recognition of INR 176 crores which is the minimal amount that will be received by the airline for the grounding of the 737 MAX. Both these treatment are standard.
The logic behind the recognition of compensation for the 737 MAX in this quarter is that it partially mitigates the revenue that would have been earned and the costs that are being incurred in the quarter – had the 737 MAX 8 been flying per the original schedule.
To get a better sense of the financials, one has to look at the cash-flow for the quarter which was a healthy 1168 crores (compared to 285 crores for the same period last year). The EBITDA figure which stood at 90 crores is also a good indication (and one that is closely monitored by lenders).
Overall, the airline performed well in a very challenging quarter.
In summary
The second-quarter fiscal 2019 performance was ahead of expectations. That said, competition is heating up and all competitors are adding capacity including in the hallowed grounds of international expansion. This against a slowing economy, geopolitical tensions which have led to the cancellation of flights (such as Hong Kong, Kabul and Turkey), a rising dollar and falling yields.
Q3 and Q4 will indicate how this plays out.
Stay tuned.