With the launch of the new klia2 terminal at its Kuala Lumpur airport hub, the AirAsia group will move all of its operations from the the current LCC Terminal (LCCT) to klia2 on Friday, May 9, 2014.
More information on the klia2 terminal including satellite photo and terminal map, below the fold
All AirAsia X (D7) flights will operate from the LCCT on May 8, 2014, including these flights departing early morning of May 9, 2014:
D7 236 to Perth. Scheduled departure at 00:05 (12:05 AM)
D7 532 to Osaka. Scheduled departure at 0:100 (1:00 AM)
D7 512 to Busan. Scheduled departure at 01:15 (1:15AM)
D7 170 to Jeddah. Scheduled departure at 02:35 (2:35AM)
While all scheduled departures of AirAsia (AK) will operate from the LCCT as per normal on Thursday, May 8, 2014, many domestic and international flights will arrive at klia2. The airline has not given any explanation, but we presume AirAsia will be testing the terminal, working out the final kinks, before commencing full scale operations the next day.
International AirAsia (AK) flights arriving in to klia2 on May 8 and 9, 2014
No
Departure From
Flight Num
Departure
Arrival into klia2
1
Trichy
AK 28
2355hrs
0625hrs (9th May)
2
AK 24
0925hrs
1555hrs
3
AK 26
1705hrs
2335hrs
4
Kochi
AK 38
2330hrs
0620hrs (9th May)
5
Kolkata
AK 62
0040hrs (9th May)
0720hrs (9th May)
6
Chennai
AK 12
1750hrs
0020hrs (9th May)
7
Macau
AK 189
1640hrs
2030hrs
AK 187
1830hrs
2220hrs
8
Nanning
AK 169
1730hrs
2110hrs
9
Kunming
AK 100
1740hrs
2150hrs
10
Lombok
AK 307
1915hrs
2225hrs
11
Ho Chi Minh City
AK 525
2110hrs
0000hrs (9th May)
AK 529
1240hrs
1530hrs
12
Phuket
AK 823
2140hrs
0005hrs (9th May)
13
Bali
AK 371
2120hrs
0020hrs (9th May)
14
Shenzhen
AK 123
2050hrs
0045hrs (9th May)
AK 131
2105hrs
0055hrs (9th May)
15
Yangon
AK 503
1930hrs
2345hrs
16
Guangzhou
AK 119
0115hrs (9th May)
0525hrs (9th May)
AK 117
2050hrs
0055hrs (9th May)
17
Medan
AK 394
2125hrs
2325hrs
Domestic AirAsia (AK) flights arriving in to klia2 on May 8 and 9, 2014
No
Departure From
Flight Num
Departure
Arrival into klia2
1
Terengganu
AK 6227
1615hrs
1710hrs
2
AK 6221
2120hrs
2215hrs
3
Kota Bharu
AK 6439
1710hrs
1810hrs
4
AK 6443
2155hrs
2255hrs
5
AK 6447
2315hrs
0015hrs (9th May)
6
Tawau
AK 5741
1855hrs
2140hrs
7
Bintulu
AK 5243
1945hrs
2145hrs
8
Alor Setar
AK 6015
2145hrs
2250hrs
9
Johor Bahru
AK 6049
2205hrs
2255hrs
10
Sibu
AK 5875
2100hrs
2255hrs
11
Miri
AK 5649
2105hrs
2320hrs
12
Langkawi
AK 6323
2240hrs
2345hrs
13
AK 6311
1520hrs
1630hrs
14
AK 6315
2020hrs
2130hrs
15
AK 6317
2110hrs
2220hrs
16
Kota Kinabalu
AK 5131
2130hrs
0000hrs (9th May)
17
AK 5117
1855hrs
2125hrs
18
AK 5119
1925hrs
2155hrs
19
Kuching
AK 5219
2220hrs
0005hrs (9th May)
20
Penang
AK 6121
2305hrs
0005hrs (9th May)
21
AK 6129
2055hrs
2155hrs
AirAsia has indicated its has informed the affected passengers via email and SMS about the change of terminal. Passengers may still contact AirAsia on the web.
What is KLIA2
KLIA2 is the new 257,000 square metres terminal developed by Malaysia Airports for local and international carriers, designed to handle up to 45 million passengers annually with 60 gates. While the AirAsia group is expected to contribute around 80% of its traffic, the terminal can also cater to full-service carriers. Malaysia Airports is adding a third runway purpose built to cater to klia.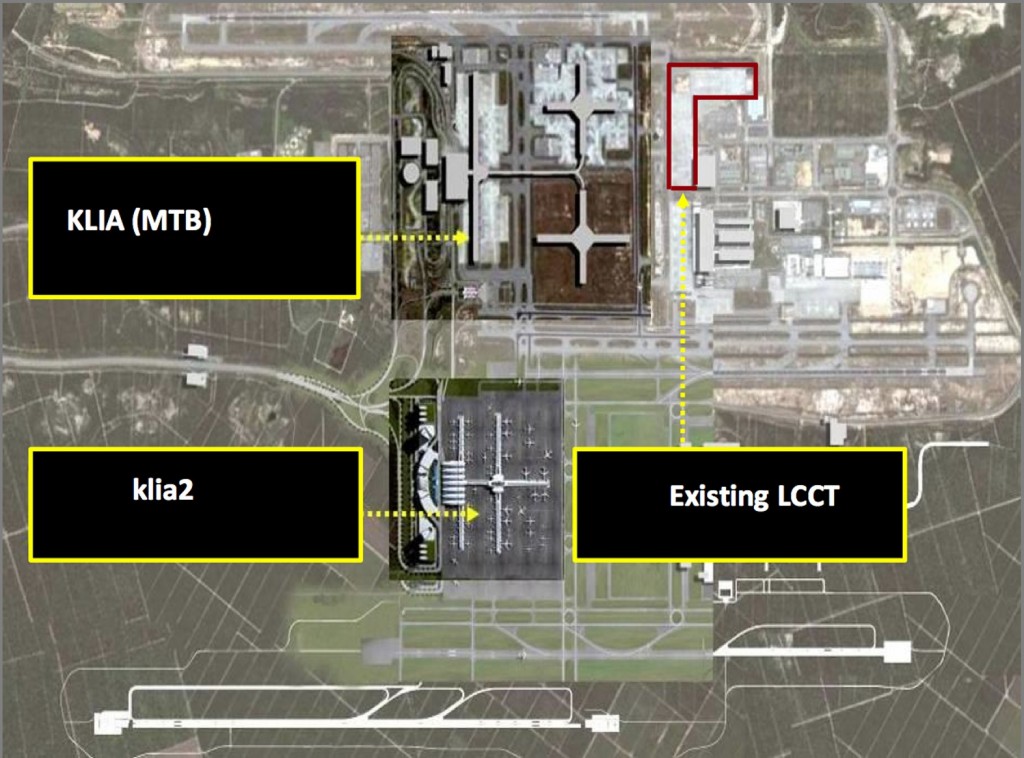 Unlike the LCCT it is replacing, klia2 which is located about two kilometres from the main KLIA terminal, is connected to KLIA via ERL's high-speed train allowing for a seamless transit.
For more information on klia2 visit its website. You can download a PDF terminal map here.