In response to a series of questions from law-makers, the Indian civil aviation minister Ajit Singh and his junior minister K.C. Venugopal gave some operational insight to the Indian parliament on national carrier Air India. It was the first time, in recent memory where we obtained some numbers on the otherwise very opaque airline.
Air India debt and equity
As of December 31, 2013, Air India has an outstanding debt of Rs. 26,033 crore ($4.132 billion. Exchange rate of Rs. 63 per dollar) and its working capital loans exceeded Rs, 21,125 crore ($3.353 billion). Till January 31, 2014, the government has already pumped in equity support of Rs. 12,200 crore ($1.936 billion) out of a promised Rs. 30,231 crore ($4.8 billion) which is till 2021.
Operational and financial performance of Air India
The infographic below shows the operational and financial performance of Air India for the fiscal years 2010~2011 till 2012~2013. The highlights are:
Passenger revenue increased steadily from Rs. 10,443.82 crore in 2010-11 to Rs 11,423.69 crore in 2011-12 and to Rs 12,595.98 crore in 2012-13.
Capacity measured in available seat kilometres was trimmed from 45,608 million ASK in 2010-11 to Rs 45,015 million in 2011-12 to 40,708 million in 2012-13 due to route rationalisation.
Performance measured in revenue passenger kilometres also declined slightly from 30,168 million RPK in 2010-11 to Rs 30,577 million in 2011-12 to 29,227 million in 2012-13.
The number of passengers carried increased from 12.78 million in 2010-11 to Rs 13.4 million in 2011-12 to 14.05 million in 2012-13.
Losses continued to pile up. From Rs. -6,865.71 in 2010-11 to a nadir of Rs -7,559.74 crore in 2011-12 and improving, if one could call that, to -Rs 5,490.16 crore in 2012-13.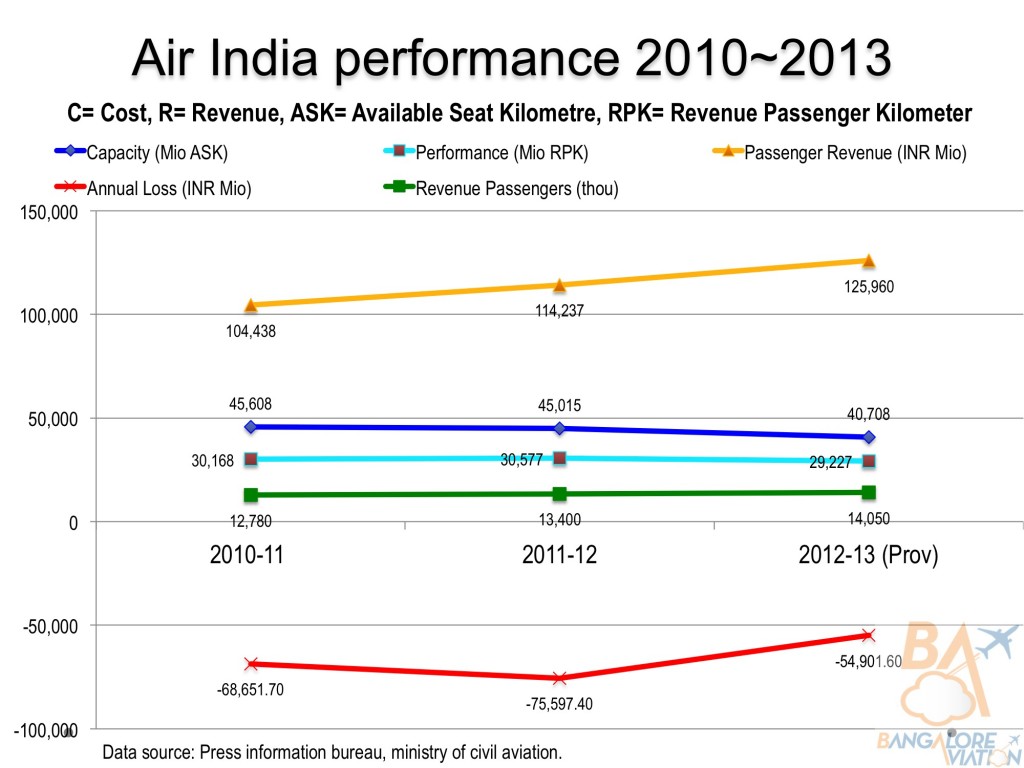 Operational metrics
Based on the above data, for the first time, we have been able to derive crucial operational metrics of Air India. These include cost per available seat kilometre (CASK) and revenue per revenue passenger kilometre (RRPK). It is clear to see, while Air India has similar RRPKs to other full service private carriers, its costs are way out of control leading to the humongous losses the airline is suffering.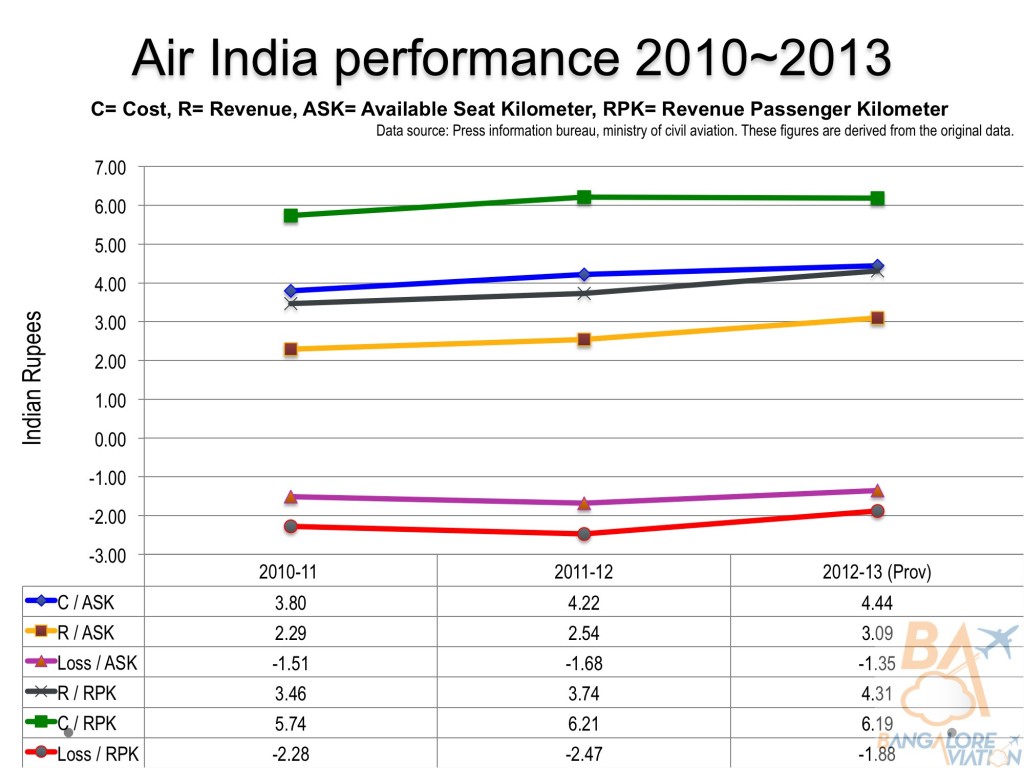 Operational metrics comparison Air India to Jet Airways
Compared to the other full service carrier, Jet Airways, Air India has better revenue numbers per passenger, reflective of the longer routes flown by the national carrier. It even earns similar revenue per revenue passenger kilometre flown. However, all comparisons end there. Air India has significantly poorer load factors, its cost per available seat kilometre is almost 30% higher than Jet Airways, and consequently bigger loses.
Passenger load factor

Avg Revenue per pax (INR)

Avg Loss / Profit per pax (INR)

Cost per ASK (INR)

Revenue per RPK (INR)

AI

Jet

AI

Jet

AI

Jet

AI

Jet

AI

Jet

2010~11

66%

80%

8,172

7,207

-5,372

6.61

3.80

2.91

3.46

3.64

2011~12

68%

89%

8,525

7,271

-5,642

-714

4.22

3.45

3.74

3.86

2012~13

72%

84%

8,965

8,499

-3,908

-288

4.44

3.89

4.31

4.64
*Air India numbers for 2012~13 are provisional.
Shocking numbers
Air India has shown some improvement in its average revenue per passenger from Rs. 8,172 in 2010~11 to Rs. 8,525 in 2011~12 and Rs. 8,965 in 2012~13. However, its costs per passenger carried are still way above its revenue; from Rs. 13,544 in 2010~11 to Rs. 14,167 in 2011~12 though there has been some reduction to Rs. 12,873 in 2012~13. The passenger load factors too have improved from 66.15% to 67.93% to 71.8%.
Astoundingly, Air India still continues to lose almost Rs. 4,000 for each passenger it carries, which is a full 30.5% of its costs, though this is a significant improvement, if you want to call it that, from 2011~12 when the airline lost Rs. 5,642 per passenger, almost 40% of its cost.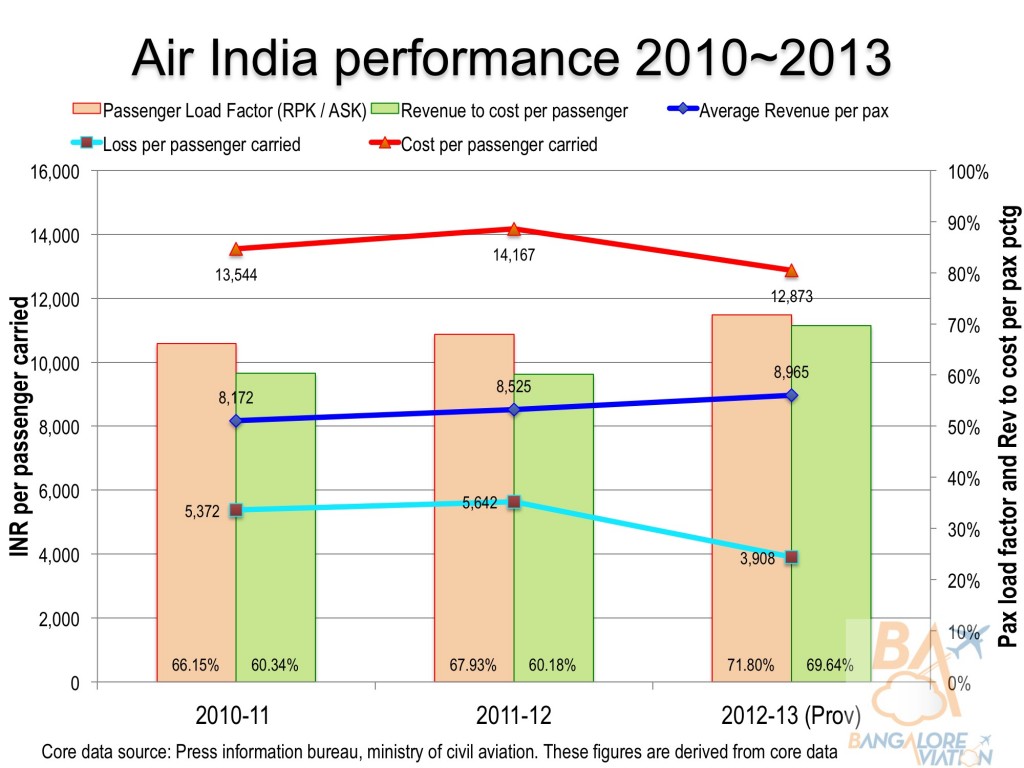 Conclusion
Despite improvements over the last 18 months, Air India is still performing in a terrible manner compared to any other privately operated carrier in India. Despite direct bail-outs, and indirect support like long credit terms by government owned airports and oil suppliers, forcing of government travel exclusively on Air India, and sovereign guarantees on loans to enable low cost financing, the airline continues to languish.
The improvements apparently demonstrated in 2012~13 are a mirage. Passenger load factors have improved due to the demise of Kingfisher Airlines and the shifting of full service passengers to Air India and Jet Airways. The entry of the yet to be named Tata-SIA full service carrier will put pressure on both the incumbents but on Air India more. The costs, primarily driven by its over-bloated work force are out of control. In classic political moves the airline has tried to brush the dirt under the carpet by transferring the engineering and ground handling staff in to separate companies. While this shows a reduction in costs on the books of Air India, it is merely shifting the costs to other companies, and ultimately this is only delaying the inevitable.
There is no way the airline can be revived while under the operational control of the government, and as loans and debts take on monstrous proportions, hopes of any private player taking over the carrier are almost extinguished along with the value proposition for the airline.
Do share your thoughts on the airline and the analysis.