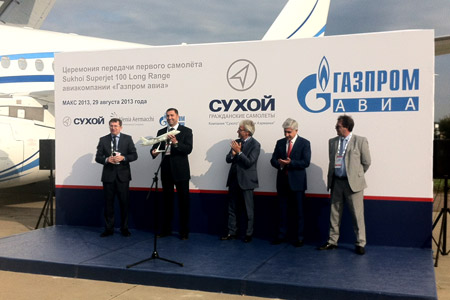 Image Credit: Sukhoi
by BA.com Staff

Russian aircraft manufacturer Sukhoi Civil Aircraft delivered its first Sukhoi Superjet as an SSJ100 LR to Gazpromavia Airlines.
The first SSJ100 LR for Gazpromavia (MSN 95033) was presented during a delivery ceremony at the  International Aviation & Space Salon MAKS Airshow in Moscow. The Gazpromavia SSJ100 LR features an all-economy class configuration with 90 seats.
Gazpromavia is the launch customer for the SSJ100 LR, which offers several improvements over the basic Superjet 100.  It has a 4578 km (2470 nm) range, plus an increased take-off weight up to 49.45 tons with a strengthened wing and SaM146 engines featuring a 5% increased thrust performance over the base model.
The aircraft will initially be used from Gazpromavia's hub at Vnukovo Airport near Moscow on domestic routes to Sovetsky and Beloyarsky. Gazpromavia operates a fleet of 21 aircraft with a mix of Russian and Western built air-frames (4x Tupolev TU-154, 4x Yakolev Yak-40, 6x Yakolev Yak-42, 4x Dassault Falcon 900, 3x Boeing 737-700). It serves 18 destinations (4 international, 14 domestic) from its Vnkuovo.