[Last updated on 04:30 UTC]
by Vinay Bhaskara and Devesh Agarwal

Asiana 777-200ER Image Credit: Wikimedia
Earlier today, Asiana Airlines Flight 214 with service from Seoul Incheon Airport to San Francisco crash landed on arrival at San Francisco.
The flight was carrying 291 passengers and 16 crew members. Latest reports put the death toll at two.
Initial reports are that the aircraft had just touched down around 11:20 am local time, when the empennage was sheared off rear of the aft pressure bulkhead of the 777, and the tail, gear, and engine of the plane separated. The plane turned around nearly 180 degrees and came to a stop to the right of the runway facing eastwards. Photos show debris before runway 28L; implying that the aircraft hit the ground before making it over the runway. Passengers were evacuated before the aircraft caught fire. The National Transportation Safety Board [NTSB] has been dispatched to the scene to investigate.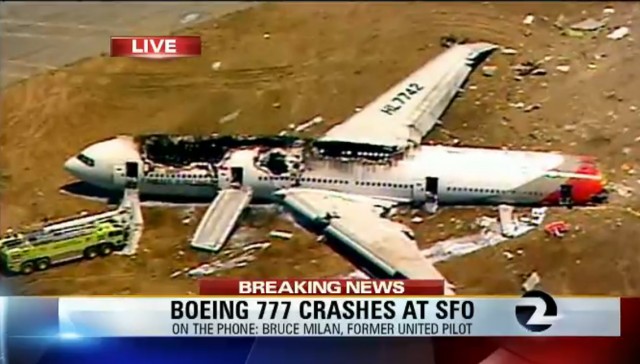 Image of the crash from news outlet KTVU
The aircraft is a Boeing 777-200ER with registration HL7742. The aircraft, with line number MSN-29171 is powered by 2 Pratt&Whitney 4090 engines and is configured with either 296 or 300 seats on board and was delivered on March 7th, 2006. Asiana Airlines operates 9 Boeing 777-200ER aircraft in 6 different configurations.
291 passengers (19 business, 272 economy) and 16 crew members were on board, reports are that all  of the 307 passengers are accounted for. According to the San Francisco fire department, 2 people have been reported dead, with 230 injuries of some sort. However, in situations such as this crash, the numbers in terms of passengers According to Asiana Airlines, the passengers on board "were comprised of 77 Korean citizens, 141 Chinese citizens, 61 US citizens, 1 Japanese citizen."
Asiana's official press release related to the incident can be found here. San Francisco International Airport has been updating the media constantly with intermittent press conferences as it can release information.
The incident is the first fatal incident involving passengers and a Boeing 777. The last (and only other) major crash of a Boeing 777 aircraft occurred on January 17, 2008, when British Airways Flight 38 crashed on arrival at London Heathrow after flying in from Beijing. However, on September 5th, 2001, a ground fire broke out on a British Airways 777-236 at Denver, and one re-fueling operative was killed.
Asiana flight 214 is the first airline crash on US soil since Colgan Airlines flight 3407 on February 12, 2009, which killed 49 passengers on a Bombardier Dash 8 aircraft. The last mainline crash in the United States occurred on November 12, 2001, when American Airlines Flight 587, an Airbus A300 crashed at New York's JFK International Airport, killing 265 (260 passengers, 5 on the ground)
The following picture from passenger David Eun shows passengers disembarking the aircraft, and the fuselage appears to be intact, though burning.
The following videos were taken by a passenger at San Francisco Airport
Videos credit to @360kid
The ATC feed can be heard here on the LiveATC site archive. Asiana 214 is given a landing clearance to runway 28L around 21m20s into the recording. The crash occurs around 22m02s. Shouting can be heard in the background of the tower controller's transmission at the time of the crash.
The airline put out a statement around 2130 UTC
The following information has been confirmed.

Asiana Airlines flight OZ214 (Aircraft Registration HL7742) departed Incheon International Airport on July 6, 2013 at 16:35 (Korea time) bound for San Francisco. Only July 6, 2013 at 11:28 (Local time) an accident occurred as OZ214 was making a landing on San Francisco International Airport's runway 28.

There were a total of 291 passengers (19 business class, 272 travel class) and 16 cabin crew aboard. The majority of the passengers were comprised of 77 Korean citizens, 141 Chinese citizens, 61 US citizens, 1 Japanese citizen, etc. for a total of 291 people.

Asiana Airlines is currently investigating the specific cause of the incident as well as any injuries that may have been sustained to passengers as a result. Asiana Airlines will continue to cooperate fully with the investigation of all associated government agencies and to facilitate this cooperation has established an emergency response center at its headquarters.

At this point no additional information has been confirmed. New developments will be announced as more information becomes available.

*For further information regarding OZ213/214, please contact 02-2669-4015 (for overseas calls : 82-2-2669-4015).