Yesterday, Dallas-Fort Worth based American Airlines announced a major re-branding effort, including an all-new logo and livery which it unveiled on its new flagship Boeing 777-300ER aircraft. This new branding will be expanded across American's entire fleet over the next 3-5 years, as well as into airports and other corporate venues.
The full press release from American is displayed below along with several images:
FORT WORTH, Texas – It's a new year and a fresh new look for American Airlines as the company today unveils a new logo and exterior for its planes, including the already delivered Flagship Boeing 777-300ER aircraft set to fly on Jan. 31.  In addition, American plans to continue taking delivery of new planes this year as part of its historic orders for 550 new aircraft.  The unveiling of the new logo and livery is the latest step forward in American's ongoing journey toward building a more modern travel experience for its customers.

New American Airlines logo

"Since placing our landmark aircraft order in July of 2011, we've been building anticipation toward a moment in time when the outside of our aircraft reflects the progress we've made to modernize our airline on the inside," said Tom Horton, American's Chairman and CEO. "While we complete the evaluation of whether a merger can build on American's strengths, we remain steadfast in each step we take to renew our airline, a step we take with great respect for our name American.  Today marks important progress in that journey as we unveil a new and updated look for the first time in more than 40 years."
New American Tails and Fuselage

American is preparing to take delivery of hundreds of new, lighter aircraft featuring composite materials that must be painted.  Since the polished metal look was no longer an option, the importance of the paint selection became critical to honoring American's silver bird legacy.  Silver mica paint was chosen as a way to maintain the silver heritage which American's people and customers are passionate about, yet progress ahead with a clean new look.
"Our new logo and livery are designed to reflect the passion for progress and the soaring spirit, which is uniquely American," said Virasb Vahidi, American's Chief Commercial Officer.  "Our core colors — red, white and blue – have been updated to reflect a more vibrant and welcoming spirit. The new tail, with stripes flying proudly, is a bold reflection of American's origin and name. And our new flight symbol, an updated eagle, incorporates the many icons that people have come to associate with American, including the 'A' and the star."
"A new take on the eagle"

Since entering the restructuring process, American has made a series of strategic investments designed to place customers at the center of all it does and give employees the tools, training and leading technologies they need to provide customers with a uniquely American experience, while also creating growth and opportunity for its people.
Today's news is a reminder that while there are still significant decisions that need to be made about the future of the company, American remains focused on continuing the forward movement of the many investments that have been announced in the past year, including:

The new American livery on their flagship: Boeing 777-300ER

Industry's Most Modern Fleet: This year, American will take delivery of nearly 60 new aircraft, including the new Boeing 777-300ER which will enter into service on Jan. 31.  In July, American will begin taking delivery of Airbus aircraft made of lighter, more fuel efficient composite materials, which must be painted.  The airline continues investments to offer state-of-the-art inflight Wi-Fi, in-seat entertainment, universal AC power outlets at every seat, and Main Cabin Extra seating on all mainline aircraft. In addition, American has plans to offer fully lie-flat premium class seats on all of the airline's widebody aircraft and transcontinental fleet.

Expanded International Service: American strengthens its network this year with expanded service to more destinations worldwide, including more international and domestic routes from Dallas/Fort Worth, more European and domestic service from Chicago O'Hare, new service to Europe from New York, and new service from Miami to Latin America and the Caribbean.  This year, American also will begin the following international services: Dallas/Fort Worth ─ Seoul, South Korea; Dallas/Fort Worth ─ Lima, Peru; Dallas/Fort Worth – Bogota, Colombia; Chicago O'Hare ─ Dusseldorf, Germany; New York JFK ─ Dublin, Ireland; Miami – Pointe-a-Pitre, Guadeloupe; Miami – Fort-de-France, Martinique; Miami – Curitiba, Brazil; and Miami – Porto Alegre, Brazil.

Information in an Instant: The airline announced plans to supply flight attendants, pilots, and maintenance workers with their own tablet devices, designed to give them real-time information and better operational insights to do their job more efficiently. Beginning next month, employees will also be equipped with new technologies at the airport designed to make the travel experience easier and more convenient.

Top-Notch Onboard Experience: Earlier this month, the airline rolled out new enhancements in premium class cabins on international routes, including elegant new china, more menu choices, and a more personalized service similar to a restaurant. In addition, American will expand the availability of Samsung Galaxy tablets for entertainment use in the premium cabins to more routes later this year.

American Eagle and the AAdvantage® program also will get a new look as of today.  The first American Eagle plane will fly the new livery beginning in February.  Updating the new look across American's network is a long process and will be rolled out over time to the airline's airports, interiors and exteriors of aircraft, new uniforms, products and services, and technology platforms like AA.com and the American mobile apps.

Expanding the new brand to in-flight service

American's new look was created with input from our customers and our people, and in partnership with FutureBrand – a leading global brand consultancy.  In addition, American today launches a new advertising campaign designed to showcase the new look.  The advertising campaign was developed with agency partner McCann Worldgroup.
For more information on American's new look, and to keep up with progress as the brand rollout continues, visit aa.com/newamerican.
As we said before, American will be repainting these aircraft over the next 3-5 years. Not all of the current planes in American's fleet will be getting the new livery. Both the McDonnell Douglas MD-80 and Boeing 757 fleets are scheduled to be retired (at least in part) over that time-frame, so parts of those fleets could get the new livery, though American is still making decisions on that process. Meanwhile, the fleet of Boeing 767-200ERs, which are exclusively used on premium transcontinental services between New York's John F. Kennedy International Airport (JFK) and San Francisco International Airport (SFO), and JFK and Los Angeles International Airport (LAX), will be phased out of the fleet between November 2013 and 2014, so they will not receive the new branding.Public reaction, based on empirical observation of Twitter and the Web in general, is mixed towards American's new brand. The logo has gotten generally positive reviews, while the opinion on the livery skewed more negative, with a significant vocal group expressing dismay at the loss of iconic images like the eagle in the logo and the double "A"s on the tail. The old American livery has been around for more than 30 years, and it is one of the most recognizable liveries within the United States and around the globe.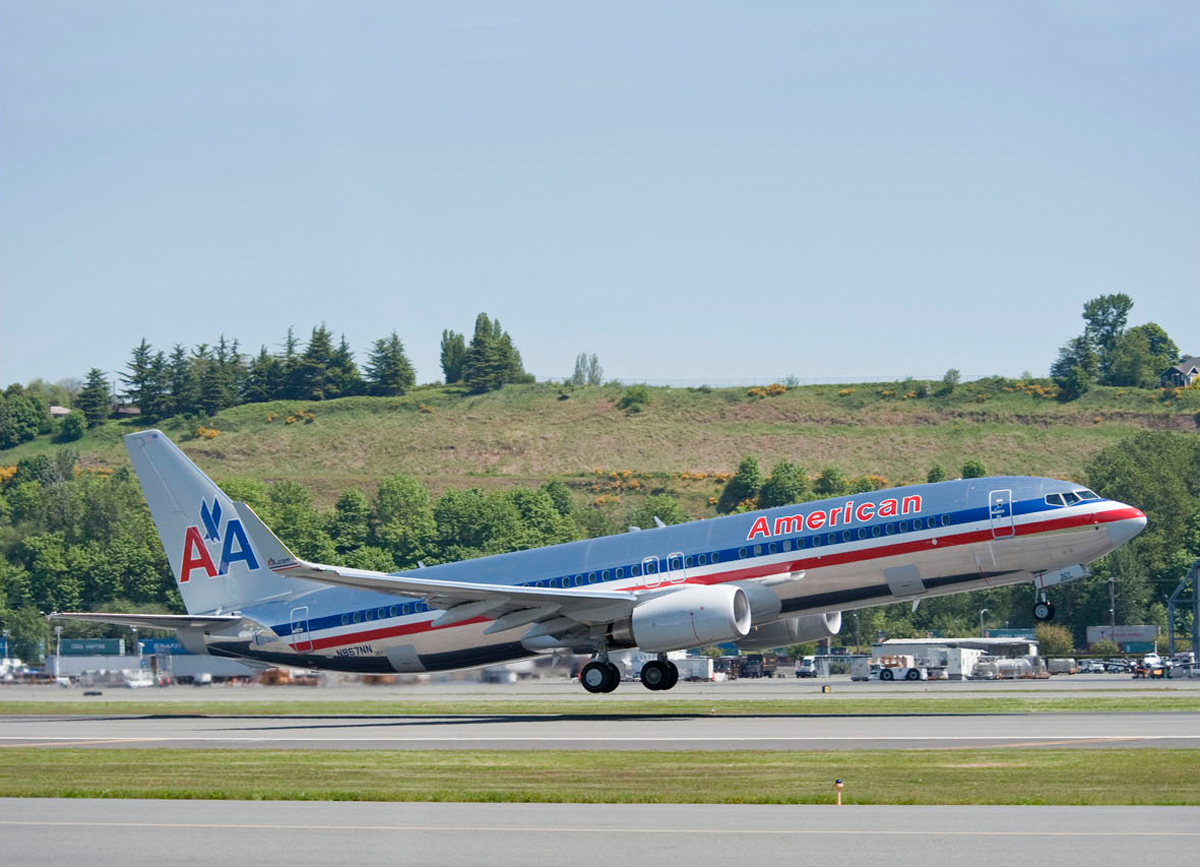 Old American Airlines livery
My opinion is that I'll miss the old and iconic American Airlines livery but that it was time for a change. Unfortunately, the sad truth is that the current American Airlines branding was associated with a bankrupt and aging carrier. This new branding is bold and stylized, with a new take on the old American Airlines icons. Readers, what are your thoughts on the new brand for American?