Indian airlines are in a rush to start international services – or so we are made to believe. BangaloreAviation recently reviewed the bilateral rights applied for against what airlines have started. Route choices clearly emerged although experts indicate that there's a fair amount of posturing involved. That is, airlines will often ask for routes they know they will not fly – simply in order to keep out the competition.
Consider the case of the existing Indian airlines namely Indigo, SpiceJet, GoAir and Vistara (AirAsia India has not made any bilateral applications as yet). Vistara has applied for Singapore, Thailand, Dubai and Nepal and has already announced services to three of the four destinations. Given that it is targeting fifty percent of its capacity to be deployed internationally it can be cited as an exception.
The situation gets very interesting in the LCC sphere. Take for instance Indigo. A cursory glance at the bilateral allocations and flights that are yet to start is very telling. It reveals that Indigo has applied for bilateral grants to several destinations including China, Myanmar, Vietnam – all of which are likely to be announced. Additionally, they also include Switzerland, UK, Georgia, Kazakhstan, Russia and Indonesia which we believe are destinations that will not see flights by Indigo in the near future. Thus the question: why even apply for these?

This tactic is not limited to Indigo. GoAir is also an interesting example. As of now GoAir is sitting on bilateral rights to Macau, Malaysia, Indonesia, Cambodia, Kazakhstan. Industry experts indicate that mounting flights to any of these destinations is not a profitable endeavor considering demand, competition and route profitability. Thus again the question: why even apply for these?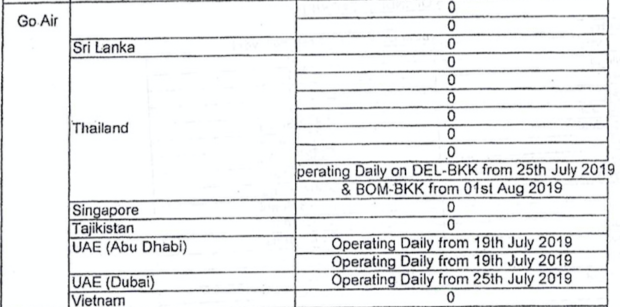 The answer is fairly simple. Bilateral rights in many cases are a zero sum-game. So if one airline gets these it acts as a deterrent or in many cases an impediment to another airline starting the same route. Couple this with slots and traffic feed and one can literally hog these rights to keep out competitors.
The "hogging" of these rights though is completely legal. The current rules state that, "The traffic rights allocated to an airline for a particular schedule i.e. summer or winter schedule, shall be fully utilized by it during the same schedule. Failure to do so shall result in the unutilized rights reverting back to Ministry of Civil Aviation for fresh allocation to other airlines.
The defaulter airline will be ineligible to apply for such rights for next two schedule periods. Airlines use this to their advantage by claiming rights and then not mounting the flights. Given the seasonality of routes missing one schedule period essentially delays an airline by an entire year – and in aviation a year is a long time.