An analysis by Bangalore Aviation of a report by website Routesonline shows New Delhi Bangalore is the lowest cost route among the world's 'Top 20' busiest routes for July 2017.
Delhi Bangalore most economical
The New Delhi Bengaluru route cost an average base fare of ₹4,830 (approx $75.31) or ₹2.84 per kilometre for the 1,703 kilometre distance between the two airports. In comparison, it cost over six times more, a whopping average base fare of ₹17.95 per kilometre, to fly between Japan's Tokyo Haneda airport and Fukuoka airport.
The New Delhi Mumbai route cost an average base fare of ₹4.33 per kilometre to fly.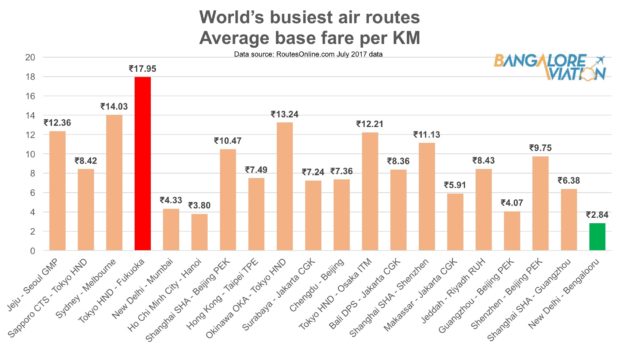 Vietnam's Ho Chi Minh City Hanoi route had the cheapest average base fare of $68.48 which translates to ₹3.80 per kilometre, while Japan's Okinawa Naha Tokyo Haneda was the most expensive at $320.92 or ₹13.24 per kilometre.
Asia dominates world 'Top 20'
The report based on July 2017 data sourced from OAG (official airline guide) and SABRE shows 19 of the 'Top 20' routes are within Asian cities. The Sydney Melbourne route in Australia, is the only exception. Technically OAG does not consider Saudi Arabia as Asia, but a separate region the Middle-East.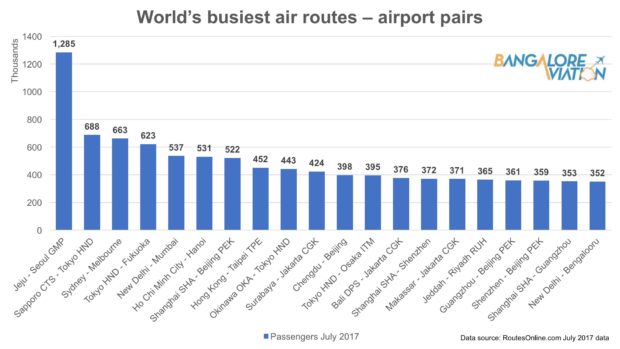 The busiest route in the world
The world's busiest route is between Jeju island in South Korea and the national capital Seoul's Gimpo airport. An astounding average 189 flights per day, carried more than 1.28 million (12.8 lakh) passengers in July, a growth of over 23% over the same month last year.
The route was almost double of the second busiest route, Sapporo Chitose airport to Tokyo Haneda airport, at 688,000. Sydney Kingsford Smith to Melbourne took the third sport with 663,000 passengers for the month.
Indian routes
Two Indian routes feature in the world's 'Top 20' busiest routes. New Delhi Mumbai with 537,000 passengers took the fifth spot while New Delhi Bangalore with 352,000 took the 20th spot.
Share your thoughts on this data via a comment.