A report in the Aviation Network News and Analysis site (ANNA), shows India's IndiGo as the largest single low cost carrier in Asia.
Using data sourced from the Official Airline Guide, ANNA reports, IndiGo grew 14.4% compared to last year, to 35.11 million departing seats in the Summer 2017 schedule. It jumped ahead of Indonesia's Lion Air which grew 8.8% to 30.54 million seats to gain the top spot. The seven month long Summer schedule begins on the last Sunday in March and ends on the last Saturday in October.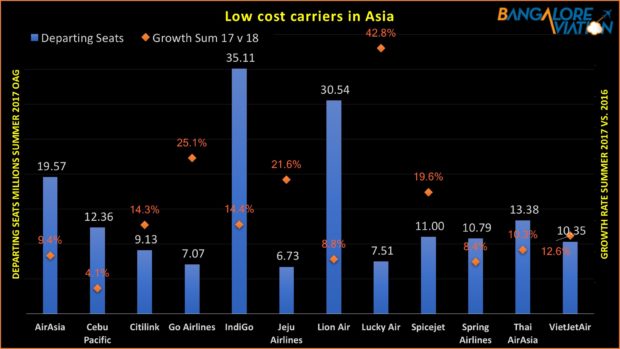 We do not expect IndiGo to rest on its laurels. Lion is one of the world's largest Boeing 737 MAX customers and deliveries of its new orders should commence very soon. Its Malaysian subsidiary Malindo, received the world's first Boeing 737-8 MAX in May this year.
The report goes on to note, combining the various airlines of the AirAsia group like AirAsia, Thai AirAsia, Indonesia AirAsia, AirAsia India, etc, will result in AirAsia being pan-Asia's leading LCC with 45.63 million seats, a growth of 15% over last summer capacity of 39.82 million departing seats. Lion Air and Thai Lion Air combines will come in second with 36.84 million seats. Malindo is not counted as it is considered a hybrid full service low fare airline.
India largest Asian LCC market
The report also shows India to be the largest low cost carrier country in Asia with almost 62 million departing seats on offer during the Summer 2017 schedule. Indonesia comes in second.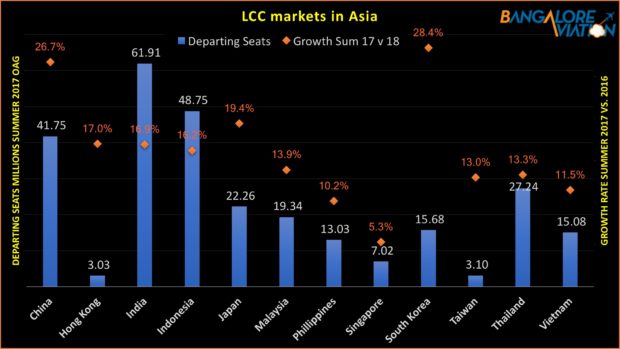 Surprisingly, the Dragon is in third spot, though many of the full service Chinese carriers offer low fares similar to the Indian ones. Also, the LCC market in China is growing at 26.7% almost 60% faster than in the fast growing (16.9%) India.
Interesting times lie ahead.
Share your congratulations to IndiGo and India along with your thoughts via a comment.