Which is the best airline in India? To which we would say, "by what measure?"
An analysis of the DGCA's data on domestic air travel shows some interesting and contradicting results. The biggest airline by number of passengers is IndiGo. The most punctual airline is Vistara. Spicejet had its aircraft filled the most, but it is also the leader in passenger complaints. The most reliable is IndiGo which had the fewest flight cancellations.
Welcome to our Infographic operations performance review of Indian airlines for the year 2015.
Passengers carried and market share
India was one of the highest growth markets in the world in 2015. For the year, domestic air passenger traffic grew 20.34% to 810.91 lakh (81.09 million) from 673.83 lakh in 2014.
May, November and December are the peak months for air travel corresponding to the summer vacations, the Dussera-Diwali festival in November, and the tradition return of the overseas Indians for the new year.
Monthly airline-wise passengers carried in 2015
Total passengers carried by each airline in 2015
IndiGo was the biggest domestic airline in India in 2015. It carried 297.43 lakh passengers and commanded an overall annual market share of 36.69%. Jet Airways group comprising of Jet Airways and JetLite (Jet still preserves the erstwhile Air Sahara operator's permit and operates flights under the S2 airline code in addition to its own 9W code) was second largest at 182.24 lakh passengers (22.48% market share), and national carrier Air India stood at third rank with 133.35 lakh and 16.45% market share.
Spicejet's financial troubles which became public in late 2014 eroded passenger confidence and market share. GoAir continued on a steady pace being held back by its fleet which remains at 19 aircraft.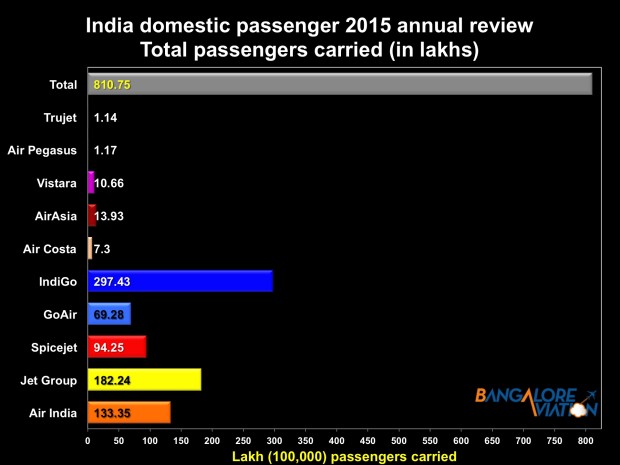 Monthly market-share of each airline
Spicejet's financial woes brought its market share down to 9.2% in February 2015, but the airline has commenced its recovery reach a market-share high of 13.3% in November. The airline declared its highest ever quarterly profit for the third quarter (October to December) of fiscal year 2015-16. The recovery seems to have come at the expense of Jet Airways which has seen its high of 25.4% market share in April reduce to 21% in December.Though this can also be as a result of the airline group becoming a 100% full-service airline again. The other airlines more or less held a steady course for the year.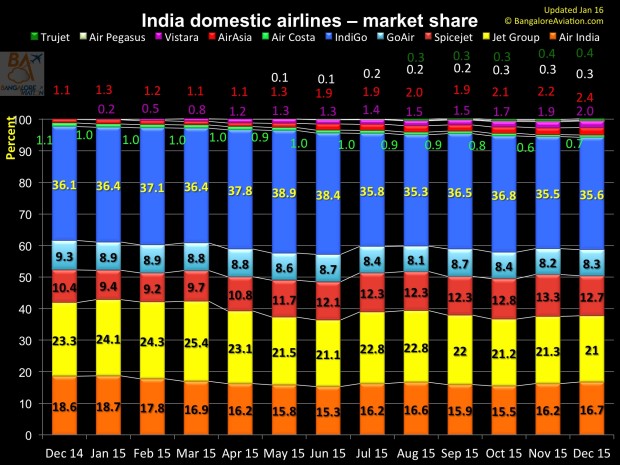 Annual market share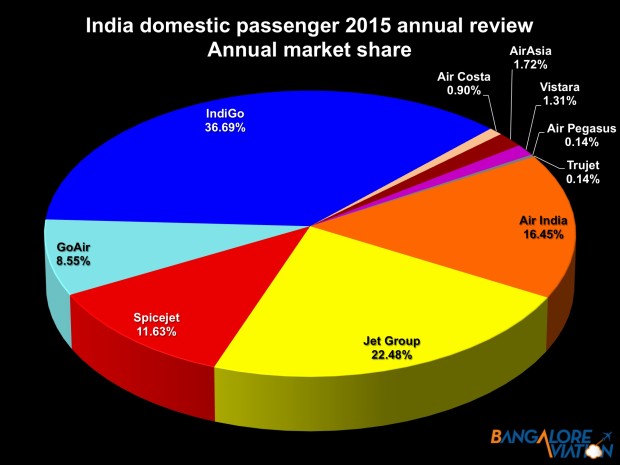 Passenger load factor
PLF is the measure of how many seats an airline manages to fill on its flights. For a high capital cost business like an airline, it is crucial to fill as many seats on each flight as possible.
Spicejet led the industry in this crucial metric from April onwards, and maintaining above 90% from May onwards. It reached its high of 93.4% in July and maintained 89.8% for the year. Clearly its strategy of repeated fare sales helped bring in passengers who would have otherwise travelled by rail or road.
IndiGo came in second maintaining an annual average of 83.7%, high of 91.9% and a low of 76.8%. GoAir came in third with an average 82.6% passenger load factor. The laggard was the Tata-SIA airline, Vistara.
Monthly load factors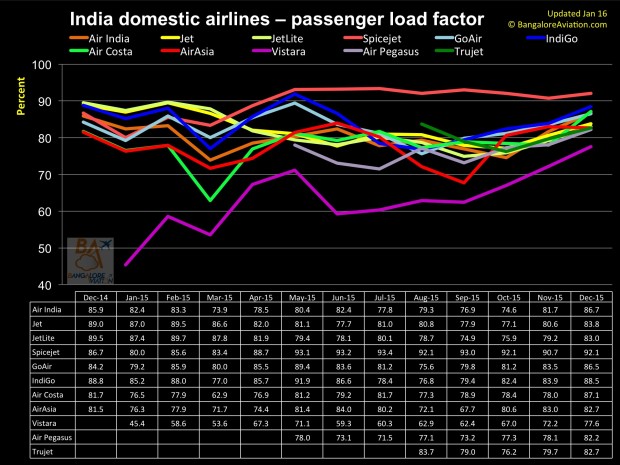 Airline wise annual load factors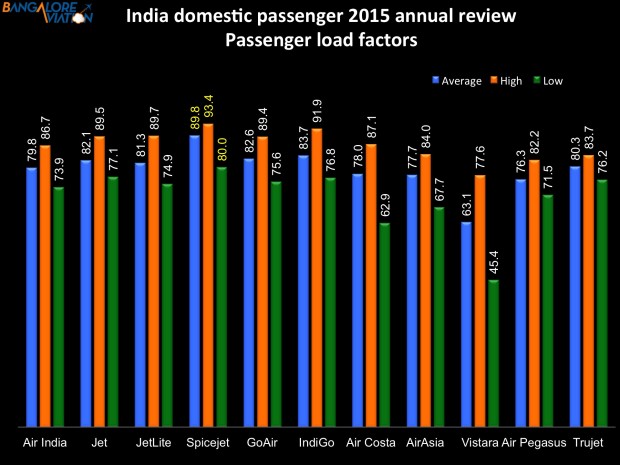 Punctuality
After a low fare, punctuality is a key expectation of the Indian air passenger. Market leader IndiGo made a virtue of being "on-time" and customers responded making it the biggest airline in India.
On-time performance and the Delhi fog impact
The DGCA compiles on-time data at four privately operated airports — Bengaluru, New Delhi, Hyderabad, and Mumbai. IndiGo's long held crown appears to have passed on to newcomer, Vistara, the Tata-Singapore Airlines joint venture. Though we must highlight the incompleteness of the DGCA data.
Both Vistara and IndiGo kept a fairly consistent performance, while the other airlines were all over the graph. AirAsia India went from a high of 100% on time flights to a miserable 66% in December. Only national carrier Air India performed worse at 62.8%.
The graphs below also highlight the tremendous impact the infamous winter fog at India's largest airport New Delhi, has on the entire system. The fog punishes the on-time performance of the Delhi centric IndiGo, Spicejet, Air India and Vistara, during January. Even Mumbai based Jet Airways and GoAir suffer due to the systemic disruptions the fog causes thanks to the dominance of New Delhi in the industry.
Airline-wise monthly on-time performance
Annual airline on-time performance
On an annualised basis it appears the two Tata led airlines, Vistara and AirAsia India performed the best, but we must highlight the incompleteness of the DGCA data and give due credit to IndiGo as well.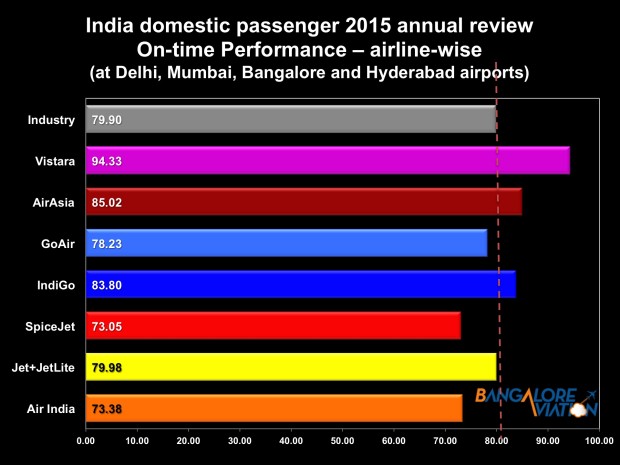 Monthly on-time performance
With many flights commencing their days operation from New Delhi airport, any fog disruption creates ripples through the entire airline network. Air India, IndiGo, SpiceJet, and Vistara are all based at New Delhi.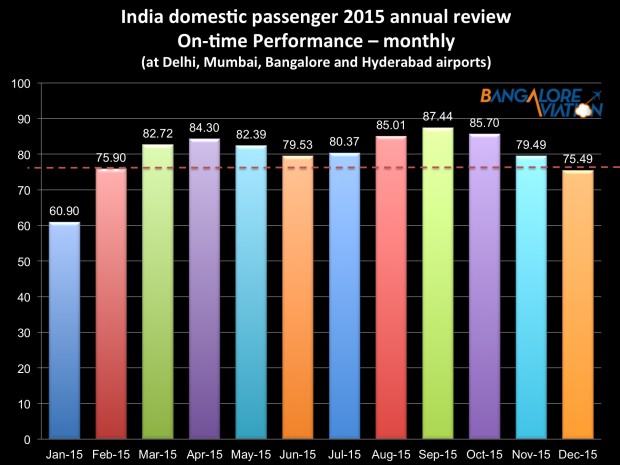 Reliability – flight cancellations
Airline-wise flight cancellations
The weather is a major reason of flight cancellations which in turn are a major reason for passenger complaints. Spicejet quoting the DGCA figures says "between January 2015 to December 2015, flight disruptions formed a huge chunk of the passenger complaints at an average of 27.3%. The number of passengers affected by cancellations were 1,16,645, while 7,31,637 passengers faced delays and 13,175 passengers were denied boarding across airlines".
Spicejet which had an astounding 31.5% of flights cancelled in December 2014, started recovery through 2015 and from September has been consistent, though it still needs to improve further overall. Air Costa has become the poster child for erratic in the year 2015, with wildly fluctuating cancellation rates, and Air India is consistent, in its poor performance. Should AI now stand for "Arrival Indefinite"?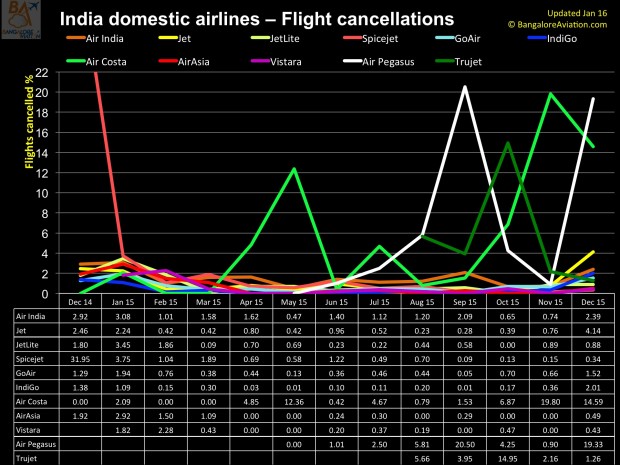 Annual airline flight cancellation averages
In terms of reliability, national carrier Air India is the industry laggard at 1.45% while IndiGo remains the industry leader at 0.38%.
Monthly flight cancellations
The winter fog. The graph says it all.
Passenger dissatisfaction
Spicejet leads Indian carriers with 2.26 complaints per 10,000 passengers carried. It is surprising since the airline has the best passenger load factors. It appears this is due to the large scale flight cancellations that took place at the end of 2014 and early 2015. GoAir was the next most complained against, followed by Air India. IndiGo was the industry leader with the least number of complaints.
Annual passenger complaints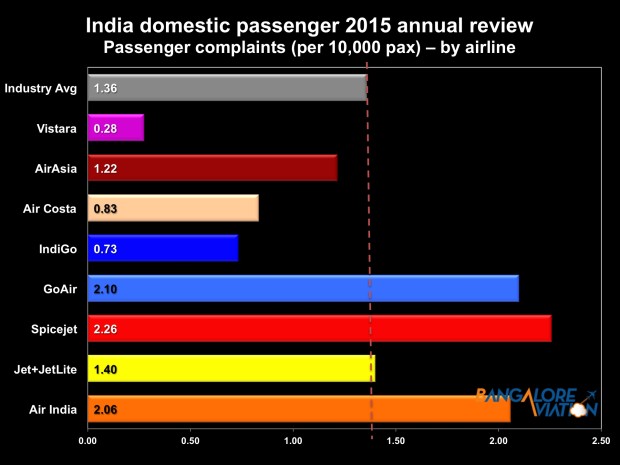 Airline-wise monthly passenger complaints
The graph below shows the trickle down effect of Spicejet's financial implosion at the end of calendar 2014. Financial issues resulted in aircraft being returned to lessors, which in turn disrupted schedules and led to cancellations, which in turn led to passenger complaints. Air Pegasus got off to a rocky start, while GoAir operations suffered when its former CEO Giorgio De Roni was sidelined with health issues.
Monthly passenger complaints
The flight disruptions are the biggest source of passenger complaints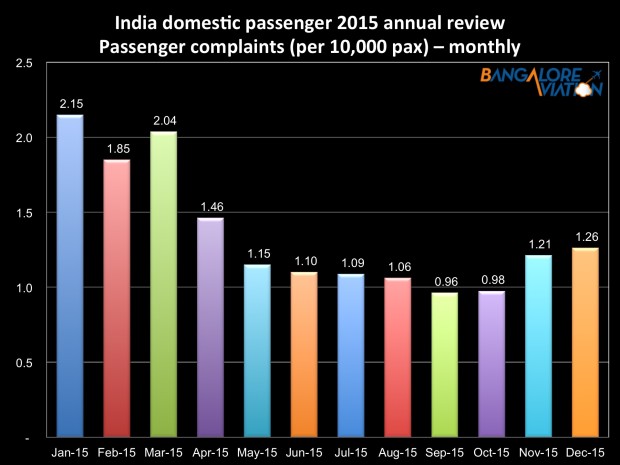 Conclusion
The statistics show a mixed bag of results. Some obvious, some contradictory.
IndiGo remains the operations excellence leader which explains its commanding lead in the domestic Indian market.
Air India has a long way to go and with the promised improvement still to come, the government has to question whether the airline can run without continuous funds injection.
Spicejet shows that it is on the path to recovery but it will take a few years to overcome the damaging effects of its 2014 financial problems.
GoAir and Jet are in a holding pattern. Expect GoAir to assert itself in 2017 when deliveries of its ordered 72 Airbus A320neos are in full force. Will we see Jet continuing diversion of its narrow-body capacity to international services? Rumours in the industry point to Jet continuing its practice of leasing out bulk of its wide body Boeing 777s and A330-200s to foreign airlines.
AirAsia India has not lived up to the hype created prior to its launch. The reasons are not clear, but it is time for boss Tony Fernandes to take a critical look at the operations.
The X-factor airline is Vistara. The airline is living up to the operational excellence DNA of its two joint-venture partners, the Tatas and Singapore Airlines, and has already caught up with its sister Tata promoted airline, AirAsia India. With four more aircraft due to join its fleet in 2016, the X-factor is, how much will the airline ramp up?
Do share your thoughts via a comment and oblige.