Indian carriers seem to be all chasing the same passenger. A cursory look at capacity deployment across seven carriers shows very little variance in terms of a domestic network strategy. However, as one starts to delve deeper some differences tend to emerge. Overall planners focus on three things: schedule offerings (and consequently slots); aircraft utilization; and feed (just a fancy name for passenger flows). Networks evolve keeping these in mind. Evaluating airline networks in India some of the highlights are: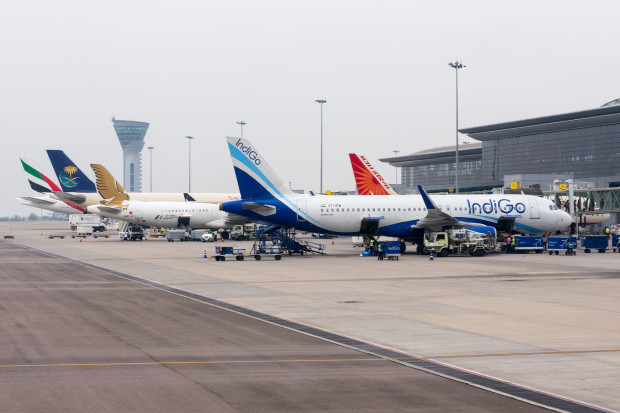 Indigo: a look at Indigo's network strategy indicates that when they enter a market they like to dominate by virtue of significant capacity and frequent schedules. The idea is to offer convenience via multiple schedules at various times during the day. While the airline has now grown, metros continue to be a cornerstone of their network strategy and newer cities integrate into metros.
GoAir : the network for GoAir reveals a very slow deliberate approach where the airline enters markets that have strong volumes and yields and limited competition. For instance, Go is the only airline that does not fly into Hyderabad. Some of its more interesting route choices are Mumbai-Lucknow; Delhi-Pune and Nagpur-Kolkata. Overall Go points to a well crafted route strategy.
SpiceJet: the airline's network has seen challenges as a result of it's financial position. These are exacerbated (some would argue they were brought upon) by a mixed fleet, confusing product positioning, a strong competitor in the home base with better schedule offerings. On some routes they compete for volumes, on others for yield. The Q400 fleet and how profitable it is (on a routewise basis) is still debatable. Overall, without additional fleet the network strategy has weak spots (for instance, it must offer at least 4 returns from key metros).
Air Asia India: the airline has a fairly unique route structure. For the more seasoned planners, it started out as a non-RDG route structure, so that the airline is not forced to fly the Cat2 and 3 routes. Additionally, in line with the business model, the airline is building a network where it can stimulate demand via lower fares thus cities like Jaipur and Goa are no surprise (Goa will likely be dropped if not done already). Perhaps, Pune is an interesting choice as it is a capacity constrained airport and Air Asia connects Pune to Bengaluru and Jaipur.
Vistara: Vistara's route strategy is to compete on metro cities. Yet with it's three class configuration their yields and load factors may not be in the range that they had hoped, which Vistara is learning the hard way. It was assumed that cities like Ahmedabad are a perfect fit into the network as they offer volumes, yields and can be geographically incorporated but the Indian traveler is not willing to pay a premium for such short sectors. Additionally, Goa is a complete misfit for the aircraft configuration they fly (and we believe it is reflected in the overall yields as well) as is Delhi – Guwahati – Bagdogra (RDG compliance notwithstanding). Vistara is learning that the Indian market may be a bit more complex than initially envisioned.
Air India: Air India's route strategy leaves much to the imagination. The schedules, frequencies and integration with international operations influence the strategy but there is much slack that can be taken out to make for a more efficient operation. One can only marvel when you see a 777 on a Delhi – Amritsar route or the 787s flying short sectors. Air India needs to revamp its entire network strategy to compete and that's just the beginning.
Jet Airways: Jet's strategy is largely metro centric which is how the airline evolved (initially being the only alternate to Indian Airlines and focusing on the business traveler). A look at capacity deployment indicates that the top five routes are between metros of Delhi, Mumbai, Kolkata, Bengaluru and Chennai. As Jet evolves into possibly a feeder for their International counterpart, its route strategy will likely involve more Tier 2 cities.
The Delhi-Mumbai route obsession:
No piece on network strategy in India could be complete without mentioning the Delhi – Mumbai route. This continues to be a top route with all carriers flying this route. There is a combined capacity of approximately 72,000 seats each way per week with Indigo flying ~19000 seats or 26% of the capacity. This is followed by Air India (17000 seats) and Jet Airways (14000 seats). Additionally, with peak hour slot constraints in both cities (Mumbai being far more constrained) stronger airlines can build up their advantage in terms of schedule offerings and indeed one has seen Indigo do just that. Given the competition fare levels are in the range of INR 3000 – INR 8000 (one way) though these can rise considerably during peak times. Newer entrants such as Air Asia India who cited that they would not fly this route, now find themselves on the same sector inevitably because that is where the traffic is.
Outlook
As new airlines enter the market, it is likely they will replicate similar strategies. This is both a result of natural traffic emanating from these cities and the maturity of the market where smaller aircraft and flying as a mode of transport are yet to be embraced. Given market dynamics, talent and the reluctance to experiment with innovative ideas, it will be a while before one can see any improvements on network strategy in the Indian market.