by Ameya Joshi
Jet Airways, India's largest private airline reported its third quarter fiscal year 2014-15 (FY2015) results on February 6, 2015, reporting a wafer thin operating profit after seven consecutive quarters. The airline moved to full service operations in December 2014 and the quarter reflected a mix of full service and low cost operations.
Wafer thin profits
The airline reported an operating profit of Rs three crore ($500,000), and continued reporting a net profit for second consecutive quarter. This is an improvement of 101% compared to the loss of Rs 284 Cr (USD 46mio) compared to the same quarter last year in Q3 FY2014 to a profit of Rs three Cr (USD 500k) in Q3 FY15.
For the first nine months of FY2015, Jet now stands at a loss of Rs 84 Cr which could well be covered by the funds from the sale of its Jet Privilege (JP) frequent flier program (FFP), to 24% stake holder Etihad Airways PJSC. Jet management had already acknowledged in its second quarter earnings conference call, that the first tranche of cash, Rs 305 Cr, was received in Q2 of FY2015 and the airline would continue accounting for this cash in subsequent quarters. Rs 1,054 Cr is the amount which is yet to be accounted for and it will be considered every quarter based on the deal agreed between the two companies.
Jet Q2FY2015 operational performance highlights
The turnaround has been led by a growth of 10.4% in passenger numbers, which has come on the back of new flights across the network, stabilization of schedules and another set of flights to Abu Dhabi. This passenger addition has also translated into increased seat factor which reported an increase of 5.2% to 82.1% in Q3 FY2015 compared to 76.9% in Q3 FY2014.
While the quarter saw forming up of Etihad Partners – an alliance of all of airlines in which Etihad has invested, including Jet Airways, this quarter also saw a huge surge in code share traffic, up 93.48% to 314,351 passengers from 162,476 passengers in the corresponding quarter last year, mainly driven by the Etihad stake investment. The influence of Etihad on Jet's operations is increasing and we fear Jet might, slowly be converted in to a regional feeder for the gulf giant.
The rise in passengers has positively impacted revenues which grew an impressive 11.5% to Rs 5,434 cr, while the total expenditure increased only 5.4 percent to Rs 5,014.5 cr, largely driven by a drastic lowering of fuel costs and a stable currency exchange. Jet also reversed its "go slow" on advertising, increasing ad spend by a significant 42.8% to Rs 502.1 Cr.
The airline management expect a reduction in maintenance cost as power by the hour (PBTH) for the engines on the ATR72 and B737 fleet started in last quarter. Expenditure is estimated to be between 10% and 11%, which is marginally higher than the global average.
Without exceptional items, the company has posted a loss of Rs. 6.7 Cr. which seems a lot more positive as compared to losses of Rs. 235.2 Cr. in Q2FY15 and Rs. 289.0 Cr. in Q3FY14. The overall rejig and stability at Jet Airways has been cheerful for the shareholders too, with Earning Per Share (EPS) of Rs. -9.40 for the first three quarters of FY15 as compared to INR -167.3 in the corresponding period last year.
Key Points
EBITDA increased to Rs 171 crores (USD 28 mio) in Q3 FY2015 vs Rs 10 crores (USD two million) in Q3 FY2014
Cash generated from operations improved by Rs 808 crores (USD 130m): 9M-FY15 Rs 196 crores (USD 31m) vs. 9M-FY14 operational cash burn of Rs 612 crores (USD 99m)
Passengers carried increased by 10.4 per cent to 5.8 million passengers in Q3 FY15 from 5.3 million in Q3 FY14
Seat factor up 5.2 percentage points to 82.1% in Q3 FY15 from 76.9% in Q3 FY14
Exponential increase in code-share traffic. Surges by 93% from 162,476 passengers carried in Q3 FY14 to 314,351 in Q3 FY15
Y-o-Y capacity reduced 9.4% but passengers increased by 6.8%
Aircraft utilisation is at its highest in two years at 11.7 hours per day
Break-even load factors have been steadily decreasing and lower fuel cost will aid this further
Network planning
While the Vietnam route, which the airline launched via Bangkok from Delhi with connectivity from Mumbai has been doing better than expected, the airline is expected to launch flights to Doha from Calicut and Trivandrum in mid-march and to Abu Dhabi from Pune, Ahmedabad and Mangalore from the summer 2015 schedule which begins on 29th March. The impact of these new flights would only be known in Q1 of FY16, and the yield and revenue pressure due to the new flights would be felt in next financial year.
Fleet planning
In its earnings call, Jet Airways confirmed that since the closure of Q3 there has not been a single aircraft on ground and this is confirmed from the higher utilization of the aircraft. Of a total 117 aircraft with the group, 10 belong to JetLite. Bulk of the Jet Airways wide-body fleet are still leased out.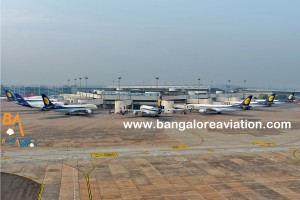 The ten leased wide-body aircraft consist of five B777-300ERs (B77W) and five A330-200 (A332). Now all of Jet's idle A332 fleet is leased, and the airline confirmed no wide-bodies are in an AOG (aircraft on ground) situation. Five B77W and two A332 are leased to strategic partner and 24% shareholder, Etihad Airways and will be back in Jet's fleet between 2015 and 2016 unless re-leased again. Three A332s are leased to Turkish Airlines on a long term lease till 2020.
The long lease is a profitable bet for the airline since the A332s have not been a good fit for the markets served from India. Many of the B77Ws leased to Etihad are deployed on north American routes which were to have been operated by Jet via Abu Dhabi, but the downgrade of India by the United States Federal Aviation Administration (FAA) has caused this change of plans. If India returns to Category 1 by FAA, which could happen in the next few months, one can expect the leases to be changed and aircraft returned to Jet for operating the same flights. An upgrade could also decide on the fate of Jet's current scissor hub at Brussels and the launch of new services via Abu Dhabi to North American destinations like Chicago.
Another delay on 787-9 induction
Jet's senior management confirmed no planned induction for the next three years. This implies a further delay in the delivery of the new generation Boeing 787-9 Dreamliners which the airline has on order with Boeing and was planned to be inducted starting in 2016. It is perplexing since the aircraft is in high demand and could help Jet improve its dated Boeing 777-300ER cabin product.
With nothing on the order book and only replacement induction planned for the next two to three years, the airline will have to depend heavily on the international market to increase yields, revenue and passengers since this is a bilateral controlled area as compared to the domestic market which will see continuous pressure on yields due to fare sale from existing players and new services by Vistara.
Cabin product upgrade
While the airline has been climbing up the ladder in terms of yields, and vacated the low cost space last quarter, its passengers, especially the premium class have consistently complained about the hard cabin product. The wide-body business class product is now dated and in poor upkeep, while the Boeing 737 fleet used on international flights offer an inconsistent product. As an example many Mumbai passengers do not get IFE on the Mumbai Bangkok flight and get IFE on the much shorter Bangkok Ho Chi Minh City flight. With a majority of the regional international network serviced by the 737s the lack of an IFE alone is a huge product inconsistency in the fleet.
Jet faces competition from the new aircraft of Vistara on the domestic side, and the gulf and ASEAN majors on the international. It will find it increasingly difficult to attract high yield premium passengers. In the call the airline said it intends to study a next gen IFE option to be fitted into the widebody fleet and look for options for the narrow-body fleet too, however there was no time-frame offered, indicating Jet's passengers are going to have to make do for some time yet.
Jetlite operations
While the airline has streamlined operations into a full service carrier model only, the airline continues to operate with two airline operating permits (AOP) and continues to operate 10 aircraft under the erstwhile Air Sahara S2 code. The airline is progressively changing the livery of these planes to get them in sync with the master Jet Airways brand and this exercise is expected to be completed by April.
There has been an exponential increase in expenditure for Jetlite in the last quarter and the management in its call with analysts clarified that this can be considered as a one time expenditure due to four major engine shop visits for aircraft in its fleet.
However Jetlite operations continue to be a drag on the balance sheet, even when operations are being reduced progressively with a reduction of 17.5 percent in departures and a load factor of 82.7 percent, the break even load factor continues to be very high at 97.3 percent. At Rs 4,433, the average revenue per passenger is half of that of the parent company.
Jet Q4 outlook
While it was always believed that the funding from Etihad would be used to retire high interest debt, the interest component paid by has reduced by just 1.6% to Rs 226.4 cr on absolute terms and should be a concern in the longer run. The airline executed "Sale and Lease Back" (SLB) for three Boeing 737 aircraft this quarter, same as that of what it did in the last quarter. A similar number for next quarter will be reflect on the balance sheet next quarter.
While airlines are now going in for hedging fuel, Jet Airways does not have any plans of hedging fuel nor is in the middle of hedging fuel right now. This is certainly going to save the airline a lot of money, which it could have potentially lost due to agreeing for a rate higher than current market rate, but will come back to bite as the fuel prices have already started increasing.
Schemes which give higher miles, discount on premium seats will help create a niche for Jet Airways and distinguish itself from Vistara. While the airline currently do not have anything on order, one can expect an order, in the near future, for the Boeing 737-8 MAX and the ATR72-600 with deliveries beyond 2018/9.