In a bold move national carrier Air India has put errant employees and vendors who delay flights on notice. The airline will deduct salaries of employees and caterers found responsible for delays of flights.
The Maharaja which has one of the worst one-time performance (OTP) records amongst Indian carriers, has been instructed by the top bureaucrat in the civil aviation ministry, Secretary, V. Somasundaran, as per a memo issued by Air India's Executive Director (Operations) Capt. AK Govil.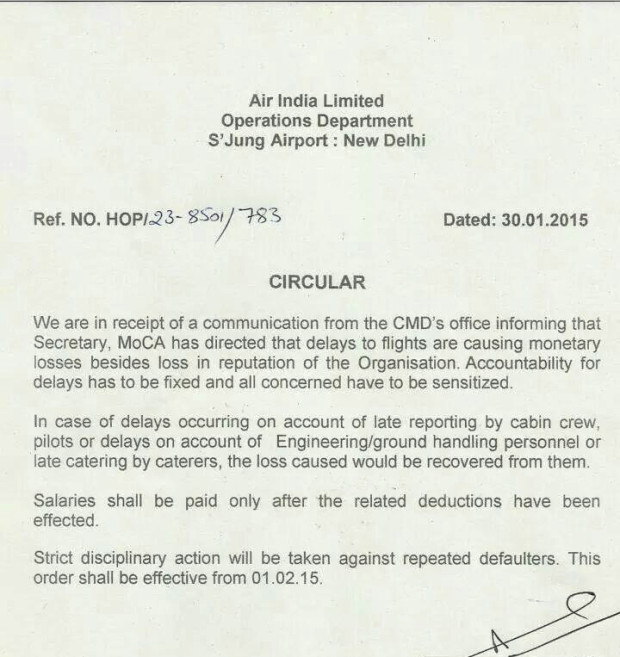 The memo indicates that in a bid to fix accountability and improve sensitivity to the costs of delays, effective February 1, personnel or caterers help responsible for causing delays will find their salaries being deducted to cover costs of the delays, and the employees better watch out.
As DGCA data shows, the airline has paid out hefty sums for delays and cancellations in the last quarter of calendar 2014.
Air India paid 18 times compensation
Air India regularly pays out more compensation for domestic delayed flights than all other carriers combined. As per DGCA data, for domestic flights delayed beyond two hours, in the last three months of 2014, Air India paid over Rs two crore (206.24 lakhs) as compensation, a whopping 18.7 times the mere Rs. 11.03 lakhs all private carriers put together paid.
Strangely only three private airlines, Air Costa, SpiceJet and AirAsia India, reported paying compensation for delayed flights. Despite having reported passengers delayed by more than two hours, Jet, JetKonnect, IndiGo and Go have not reported any compensation payments.
Likewise Air India paid over Rs 1.61 (16.1 million) crore as compensation for cancelled domestic flights in October to December 2014 four times the Rs 43.52 lakhs paid by private airlines, Air Costa, AirAsia India, Jet, JetKonnect, and SpiceJet. IndiGo and GoAir did not report passengers affected by cancelled flights.
All the above data is for domestic flights. No data is available for international flights.
Are such high payments only due to the poor performance of Air India? It appears not as the graphics below seem to indicate.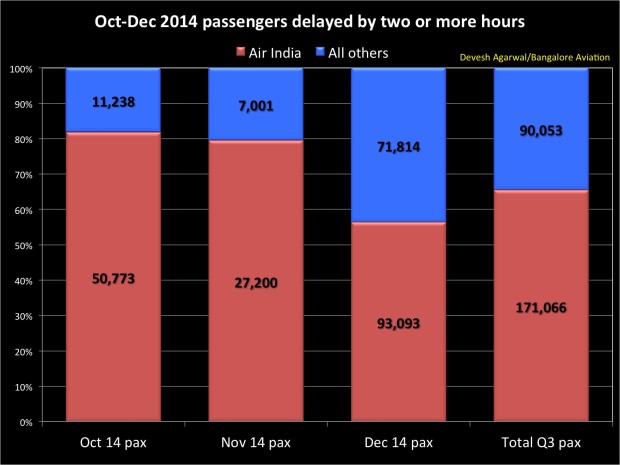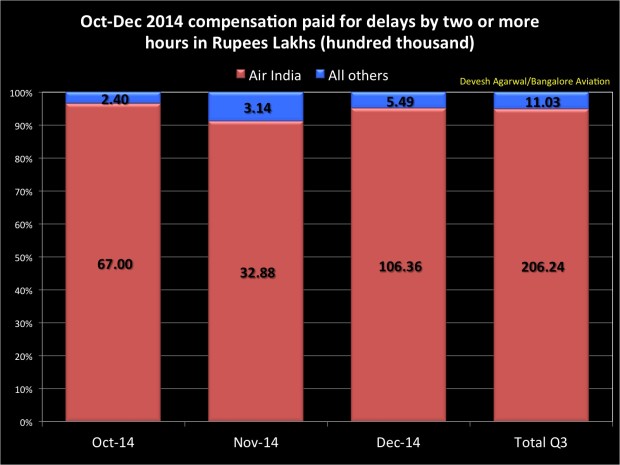 Air India paid 10 times more compensation
For delays of two or more hours, in the October to December quarter of 2014, Air India paid an average compensation of Rs 120.56 per passenger. almost ten times the Rs 12.24 per passenger compensation paid by all the private carriers put together.
The DGCA rules for compensation of delayed and cancelled flights are heavily skewed in favour of the airlines. In December 2014, the DGCA reports, India's largest domestic carrier, IndiGo, has 58,449 passengers delayed two hours or more. No compensation was paid by the airline. Is it possible private airlines are using the legitimate loopholes to avoid paying compensation? which then begs the question why is the Maharaja being so generous with our money?
Share your thoughts via a comment.