Dubai International airport (IATA: DXB) has officially become the world's busiest international airport dethroning long time leader London's Heathrow airport. As the the year-end traffic report released by airport operator Dubai Airports, in 2014 Dubai handled 70,475,636 passengers up 6.1 from the 66,431,533 passengers recorded a year earlier. In December, which sees significant holiday traffic, the airport saw 6,498,573 passengers up 7.5% from the 6,047,126 in December 2013. Data is based on industry body Airports Council International.
Dubai operating statistics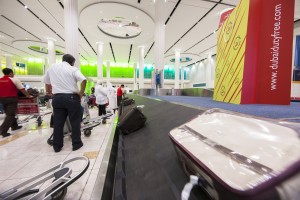 In 2014 aircraft movements reduced 3.4% due to the 80 day runway re-surfacing programme which curtailed capacity, and the shift of freighter operations and general aviation to Al Maktoum airport at Dubai World Central (DWC). Departures and arrivals totalled 357,339 versus 369,953 in 2013. The increase in passengers and decrease in aircraft movements means the average number of passengers per flight rose to 208.3 up 5.1%. It does help that Emirates airline, also owned by the Al Maktoum family, is the world's largest operator of the world's largest passenger aircraft, the Airbus A380.
With the shift in dedicated freighter operations, freight volumes at DXB dipped 3.1% to 2,367,574 metric tonnes from 2,443,624 MT in 2013.
India second highest growth market
Western Europe was the top market for growth in passenger volumes (+1,192,831 passengers) during 2014, followed by the Indian sub-continent (+936,449), rest of Asia (+716,180) and North America (+432,597).
Paul Griffiths, the CEO of Dubai Airports indicated the airport forecasts 79 million passengers during 2015 as it gets ready to open Concourse D and boost capacity to 90 million.
Dubai airport hub for India
Virtually the entire civil aviation infrastructure is owned by the Al Maktoum family, and His Highness Sheikh Ahmed bin Saeed Al Maktoum, the uncle of the current ruler of Dubai, is President of the Dubai Civil Aviation Authority, Chairman and Chief Executive of Emirates airline and group, including airport services company dnata, Chairman of Dubai Airports which operates both DXB and DWC airports, and Chairman of low cost carrier FlyDubai.
The growth of Dubai's civil aviation sector is a testament to the vision and perseverance of the Al Maktoum family. Unlike India, the rulers of Dubai brought in seasoned professionals, gave them the independence to perform, and held them responsible for results.
The infographic embedded below shows interesting nuggets of information and shows India's contribution to Dubai's aviation industry.
India is the top destination for Dubai contributing over 8.9 million passengers or 12.64% of Dubai's total traffic. A similar 12% is the percentage of Emirates airline's total capacity deployed and passenger traffic carried for India. Thus Dubai can claim to have both the unofficial airline and unofficial hub airport of India.
The Dubai Mumbai route is the fourth busiest for Dubai airports after London, Doha and Kuwait.
Dubai airport infographic