Keeping in line with the weak economic growth in India, domestic air passenger traffic grew a tepid 9.7% during 2014. In 2013 61.426 million passengers travelled, which grew to 67.383 million.
Monthly data and info-graphics
December is the peak month for travel in India, both international and domestic. As the stacked monthly graph shows, in December 6.44 million (64.4 lakhs) passengers travelled. Most airlines retained their relative positions. SpiceJet saw its economic woes, and resultant fleet reduction driven flight cancellations, drive passengers away and onto the reliable wings of fellow Gurgaon head-quartered and New Delhi airport based IndiGo airline.
Market share is a fleet game
Market share in India is driven by the fleet size. IndiGo ended 2014 with its market share increasing by 33% from 27.1% at the start of the year, to 36.1% a nine point jump in overall terms. This as IndiGo increased its fleet size by 13 aircraft to 86 Airbus A320s, a growth of 17.8% from the 73 it began the year with.
The graph below shows, as the economic woes began to mount at SpiceJet forcing the airline to shrink its fleet and cancel flights, the passengers migrated to IndiGo. SpiceJet ended the year at 10.4% market share, less than half of its July peak when it commanded 20.9% share.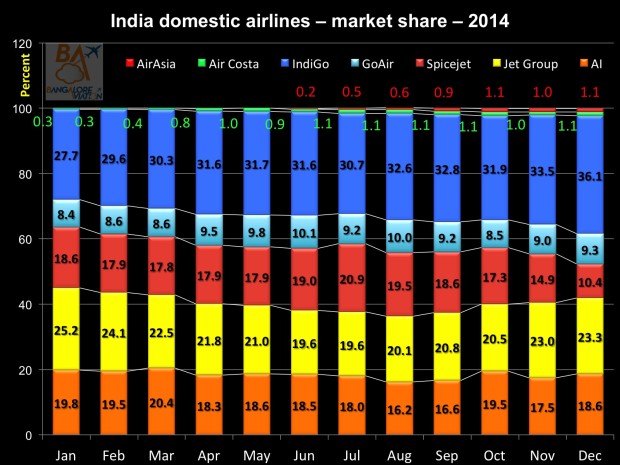 SpiceJet the PLF leader
SpiceJet's Sanjiv Kapoor's strategy of regular sales ensured the carrier's planes remained filled. Through the year, while competitors saw their passenger load factors fluctuate from month to month, and in some cases significantly, SpiceJet remained fairly consistent, and consistently high. Call me stupid, but during the second quarter the losses at SpiceJet reduced. This implies the strategy of sales was actually positive for the airline, which is contrary to popular belief.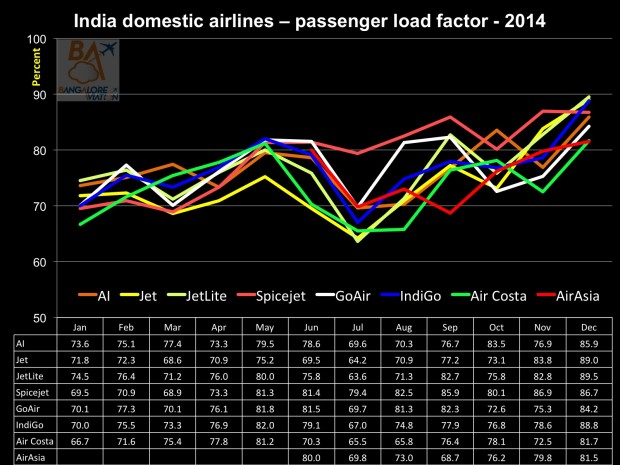 2014 annual analysis
For the year 2014, IndiGo remained the market leader by a wide margin. With 21.43 million (214.3 lakh) passengers carried, the Bhatia-Gangwal-Ghosh led airline captured about 32% market share for the year. IndiGo's nearest competitor was the Jet Airways group which transported 14.67 million domestic passengers for a market share of about 22%.
National carrier Air India narrowly pipped SpiceJet with 12.43 million passengers carried in 2014 compared to the latter's 11.75 million.
GoAir's market share still remains in single digits, suggesting the need for the airline to up its game. It should start picking up once deliveries of its 72 A320neos ordered, commences, but that is a couple of years away.
AirAsia India has not lived up to the hype preceding its launch in June 2014, and with the low cost leader reaching only about 100,000 passengers per month, it remains to be seen how the airline will progress in 2015 against a dominant IndiGo. With more flights planned, especially to the large airports of Mumbai and New Delhi, and more aircraft joining the fleet, it appears to be interesting times to come.
Air Costa has remained a stagnant laggard at around 100,000 passengers per month since April. The LEPL construction group promoted airline is rumoured to have delayed deliveries of its ordered Embraer E-jets, suggesting some financial troubles at the regional carrier.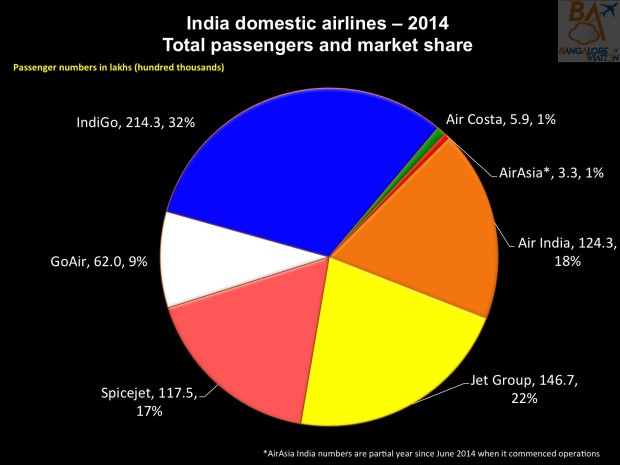 The airline with the 'x factor' is SpiceJet. Its overall 17% share for the year shows the potential of the airline. Can we expect Ajay Singh and team to come back strong in 2015? Likewise, what are your thoughts about Vistara? Will they remain as subdued as its Tata group invested sibling, AirAsia India?
At Bangalore Aviation we value your feedback and views. Please share your thoughts via a comment.