Yesterday Brazilian airframer Embraer rolled out the first prototype of it's new KC-390 military transport from it's production hangar at Gavião Peixoto, Brazil.
The KC-390 is a joint project between the Brazilian Air Force and Embraer to develop and produce a tactical military transport and aerial refueling airplane. The design of the aircraft is intended to establish new standards in its category, with a lower operating cost and the flexibility to perform a variety of missions: cargo and troop transport, troop and cargo air delivery, aerial refueling, search and rescue, and combating forest fires, among others.
On May 20th, 2014, Embraer and the Brazilian Air Force signed a contract for 28 KC-390 aircraft and associated initial logistic support. There is also interest to purchase the aircraft from other countries.
The rollout event was attended by the Brazilian Minister of Defense, Celso Amorim, the Commander of the Brazilian Air Force, Lieutenant-Brigadier General Juniti Saito, and delegations and representatives from more than 30 countries.
Jackson Schneider, President and CEO, Embraer Defense & Security
"This significant milestone of the KC-390 Program demonstrates Embraer´s ability to manage such a complex and high-technology project and to perform it on track, It paves the way for the beginning of the ground tests to prepare for the first flight."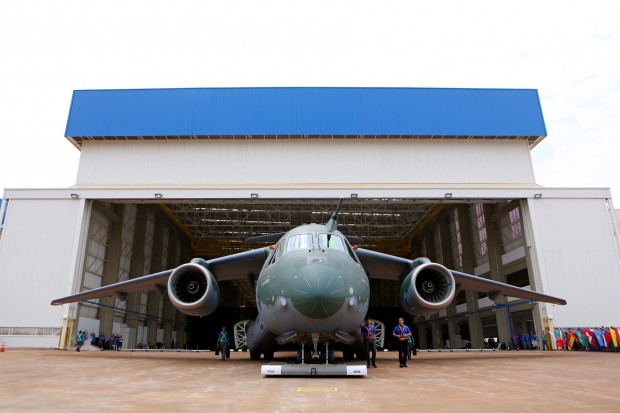 Lieutenant-Brigadier General Juniti Saito, Commander of the Brazilian Air Force
"The KC-390 will be the backbone of the FAB's air transportation network. It will be able to operate in both the Amazon and Antarctica. The jet engines give the aircraft enormous agility in fulfilling all of its missions, faster and better"
Following the rollout, the aircraft will continue with initial systems evaluations leading to the first engine run, and then to the ground vibration tests and the other planned ground tests prior to the aircraft's first flight, planned to take place by the end of this year. This aircraft is the first of two prototypes that will be used in the development, ground, flight and certification test campaigns.