A confusion exists on the website of AirAsia with regards to its 'Fly-Thru' connectivity service on flights to and from Bangalore. While the flight schedules page of the website offers the connecting service between Bangalore and domestic Malaysian destinations like Penang, Langkawi, Denpesar-Bali, to international destinations like Singapore, Sydney, Perth, and Manila, the booking page does not allow booking of through connecting flights except to destinations in Australia and Manila. Even clicking the "Book Now" link on the schedules page results in an error.
The airline is unable to explain this contradiction including its help desk and live chat service in Malaysia.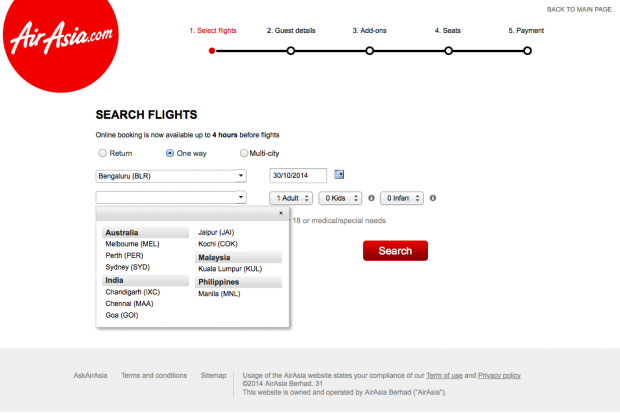 It is inexplicable why the Malaysian low cost carrier seems to under-serve Bangalore which happens to be the hub for its Indian joint venture AirAsia India? It offers the through flights facility from all its other Indian destinations, Chennai, Kolkata, Trichy and Kochi. Even AirAsia's low cost competitors like Tiger Airways offer a through booking service to almost all their destinations from Bangalore.
Last week we made some phone calls to the AirAsia India management seeking comments, followed by an e-mail to them and Tony Fernandes, the Group Chief Executive of AirAsia. We received a brief comment from AirAsia "We won't be able to comment on this at this point in time"."
Penang is the technological capital of Malaysia, home to the semiconductor complex at Bayan Lepas, and the electronics manufacturing corridor on the mainland from Perai to Ipoh. Bangalore is the technological capital of India and there are strong business links between the two cities. Additionally, the Bangalore airport with its integrated terminal encourages transit between domestic and international flights and can be used to improve AirAsia's connectivity to cities served by AirAsia India.
It's painful to see AirAsia failing to leverage these linkages and business potential. Is this the reason why the airline has remained stagnant at Bangalore for all these years while its competitors are growing?
May be my colleagues in the media would ask Mr. Fernandes some hard questions the next time they interact with him.