-Click on any of the graphs for a larger view
Even as India's overall domestic passenger traffic in July fell to 5.25 million passengers down about 8% from 5.69 million in June, data released by the civil aviation regulator, the DGCA, shows budget carrier Spicejet Ltd. was the only large airline which grew its traffic while the rest of its peers slowed down.
Total passengers carried July 2014
The Gurgaon based carrier increased the number of passengers it carried from 1.08 million in June 2014 to 1.092 million in July. Smaller players Air Costa also increased its passenger count from 53,000 to 58,000 and AirAsia India increased from 12,000 to 58,000 in the same period. All the other carriers saw their numbers drop as the summer vacations ended and school terms commenced.
For the year though, the airline industry in India has cautious reason to cheer. For the first seven months of 2014 domestic passenger traffic has increased 4.87% to 37.628 million from 35.88 million in the same period last year. The July month on month growth is 7.19% up from 4.866 million in 2013.
Market share July 2014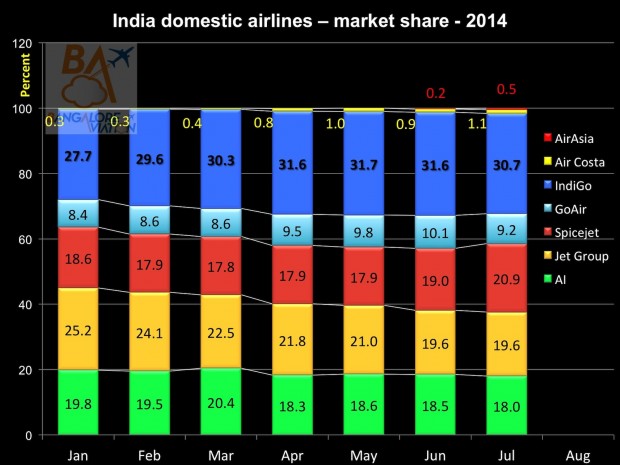 Spicejet registered a whopping 1.9% growth in market share and overtook the Jet Airways group which includes JetLite, to become the second largest domestic airline in India. Neighbour IndiGo still retains the top spot with 1.6 million passengers though down from 1.8 million passengers in June, it lost a sizeable 0.9% of market share.
Passenger load factor July 2014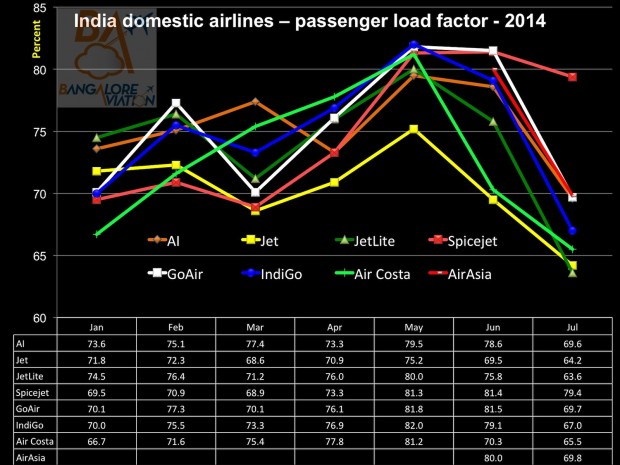 Along with a growth in numbers, a reduction in fleet size saw Spicejet topping the passenger load factor charts at 79.4%. Both the Jet group airlines, JetLite and Jet Airways brought up the bottom with 63.4% and 64.2% respectively. Market leader IndiGo flew its aircraft only 2/3rds full, which could be a sign of the carrier's excess capacity. Surprisingly, AirAsia India which commenced operations in June amongst much media coverage, saw its passenger loads plummet to below 70% from 80% the month earlier. This despite the carrier being in its honeymoon period. The airline though almost quintupled its passenger count as it increased its flights.
Spicejet Chief Operating Officer, Sanjiv Kapoor countered speculation that Spicejet's improved numbers were as a result of their frequent sales saying [bsu_quote]"Our increase in loads and share is the result of our new network, improved branding and product, and most importantly, our dynamic pricing and revenue management approach where we believe flying empty seats, which is the ultimate perishable commodity, is a waste especially for budget airlines"[/bsu_quote]
On-time performance
IndiGo led the on-time performance ranking with an OTP rate of 87.1% while national carrier Air India was the laggard at 77.2%. However industry sources question even this low number. Air Costa led the industry with 3.28% of its flights cancelled. AirAsia India operated with 100% reliability.
Bangalore was the airport where maximum airlines topped the 90% OTP benchmark. IndiGo, GoAir and Jet group including JetLite were the leaders, all above 90%. Spicejet was the laggard at 84.8%. OTP data for Air Costa and AirAsia India was not released.
Air India led the industry in domestic passengers affected due to flight delays of two hours or more and flight cancellations. At 15,078 delayed and 3,630 cancelled passengers, the airline alone affected more passengers than all other domestic carriers put together. The carrier paid a whopping Rs 4.06 million in compensation measures. One fails to appreciate why the DGCA has not chosen to audit Air India along with the private carriers.