Air India ordered for eight Boeing 777-200LRs in 2005, along with 15 Boeing 777-300ERs. The first 777-200LR arrived in the July of 2007, and all eight were delivered by end of August, 2009. Barely six and a half years later, the first five Boeing 777s have been sold to Etihad, at a "throwaway" price, because Air India felt that the 777-200LRs were "fuel guzzlers".
Air India's 777-200LRs have a cabin layout of F8C35Y195: 8 seats in the first class, 35 in business, and 195 in economy. In total, the airplane in this configuration can carry 238 passengers. The 777-300ERs however can carry 342 passengers, or 43 percent more than the 777-200LRs in the airline, with a cabin configuration of F4C35Y303: 4 first class, 35 business, and 303 economy.
| | | | | |
| --- | --- | --- | --- | --- |
| Departure | Destination | Distance (nm) | AI 777-200LR trip fuel, Kg | AI 777-300ER trip fuel, Kg |
| Mumbai | Los Angeles | 7800 | 105,000 | 127,100 |
| Mumbai | Newark | 7000 | 93,000 | 111,700 |
| Mumbai | Tokyo | 3750 | 46,575 | 56,400 |
| Delhi | Riyadh | 1700 | 21,675 | 24,000 |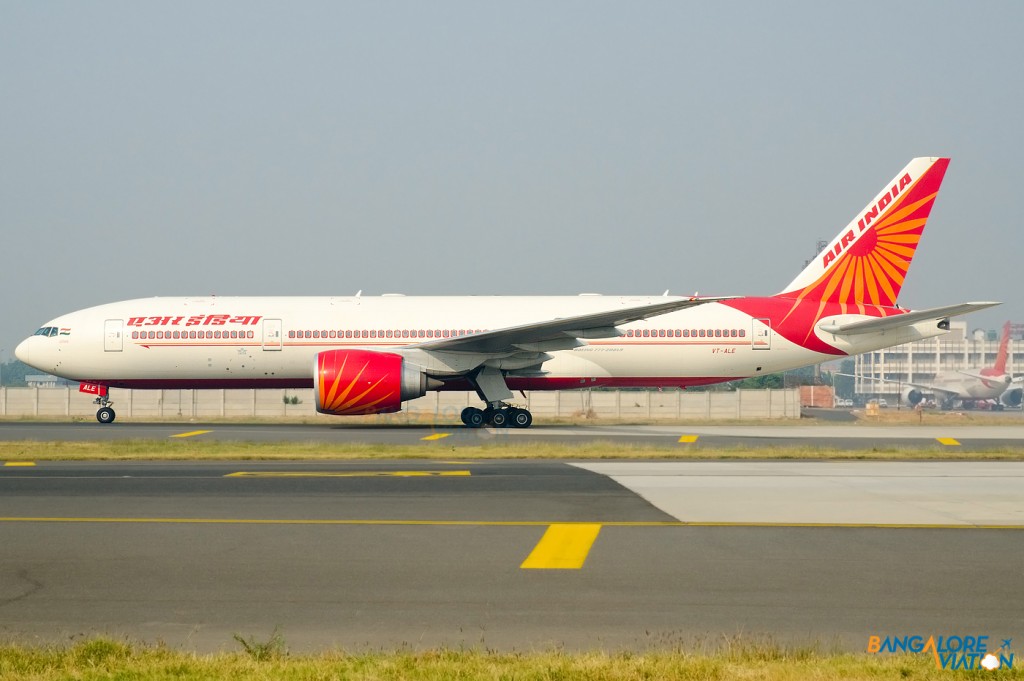 The longest flight operated by Air India is the Mumbai – Newark route, which covers a distance of approximately 7,000nm. For this flight, with fuel reserves accounted for, the 777-200LR burns about 93,000kg of fuel, while the 777-300ER burns about 111,700kg, a difference of 18,650kg, which works out to a 20 percent higher consumption by the -300ER when compared to the -200LR. This difference would approximately cost Rs. 17,08,952 (about US$29,000) based on existing fuel rates at Mumbai.
With these figures, the 777-300ER immediately appears as the fuel guzzler. However when you take into consideration the additional passengers a 300ER carries (342 vs. 238), the numbers tilt in favour of the -300ER. In the current Air India configurations, for just 20 percent higher fuel consumption, the 300ER can carry 43 percent more passengers compared to the -200LR. When divided per passenger, the per seat fuel cost on the -200LR works out to Rs. 5,900 (US$100) more on the -300ER, on the Mumbai – Newark route.
Furthermore, Air India has laid out its -200LR cabin in an excessively luxurious manner that prevents it from carrying sufficient passengers. Compared to its -200LR Air India's 777-300ERs have no first class, 50 percent less business class seats, and 55 percent more economy seats – a configuration much better suited to Air India current passenger make-up, since the Maharajah does not enjoy the confidence of the premium traveller, and therefore is heavily dependent on its economy class low yielding passengers. 195 seats on the 777-200LR is too little. Below is a table comparing the cabin layout of 777-200LRs flown by three major airlines.
| | | | |
| --- | --- | --- | --- |
| Class | Air India | Qatar | Emirates |
| First | 8 |  – | 8 |
| Business | 35 | 42 | 42 |
| Economy | 195 | 217 | 216 |
| Total | 238 | 259 | 266 |
Even with Emirates' 10 abreast ultra-dense economy cabin, the fuel consumption per passenger cannot match that of the 777-300ERs as flown by Air India.
If Air India were to have deployed the Boeing 777-200LRs on the Mumbai – Los Angeles sector, which is 7,800nm long, the LR would suffer no payload penalty, but given the comfortable configuration of Air India's 777-300ERs, they too would suffer no payload penalty assuming no additional cargo.

All these arguments point to two things. First, Air India has neither configured its 777-200LRs optimally, nor has it deployed them on routes that best utilises this aircraft purpose-built ultra long range capabilities. It appears that Air India probably did not study the 777-200LR well enough to determine if it matched the airline's planned mission requirements.
We can debate the reasons ad-nauseam, but apparently Air India chose an airplane that burns more fuel per passenger in exchange for range, but possibly neither saw nor utilised that characteristic of the aircraft to its advantage. Very naturally, the aircraft appears a "fuel guzzler".
Presently, Air India operates its 777-200LRs, sub-optimally, on a 1,700nm short-haul trips like Delhi-Riyadh. The 12 777-300ERs are put to better use, flying to Newark, New York, Chicago, and London from Mumbai, and Delhi. Another three 777-300ERs are to join the airline, while it desperately tries to sell the balance three 777-200LRs in its fleet.
This sale came under media flak for giving away new aircraft at such low rates. But Boeing sales figures explain the relative unpopularity of the special mission 777-200LR. Till date, only 59 777-200LRs have been sold, with an order backlog of just one aircraft. On the other hand, 721 777-300ERs have been sold, with an order backlog of 244 aircraft, of which three are destined for Air India. Selling an unpopular aircraft is difficult, even to leasing companies. But buying an airplane for cheap from Air India, and operating the "fuel guzzler" in the middle east where fuel is much, much cheaper, makes absolute sense to Etihad.
With inputs from Devesh Agarwal and Vedant Agarwal.